Please Note!
This title is no longer available on Netflix.
Vampires
What is StreamCatcher?
Certain shows and films are only available on Netflix in certain countries. But you can still watch them with specific VPN services connected to that country.
We've built a tool that can tell you which VPN you need and where to connect…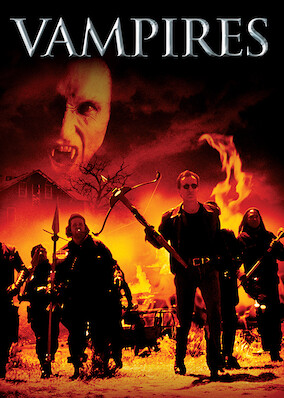 movie
About the Show:
A team of vampire slayers wages war against the minions of a master vampire who's looking for a talisman that will let bloodsuckers hunt in daylight.
Looking for similar titles to Vampires? Click here.
IMDB Score

6.2 / 10

Netflix Score

3.3 / 5

Released

1998

Runtime

108 min

Rated

100

Directed by

John Carpenter
How to unblock it:
Here are the servers you can connect to on a VPN to watch it. If you want to watch it in a specific audio, or subtitles, select those from the dropdown and we'll highlight the server you need to connect to in yellow.
Refine your search:
Vampires is a 1998 movie by the respected director John Carpenter (Halloween, The Thing, The Fog). The film centers on Jack Crow, a hardened vampire hunter who constantly seeks to avenge the loss of his family. In the movie, the Catholic church employs Crow as a mercenary, for whom he works with his partner (played by Daniel Baldwin) to drag vampires into the sunlight using a winch attached to a Jeep. The movie is a comedy vampire flick, ideal for those days when you need a bit of mindless horror comedy on the couch. 
With a VPN, you can easily pretend to be in a different country to unblock John Carpenter's Vampires. The VPN will conceal your real IP address from Netflix, causing the library of titles to update. To do so, check below to see which countries Vampires is showing in, and connect to one of those countries using one the recommended VPNs. 
Can I stream Vampires on Netflix?
Yes. Even if you live in a country where Vampires is not currently available on Netflix, you can still stream it by using a VPN.
A Virtual Private Network is a privacy tool that conceals your home IP address from the online services you visit. When you connect to a VPN, Netflix believes you are in a different physical location. For this reason, Netflix automatically updates your content library to reveal content licensed for that region. When this includes exclusive titles like Vampires, you can instantly stream those movies or TV shows thanks to the VPN.
Unfortunately, Netflix works hard to block VPNs. In 2021, this has resulted in very few services remaining that work to unblock international Netflix catalogs. Thankfully, some market-leading VPN providers have found ways around the Netflix blocks, as a result the recommendations on this page will work perfectly to stream Vampires.
At the moment, Vampires is showing in Sweden, Brazil, Colombia, and Argentina. That gives you a few different server options for streaming the film. Just remember to connect to the location that is closest to you, as this will give you the best possible speeds for streaming it!
How to watch Vampires on Netflix
Streaming John Carpenter's Vampires on Netflix with a VPN is very easy, as long as you subscribe to the right service. In this article, we have done the hard work for you by pinpointing the VPN providers that have servers in the location you need them. As a result, all you need to do is follow the steps below:
Make sure that you have a Netflix subscription. You still need to be a member of Netflix to watch regional content.
Pick a VPN provider and click through to its website. We've recommended some fantastic VPNs below with servers where you need them to stream Vampires with ease!
Download and install the VPN and login using your credentials.
Choose a VPN server in a country showing Vampires and click connect. 
Head on over to Netflix and search for Vampires, or simply hit the button below to start streaming!
Why You Need a VPN to Watch Vampires
As with other online VoD platforms, Netflix must enter into licensing agreements with copyright holders. Those contracts restrict where Netflix can provide its content to subscribers. The producers of movies and TV shows do this to make more money from their content. 
As a paying Netflix subscriber, these restrictions can be extremely frustrating. The content you want to watch is technically available on Netflix somewhere – just not where you live – which is where a VPN comes in. A VPN tricks Netflix into believing you are in a different country. As a result, you can watch any exclusive titles currently available in that location – including Vampires.
The VPNs recommended in this guide make the job of accessing a foreign Netflix catalog super easy. So, all you need do is decide on the service that you prefer, and follow the steps in this guide to stream Vampires in HD!
WARNING: IF YOU LIVE IN EUROPE YOU MAY STRUGGLE TO UNLOCK REGIONAL CONTENT FROM OTHER EUROPEAN COUNTRIES.
Changes in legislation mean that EU users may only be able to access non-EU libraries (US, Japan). This means that users in Europe should connect to servers outside of the EU wherever possible.
How to watch Vampires with ExpressVPN
ExpressVPN is an excellent VPN provider based in the British Virgin Islands. A service with apps for all platforms that is dedicated to providing its users with privacy and freedom online. It is perfect for streaming Vampires, thanks to its servers in 94 countries that can unblock 24 different regional Netflix libraries! This includes servers that can unblock Netflix in Sweden, Brazil, Colombia, and Argentina. We love how reliable and easy this VPN is to use, and it is suitable for beginners thanks to its 24/7 live chat support. What's more, you can test it yourself using its 30-day money-back guarantee. 
After installing ExpressVPN and logging into the app, all you need to do is connect to one of the four locations mentioned above. Following that launch Netflix and search for Vampires. 
Pricing:

From $6.67 - $12.95

Speeds:

Connect to:

Sweden
Brazil
Colombia
Argentina
How to watch Vampires with NordVPN
NordVPN is a world-renowned VPN provider from Panama. It is a secure and reliable VPN that is capable of unblocking a number of international Netflix catalogs; including the Swedish Netflix where Vampires is currently showing. As with our number one choice Express, NordVPN is a fantastic all rounder that is fantastic for gaining privacy online. It has apps for all platforms that come with advanced VPN features like a kill switch and obfuscation. And it is an all round fantastic service that provides excellent value for money and servers in 59 countries around the world. 
We think NordVPN is perfect for anybody who wants to stream Vampires. So, if you want a VPN that you can use on up to six devices simultaneously, it is well worth giving it a trial run using its 30-day money-back guarantee. As soon as you connect to its server in Sweden, your Netflix will update to include Vampires (and tons of other shows and movies).
Pricing:

From $3.71 - $11.95

Speeds:

Connect to:
How to watch Vampires with PrivateVPN
PrivateVPN is a superb VPN service that anybody can use to unblock more Netflix content. It is one of the few VPNs that provides access to a wide selection of international Netflix regions, including Sweden, Argentina, Colombia, and Brazil. That makes PrivateVPN an ideal choice for anybody wanting to unblock Vampires. The PrivateVPN app is beginner-friendly and it install super quickly on any platform. It is also incredibly cheap, which makes it amazing value for money. It has live chat support to help you out, and it even lets you trial the service for 30-days. 
Watching Vampires with PrivateVPN is super-easy. Install the VPN, log in to the app, and when prompted to join a server, select one of the locations listed below. Now, launch Netflix and it will automatically update to include Vampires.
Pricing:

From $1.89 - $7.12

Speeds:

Connect to:

Sweden
Brazil
Colombia
Argentina
About Vampires
Vampires is a classic 90s horror-comedy that is the perfect mix of fast-paced action and hilarious narrative. The film builds on the classic Hollywood meme inspired by films like the Exorcist, in which it portrays the Church as an extreme caricature of itself – using force rather than prayer to prevent the apocalypse. In the film, a cardinal who supervises Rome's vampire squad employs a vampire hunter to take on the bloodthirsty vampires.
The telepathic vampires communicate with their Masters to bring about chaos by feasting on humanity's blood. The master of the vampires seeks out the Black Cross, a symbolic talisman that can perform a reverse exorcism in which the victim is left completely possessed by dark forces. 
Jack Crow (played by James Woods) must work as a Vampire hunter to fight the Church's foe, whom he himself hates because they killed his family. To get their chance to kill the Master of the vampires, Crow and his partner Montoya use Katrina (a bitten prostitute) as a telepathic aerial. The mostly amusing and over-the-top plot is a masterclass in the horrifically absurd – particularly excellent because of Woods' ability to keep a straight face. Well worth watching if you haven't seen it! 
FAQs
Genres:
Creators:
Actors: