Please Note!
This title is no longer available on Netflix.
Magnolia
What is StreamCatcher?
Certain shows and films are only available on Netflix in certain countries. But you can still watch them with specific VPN services connected to that country.
We've built a tool that can tell you which VPN you need and where to connect…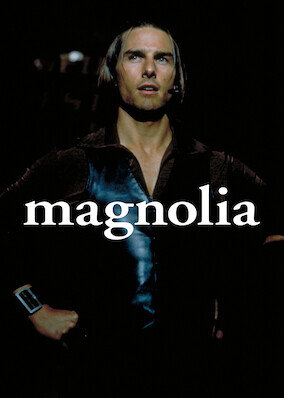 movie
About the Show:
Through chance, human action, past history and divine intervention, an eclectic cast of characters weaves and warps through each other's lives.
Looking for similar titles to Magnolia? Click here.
IMDB Score

8 / 10

Released

1999

Runtime

188 min

Rated

All Ages

Directed by

Paul Thomas Anderson
How to unblock it:
Here are the servers you can connect to on a VPN to watch it. If you want to watch it in a specific audio, or subtitles, select those from the dropdown and we'll highlight the server you need to connect to in yellow.
Refine your search:
The 1999 psychological classic follows a collection of seemingly random strangers, and plays with the idea of fate, chance and coincidence. Magnolia, directed by Paul Thomas Anderson, dips into the disparate tales of policemen, game show contestants (past and present), producers, as well as addicts and estranged children. The ensemble cast drew critical acclaim, and in particular Tom Cruise, who was rewarded with a Best Supporting Actor award at the 2000 Golden Globes.
Currently, Magnolia is only available in a single location - meaning most folks who want to check out the film's exploration of cause and effect won't be able to do so. But don't despair! With a VPN, it's possible to bypass geo-restrictions and tune in to Magnolia, as well as hundreds of other titles, and you won't even need a new Netflix account!
Can I stream Magnolia on Netflix?
Absolutely! You can search for, and watch, Magnolia so long as you have a Netflix account registered in India. If you live elsewhere, you simply won't find the film in your library. Unless, of course, you use a VPN!
A VPN fools the sites you visit into thinking you're located somewhere other than where you actually are. By assigning you a new, temporary IP address in the location of your choice (India, for example!), you'll have no trouble bypassing geo-restrictions to watch Magnolia.
All you'll need to do is subscribe to a VPN provider, and we've listed three of the very best in this guide. It's easy to get your VPN ready and running, and once you have, simply join a server in India and open up Netflix. Your library will automatically update and Magnolia will be there for the watching - as well as tons of other previously blocked content.
How to watch Magnolia on Netflix
All it takes to watch Magnolia on Netflix is a VPN subscription and a valid Netflix account. It doesn't matter if you're familiar with VPNs or if you've never seen or heard of them before, it only takes a few clicks to get setup.
In fact, the most difficult part of the process might be choosing a provider to subscribe to. You'll need a VPN that can reliably unblock Netflix, the speeds to handle HD streaming, and servers in India. Luckily, we've done the legwork for you! The three VPNs we've recommended below are ideal for checking out Magnolia, and we'd recommended sticking to one of them.
Once you're ready to install your VPN, just follow along with these easy instructions:
You'll need a Netflix account if you don't already have one - and don't worry, it can be registered in your home location. The VPN will handle all the location-hopping stuff!
Next, it's time to decide on a VPN provider. There are a lot of services out there vying for your attention, but some of them can't unblock Netflix. We've hand-picked three VPNs that can access the service, Magnolia, and much more.
Download the VPN software from the provider website. This usually only takes a few seconds, and once you've got it downloaded, just follow along with the on-screen instructions to complete installation.
You'll then be prompted to log in to the VPN app. Input your credentials and you'll be greeted with a list of servers, and maybe a map, too. To watch Magnolia, you'll need to select a server in India and hit connect.
Refresh Netflix, search for Magnolia, and you should see it ready to stream - easy-peasy (for an even simpler option, simply click the button below)!
Why You Need a VPN to Watch Magnolia
Magnolia is currently only available to Netflix users in India (unless you have a VPN). This can seem rather unfair. After all, isn't Netflix supposed to be an international hub of on-demand content?
The reality is that Netflix must abide by its contractual agreements and set geo-restrictions in place to ensure that its titles are only available in the countries where they've been licensed - as decided by the copyright holders and content producers. Luckily, a VPN can bypass these restrictions. They're easy to use, won't break the bank, and can grant you access to dozens of other Netflix libraries.
How? Well, a VPN uses "spoofing" technology to make the sites you visit think you're physically in one location when you're really in another. You'll be able to browse the web as though you were in that country, as well as check out all the shows and movies on Netflix that might've otherwise been hidden away!
How to watch Magnolia with ExpressVPN
If you're looking for quality, reliability, and a premium-feel, then ExpressVPN is your best bet. The service made a name for itself with a broad selection of servers in over 94 countries. What's more, these servers are incredibly quick, and folks looking to stream Magnolia can connect to locations in Chennai and Mumbai. Customers can also browse through 24 regional Netflix libraries, as well as Hotstar and Sony LIV content - all without a hassle. ExpressVPN is compatible with all devices and platforms, has a customer service team on standby 24/7, and offers a 30-day money-back guarantee.
ExpressVPN installs in an instant, and once you're ready, you'll simply need to connect to a server in India before heading over to Netflix to search for Magnolia!
Pricing:

From $6.67 - $12.95

Speeds:

Connect to:
How to watch Magnolia with NordVPN
Nord is one of the most well-known VPN services out there - and for good reason! In addition to Netflix, Nord can unblock BBC iPlayer, Prime Video, and hulu. Regardless of where you are in the world, you can expect HD streams and lightning-fast speeds. Nord also spoils customers for choice when it comes to servers, with 5,400 available. Fans of Magnolia have more than 30 servers dotted across 2 Indian cities to pick from, too! VPN newbies and veterans can install Nord in a few clicks, and any questions can be fielded to an expert customer service team available 24/7. Try Nord for yourself, on any device you own, with a 30-day money-back guarantee.
After installing Nord, all you'll need to do is connect to a server in India, open Netflix, and search for Magnolia as you usually would - and voilà!
Pricing:

From $3.71 - $11.95

Speeds:

Connect to:
About Magnolia
Paul Thomas Anderson's thrilling psychological saga made its debut in 1999, and brings together a star-studded cast including the likes of Jeremy Blackman, Jason Robards, John C. Reilly, Melora Walters, and Tom Cruise.
Set in The Valley, LA, Magnolia sets up an old, complicated question: is there something more powerful than coincidence? Each character goes about their lives as usual, unaware that they're inexorably being drawn together - but whether it's by fate, chance, or something else, is up for debate.
A policeman is called to investigate an incident at an apartment and finds a dead body as well as an unexpected date. A terminally ill quiz show host watches a bright, young contestant be bullied and belittled by his parents. A man who was once on a quiz show, and once won, is fired from his dead-end job. And the show's architect, it's producer, faces his own battle with cancer. Magnolia takes each character and throws them in the melting pot, making you wonder if we have more in common with the people around us than we expect.
FAQs
Genres:
Creators:
Actors: