Please Note!
This title is no longer available on Netflix.
Friday After Next
What is StreamCatcher?
Certain shows and films are only available on Netflix in certain countries. But you can still watch them with specific VPN services connected to that country.
We've built a tool that can tell you which VPN you need and where to connect…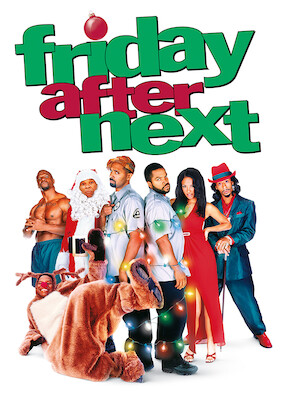 movie
About the Show:
The third film in the Friday series finds Craig and Day-Day working as security guards and dealing with a thief who's stealing Christmas presents.
Looking for similar titles to Friday After Next? Click here.
IMDB Score

5.8 / 10

Netflix Score

3.7 / 5

Released

2002

Runtime

85 min

Rated

Recommended for ages 16 and up

Directed by

Marcus Raboy
How to unblock it:
Here are the servers you can connect to on a VPN to watch it. If you want to watch it in a specific audio, or subtitles, select those from the dropdown and we'll highlight the server you need to connect to in yellow.
Refine your search:
Friday After Next is an American film about two cousins, Craig and Day-Day, who are forced to take jobs as strip mall security guards after their rent money and Christmas presents are stolen from their apartment. Starring Ice Cube and Mike Epps, it's the third and most recent instalment in the Friday franchise and ideal for Netflix subscribers looking for an unconventional festive movie with a few twists along the way. 
Can I stream Friday After Next on Netflix?
Friday After Next is currently only available on Netflix Australia. But fear not — by using a VPN, you'll be able to access the country's Netflix library. VPNs conceal users' IP addresses, which makes it impossible for websites like Netflix to geo-restrict their content. 
How to unblock Friday After Next from anywhere
The VPNs recommended below can do a lot more than just unblock Netflix Australia — in fact, they can unblock a whole host of Netflix libraries across the globe, granting you access to thousands of more movies. 
They're also all available across a wide range of platforms including laptops, mobile devices and tablets, and they allow several simultaneous connections so you and your family can explore different Netflix libraries at the same time. 
Pay for a Netflix subscription in your home country.
Subscribe to the VPN service that best suits your needs – we've listed three top-quality providers for you to choose from. 
Download the VPN software and install it onto your Netflix-ready device.
Connect to a VPN server in Australia.
Click the link below to stream Friday After Next!
Why you need a VPN to watch Friday After Next
VPNs funnel all your internet traffic through a private server, which disguises your IP address and essentially allows you to pretend to be in the country the server is located in. So, as explained above, if you wanted to access Netflix Australia, you'd have to connect to one of your VPN provider's servers inside Australia. Netflix will then automatically unblock the film for you, believing you are accessing it from Australia. 
Netflix has no choice but to operate with regional libraries due to the copyright restrictions and licensing agreements that preside over each film individually. The United States has the biggest library in the world with 5,879 titles, which includes 4,035 movies and 1,844 TV shows. But even so, Friday After Next is not in the US catalog, which perfectly illustrates why even those living in regions with the biggest libraries benefit from a VPN for Netflix. 
By way of comparison, Georgia has just 2,116 titles, the least out of any country in the world with Netflix. Importantly, however, not all of these shows will be the same – the titles you get in Georgia won't necessarily be amongst the almost 6,000 title-strong US catalog. So even if your country has a relatively expansive catalog, a VPN will further increase the pool of movies you can watch. 
Shows also leave Netflix libraries all the time, often without much publicity. For example, widely-watched sitcom The Office (US) is leaving Netflix US at the end of December 2020, so all those caught mid-series will have to access it through another country's catalog, such as the UK's. 
How to watch Friday After Next with ExpressVPN
ExpressVPN is a hyper-secure and extremely well-regarded VPN. In fact, it wouldn't be a stretch to call it the most reliable one on the market. The consistently fast speeds ExpressVPN provide make it perfect for streaming Netflix without latency spikes, particularly if you're trying to access a library half the way across the world. They've recently introduced a new encryption protocol called Lightway, which has improved speeds and security further. Other features include a no-logs policy, a kill-switch and obfuscation capabilities. 
When it comes to streaming Friday After Next, ExpressVPN of course has you covered, with 160 servers in Australia in five locations. It has apps for all the platforms you could possibly want to stream Netflix on, and it allows five devices to connect to the VPN at the same time – which means that family or friends who want to stream Netflix shows available in other countries can do so without affecting your viewing experience. Just to top it off, it's also one of the easiest VPNs to set up, in part because of the detailed guides available on the site. ExpressVPN's money-back guarantee means you won't even incur any actual financial cost for taking their service for a test run.
Pricing:

From $6.67 - $12.95

Speeds:

Connect to:
How to watch Friday After Next with NordVPN
NordVPN is a Panama-based provider with over 5400 servers worldwide, including 190 in 5 different locations in Australia — exactly what you need to gain access to Friday After Next. As well as unblocking Australia's Netflix library, it can also get you into a further 13 catalogs. On top of this, it has a Smart DNS feature which kicks in if one of their servers is momentarily blocked by the site, as well as the ability to bypass ISP throttling so speeds are never really a problem. 6 simultaneous connections and NordVPN's ability to unblock a whole host of other services means family, housemates and friends can stream whatever they want whilst you're browsing through Netflix.
Not content with just providing top speeds and streaming capabilities, NordVPN operates on a strict no-logs policy, a kill switch and will even change your IP address twice for double the protection. Confident you'll be hooked after a month — and with good reason — NordVPN have always provided a 30-day money-back guarantee. 
Pricing:

From $3.71 - $11.95

Speeds:

Connect to:
How to watch Friday After Next with PrivateVPN
PrivateVPN is the last provider on our list, but don't let that fool you — it's still an excellent choice for unblocking Netflix catalogs. Most importantly, four different server locations in Australia means you can unblock Friday After Next without any problems. The Swedish firm does not have as many servers as the other two VPNs we recommend on this page, but it is a young, rapidly expanding company and it hasn't stop them from becoming one of the fastest VPNs you can get your hands on.
PrivateVPN is also the cheapest VPN on this list, but provides an impressive list of security features to keep you safe, including a very robust no-logs policy and DNS leak protection, with requests handled on their private servers. If you want to test out the speedy service for yourself, take advantage of their money-back guarantee. 
Pricing:

From $1.89 - $7.12

Speeds:

Connect to:
About Friday After Next
Friday After Next is the third film in rappers Ice Cube and DJ Pooh's Friday franchise, released in 2002 following their 1995 debut Friday and its sequel Next Friday, which came out in 2000. All three movies performed well at the box office, and if you're a fan of films that stray into edgier, politically incorrect comedy, then this will provide a welcome break from the stereotypically 'safe' plots many Christmas films on Netflix stick to.
The film is set on Christmas eve, when protagonist Craig (Ice Cube) catches a burglar rifling through his and Day-Day's (Mike Epps) apartment. The thief snatches their presents, but more importantly takes their rent money, which is due imminently. After a visit from the police, the duo are forced to take up jobs as security guards at a local strip lord so they can pay up when their horrible landlord, Ms. Pearly, comes around asking. This, surprisingly, does not go entirely to plan. 
Ms. Pearly's physically imposing son Damon (Terry Crews) is fresh out of prison and keen to put Craig and Day-Day in their place, and to add to the boy's worries, they only have a single ay to secure the cash. However. the threat of Damon doesn't deter the two flatmates from holding a rent party in the evening, the final ploy to ensure they're allowed to keep their flat. 
FAQs
Genres:
Creators:
Actors: