Please Note!
This title is no longer available on Netflix.
Collateral
What is StreamCatcher?
Certain shows and films are only available on Netflix in certain countries. But you can still watch them with specific VPN services connected to that country.
We've built a tool that can tell you which VPN you need and where to connect…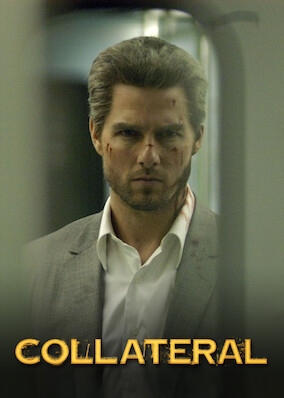 movie
About the Show:
Cab driver Max picks up a man who offers him $600 to drive him around. But the promise of easy money sours when Max realizes his fare is an assassin.
Looking for similar titles to Collateral? Click here.
IMDB Score

7.5 / 10

Netflix Score

3.6 / 5

Released

2004

Runtime

120 min

Rated

100

Directed by

Michael Mann
How to unblock it:
Here are the servers you can connect to on a VPN to watch it. If you want to watch it in a specific audio, or subtitles, select those from the dropdown and we'll highlight the server you need to connect to in yellow.
Refine your search:
Collateral came to theaters in 2004, directed by Michael Mann and starring Tom Cruise and Jamie Foxx. The neo-noir thriller unravels the story of Max, a cab driver in Los Angeles who has aspirations of starting his own limousine business.
These plans are scuppered when Vincent steps into his taxi. What begins as an ordinary job, takes a turn for the worst when Max realizes that Vincent is a contract killer. Vincent offers Max $600 to ferry him from location to location – ultimately making him complicit in a long string of murders.
Movie buffs in Europe and Asia will likely be able to watch Collateral on Netflix, but viewers in the United States will notice that the film is missing from their regional library – without a VPN, at least.
Can I stream Collateral on Netflix?
So long as you're located in one of the nine countries listed above, you'll be able to watch Collateral on Netflix without any issues – simply navigate to the site and search! British and American viewers will need to subscribe to a VPN service to do the same, however. This is because a VPN can bypass geo-restrictions that prevent you from checking out the Netflix content of other regions. Handy, right?
How to watch Collateral on Netflix
It's incredibly easy to set up a VPN – there's no technical jargon or long installation process. We've outlined the steps below, so follow along and you'll be ready to stream in no time.
First, you're going to need a Netflix account that's registered in your native country.
You'll also need to decide which VPN to subscribe to. There are plenty of options and a huge market, but the three providers we've highlighted below are particularly exceptional when it comes to streaming.
Head to the VPN provider homepage and download the correct app for your device. Follow along with the on-screen instructions to complete the installation.
Now it's time to find a VPN server – and this is where the magic happens! You'll need a region where Collateral is available on Netflix, and for this reason, we'd suggest connecting to a server in Argentina or Sweden.
Hit connect and click the link below to start streaming Collateral.
Why You Need a VPN to Watch Collateral
Because of finicky licensing agreements, Collateral is not available for every Netflix viewer in every part of the world. This might seem unfair – why should some viewers miss out, after all? Unfortunately, it's largely down to the copyright holder to determine which regions to distribute their content in.
Netflix might also think twice about buying the rights to a show or film for a certain country if demand there is not high enough. In purely financial terms, it won't make sense to Netflix to shell out the money for a minimal return.
Why we recommend ExpressVPN
ExpressVPN is a huge name in the VPN sphere and one of the most well-known and well-trusted providers out there. Thanks to its OpenVPN encryption, you can trust that your data will remain secure. Express' no-logs policy has also been audited to provide an additional layer of privacy for its users.
You'll be able to check out most streaming services with Express, which offers up to 5 simultaneous connections and support for Mac, Windows, Android, iOS, and Linux devices. But Express really shines when you consider how fast it is – all of its 3,000 servers boast unlimited bandwidth! If you run into any issues, a 24/7 customer service team is on hand to help, and you'll be able to trial the VPN for yourself with a 30-day money-back guarantee.
Pricing:

From $6.67 - $12.95

Speeds:

Connect to:

Japan
Switzerland
Brazil
Colombia
Argentina
India
Why we recommend NordVPN
NordVPN offers its users a huge pool of servers, with more than 5,400 across 59 global locations. They're incredibly quick and can beat ISP throttling to ensure a smooth streaming experience. Nord can unblock BBC iPlayer, Prime Video, and Hulu as well as Netflix, and you can stream on up to 6 devices at any one time.
Security is assured with military-grade OpenVPN encryption and an audited no-logs policy – so regardless of which device you install NordVPN on, you'll stay safe when browsing day-to-day. Be sure to reach out to NordVPN's expert team via live chat or email if you have any queries, and take advantage of a 30-day money-back guarantee to put the provider through its paces before subscribing.
Pricing:

From $3.71 - $11.95

Speeds:

Connect to:
Why we recommend PrivateVPN
PrivateVPN combines staunch security and ultra-fast speeds, thanks to OpenVPN encryption and a network of 100 Tier 1 servers in 60 countries. This VPN can certainly hold its own when compared to other premium names, being just as fast and capable of data-intensive tasks.
PrivateVPN is compatible with Windows, Mac, iOS, Android, and Linux devices, and can be installed on routers, too, so long as they're VPN enabled. A 30-day money-back guarantee provides enough time to check out the features of this VPN, which also comes with a stellar customer service team available round the clock to field any questions.
Pricing:

From $1.89 - $7.12

Speeds:

Connect to:

Japan
Switzerland
Brazil
Colombia
Argentina
About Collateral
Collateral tails Max (Jaime Foxx), a cab driver who picks up a customer named Vincent (Tom Cruise) who just so happens to be a contract killer.
Vincent claims that he is in the city for a single night and needs to be taken to a number of locations around Los Angeles. He promises Max a large reward for doing so, but Max is initially reluctant to comply – not wanting to put the dream of his own limousine firm in jeopardy by flouting regulations. Once they arrive at their first stop, it's revealed that Max's concern was well-founded: Vincent returns with a body, and after hiding it in the cab, Max is told to keep driving.
Jaime Foxx received a nomination for Best Supporting Actor at the 77th Academy Awards for his role as Max. Collateral's screenwriter was inspired by a real cab ride from he'd taken some years ago – minus the hitman, probably.
FAQs
Genres:
Actors: