Please Note!
This title is no longer available on Netflix.
Transformers
What is StreamCatcher?
Certain shows and films are only available on Netflix in certain countries. But you can still watch them with specific VPN services connected to that country.
We've built a tool that can tell you which VPN you need and where to connect…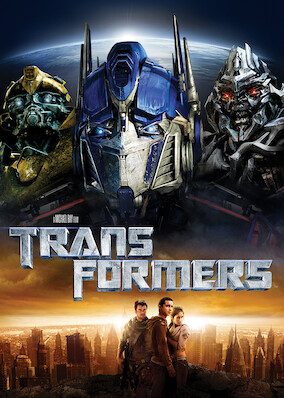 movie
About the Show:
As the Autobots and the Decepticons struggle for control of Earth's resources, young Sam Witwicky is unaware he is mankind's only hope for survival.
Looking for similar titles to Transformers? Click here.
IMDB Score

7 / 10

Netflix Score

3.9 / 5

Released

2007

Runtime

144 min

Rated

80

Directed by

Michael Bay
How to unblock it:
Here are the servers you can connect to on a VPN to watch it. If you want to watch it in a specific audio, or subtitles, select those from the dropdown and we'll highlight the server you need to connect to in yellow.
Refine your search:
Transformers is a 2007 action sci-fi directed by Michael Bay. In the movie, two tribes of a mechanical alien race struggle to control the Earth's finite resources. The mechanical aliens, originally hailing from the planet Cybertron, are at loggerheads and wage war on Earth, putting its human inhabitants in danger. Under the rule of Megatron (the leader of the Decepticons evil Transformers strive for domination, forcing the Autobots (under the leadership of Optimus Prime) to fight back. The film is the perfect sci-fi fantasy for any Netflix subscriber who wants fast-paced action with robots that can disguise themselves as vehicles and other large industrial objects. 
Can I stream Transformers on Netflix?
Yes! Although the Transformers movie is not available in all regions, it is possible for any Netflix subscriber to unblock the film to stream it. A VPN is an online tool designed to give you online privacy by concealing your location from the services you use. A handy by-product of this feature is that you can pretend to be in a different country.
By connecting to a VPN server in one of the countries that are currently showing Transformers on Netflix, you can cause your catalog to update automatically. As a result, you can stream the movie despite the fact that it is supposed to be unavailable where you live.
The important thing to remember is that a VPN works to unblock international Netflix catalogs without the need to change anything in your Netflix account. This is because Netflix does everything for you; automatically updating the catalog to show you the content that is supposed to be available in the region of the VPN server you connect to.
That said, in 2021 very few VPNs actually work with Netflix. This is because the streaming giant is working hard to block VPN servers. Luckily, a few market-leading VPNs have found ways around those blocks. As a result, you can still unblock more Netflix content if you want to. However, it is vital that you stick only to our recommended services for Netflix, or you will not be able to stream the Transformers movie. 
How to watch Transformers on Netflix
As long as you pick one of our recommended VPNs for Netflix, setting up and using the VPN software to unblock Netflix is extremely easy. As a result, you will be able to stream Transformers (or any other regional exclusive TV shows and movies).
One important thing to remember is that different VPN services unblock different regional Netflix catalogs. However, the very best service can unblock 24 different regions which give you the most choice.
In this article, we have recommended VPNs that have servers where you need them to stream Transformers. However, we have also chosen the very best services for streaming as much regional Netflix content as possible. That means that your VPN will come in handy for streaming tons of extra content! Simply follow the steps below to unblock Transformers:
The first thing that you need is a Netflix account. If you haven't got one yet, this will be your first job.
Now you must pick a VPN provider. All the VPNs we have recommended have servers that work to stream Transformers. 
Next, you'll need to download and install the VPN app from your chosen provider's website, and log in using your credentials.
Once the VPN has logged in, select a server in a country where Transformers is currently available. Fortunately, we've included a list of locations in this guide.
As soon as the VPN connects, you are ready to stream the movie. Launch Netflix and the film will automatically appear in your library – or, if you don't want to search, hit the button below and we'll take you straight to it!
Why You Need a VPN to Watch Transformers
Netflix is obliged to block TV shows and movies in certain countries. This is due to the licensing agreements it enters into with content producers. As a subscription holder, this can be really annoying because the content you want to watch is available on Netflix elsewhere – just not in your own country. Sadly, copyright holders have the final say over their content, and Netflix must abide by the contracts it has entered into.
The good news is that you can actually sidestep this entire problem with a VPN. A reliable VPN for Netflix will let you pretend to be in a different country, and due to the privacy, the VPN provides Netflix and copyright holders will never know that you bent the rules! 
Best of all, our recommended VPNs are super fast and they provide access to a multitude of different Netflix regions. That means that you can enjoy Netflix exclusives from all over the world – so that no shows or films will ever be off-limits again!
How to watch A Transformers with ExpressVPN
ExpressVPN is well-known, and well-regarded, thanks to its ability to unblock a total of 24 regional Netflix libraries. Users can also connect to a whopping 94 countries for global coverage! ExpressVPN has intuitive apps for all platforms and devices, and an expert customer service team is only a click away and available 24/7. What's more, ExpressVPN is seriously quick, and you won't have any trouble streaming in HD. You can put ExpressVPN to the test with a 30-day money-back guarantee, too!
After installing ExpressVPN and logging into the app, you'll simply need to connect to one of the below locations, search for Transformers, and enjoy!
Pricing:

From $6.67 - $12.95

Speeds:

Connect to:

South Korea
France
Canada
Japan
Switzerland
Netherlands
Italy
Australia
Brazil
Colombia
Argentina
India
How to watch Transformers with NordVPN
NordVPN can unblock a bevy of streaming services, including Netflix, BBC iPlayer, Prime Video, and hulu – so you'll never run out of box sets to binge! Geo-restrictions don't stand a chance against NordVPN's 5,400 servers dotted across the globe in 59 locations, and all of these servers are lightning-fast, too. NordVPN is compatible with just about every device out there, and its apps are easy to install in just a few clicks. You can also take NordVPN for a trial run before committing to a subscription thanks to its 30-day money-back guarantee.
Once you've installed Nord, checking out Transformers is as easy as connecting to one of the countries listed below, logging into Netflix, and searching for the movie!
Pricing:

From $3.71 - $11.95

Speeds:

Connect to:

South Korea
France
Canada
Japan
Netherlands
Italy
Australia
Brazil
India
How to watch Transformers with PrivateVPN
PrivateVPN is the ideal provider for those on a budget – and despite costing less, the service doesn't skimp on features! With PrivateVPN, you'll be able to browse multiple Netflix libraries and connect to servers in more than 60 countries. Unlimited bandwidth makes streaming box sets a breeze – even in HD. The PrivateVPN app is beginner-friendly and quick to install, and supported by all platforms. It also has an excellent customer service team with live chat support. With so much on offer, we think it is well worth taking advantage of the 30-day money-back guarantee to try PrivateVPN risk-free.
Watching Transformers is super-easy with PrivateVPN. Install the VPN, log in to the app, and when prompted to join a server, select one of the locations listed below. You'll now be able to refresh Netflix and watch Transformers without restrictions!
Pricing:

From $1.89 - $7.12

Speeds:

Connect to:

South Korea
France
Canada
Japan
Switzerland
Netherlands
Italy
Australia
Brazil
Colombia
Argentina
About Transformers
Transformers is a Science-Fiction movie about a race of robots who bring their war to earth. The two sentient robot factions – the Decepticons and Autobots – are fighting to gain control over the AllSpark, a powerful artifact that created their robotic race and has somehow made its way to planet Earth. In the movie, the robots, which originally hail from a planet called Cybertron, can transform into mechanical objects (primarily vehicles) to conceal themselves in their surroundings. The film combines live-action with computer animation and stars Shia LaBeouf as Sam Witwicky, the unlikely teenager who must somehow save humanity from the chaos caused by the robots. 
FAQs
Genres:
Actors: