Please Note!
This title is no longer available on Netflix.
The Duchess
What is StreamCatcher?
Certain shows and films are only available on Netflix in certain countries. But you can still watch them with specific VPN services connected to that country.
We've built a tool that can tell you which VPN you need and where to connect…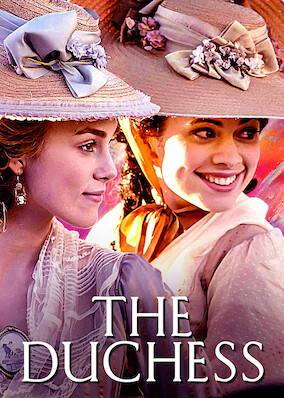 movie
About the Show:
To compensate for her unhappy marriage, young duchess Georgiana Spencer begins a scandalous affair with politician Charles Grey.
Looking for similar titles to The Duchess? Click here.
IMDB Score

6.9 / 10

Netflix Score

3.8 / 5

Released

2008

Runtime

110 min

Rated

80

Directed by

Saul Dibb
How to unblock it:
Here are the servers you can connect to on a VPN to watch it. If you want to watch it in a specific audio, or subtitles, select those from the dropdown and we'll highlight the server you need to connect to in yellow.
Refine your search:
Directed by Saul Dibb, The Duchess is the artful result of a collision between a classic 18th century story and stylish, modern filmmaking. The young Duchess of Devonshire, Georgiana Cavendish, attempts to navigate the treacherous world of high-society, and comes to realize that her recent marriage is a cold and perfunctory one. In fact, her singular duty is to produce a male heir. Dissatisfied with her "role", Georgiana looks elsewhere for fulfillment.
Don't worry if The Duchess isn't currently available in your region – a VPN allows you to tune in regardless of where you are in the world! There's no need to recreate your Netflix account and getting started only takes a few minutes. So, if you're interested in unblocking The Duchess, as well as countless other shows and movies, keep reading!
Can I stream The Duchess on Netflix?
If you live in Canada, Germany, or Switzerland, you'll be able to stream The Duchess directly from your Netflix account without any trouble. But what about the rest of the world? Unfortunately, the movie is unavailable to folks outside of these three regions – unless you have a VPN!
A VPN assigns you a new, temporary IP address in the location of your choice, and this fools the sites you visit into thinking you're physically located elsewhere. This handy trick is called "location spoofing", and it allows Netflix customers to bypass geo-restrictions and get the most from their subscriptions.
In this guide, we've hand-picked three of the best VPN providers in the biz – and we'd recommend using one of them. Once you've subscribed, you'll simply need to connect to a server in Canada, Germany, or Switzerland. Refresh Netflix to see your updated library, and then search for The Duchess as you usually would. EU customers should keep in mind that it is difficult to access the UK Netflix library, even with a VPN. Netflix is able to determine the country an account was registered in, and as such, EU customers might see their original country's library even if they're roaming abroad. At this time, there's currently no workaround for the issue.
How to watch The Duchess on Netflix
Ready to stream The Duchess? If so, you'll need a Netflix subscription and a VPN. That's it! Oh, and don't worry if you're new to VPNs – they're easy to use and even easier to set up.
There are hundreds of VPNs out there, and they all claim to be able to unblock Netflix, but not every service is going to have access to the specific regional libraries you need to stream The Duchess. We've highlighted three services that do, however! Once you're ready to get started, simply follow along with the instructions below:
First things first, make sure you have a Netflix account. You can use an existing profile or register for a new one. If you do create a new account, don't worry about the location in which it's registered – the VPN handles the geo-hopping later.
You'll then want to decide on a VPN provider. We've made three stellar suggestions in this guide that can unblock all sorts of content from overseas, as well as The Duchess.
Once you've made your pick, download the VPN software from the provider's website and follow along with the on-screen instructions to complete installation. Login in with your credentials when prompted, too.
Then, you'll be asked to choose which server you'd like to connect to. Check out which countries we'd recommend for your VPN below, then select it via the world map or server list.
Click that connect button, wait a moment, and open up a new Netflix tab. You'll be able to search for, and start streaming, The Duchess in a tick! Or you can hit the button below to go straight to it.
Why You Need a VPN to Watch The Duchess
It's pretty frustrating when Netflix offers content in one region but not another – after all, we all pay the same subscription! But Netflix isn't entirely in charge of where certain shows and movies can be streamed. Being bound by contractual agreements with copyright holders and content producers means that Netflix has to enforce geo-restrictions to ensure that content is only available in the specific regions where it's been licensed.
But what if a show or movie isn't licensed in your country? Well, that's where a VPN can help! A VPN is a cheap and easy-to-use solution, and with one, customers can browse international Netflix libraries without leaving their couch.
A VPN "spoofs" your location when you connect to one of its servers in another country. Afterwards, the sites you visit (including Netflix) will assume you're there physically, too, and grant you access to content that might've previously been geo-restricted.
How to watch The Duchess with ExpressVPN
When it comes to well-known, premium-feeling VPN services, ExpressVPN is up there with the best of them! ExpressVPN is famed for its reliability, and customers can browse through 24 regional Netflix catalogs. In addition, there are servers in 94 locations around the world to pick from – so bypassing geo-restrictions is a breeze. ExpressVPN is an incredibly quick provider that can handle HD streaming and is compatible with all platforms. If you run across any issues, an expert support team is on hand 24/7. Try ExpressVPN, and all of its features, for yourself with a 30-day money-back guarantee!
Install ExpressVPN on the device of your choice and simply select a server in one of the locations listed below. Once you're connected, open up a new Netflix tab and tune in to The Duchess!
Pricing:

From $6.67 - $12.95

Speeds:

Connect to:

Canada
Germany
Switzerland
How to watch The Duchess with NordVPN
NordVPN combines ease of use with intuitive features, and customers can access geo-restricted content with servers in 59 locations. What's more, NordVPN is more than capable of unblocking BBC iPlayer and Prime Video in addition to Netflix, and unlimited bandwidth keeps your streams smooth – no buffering circles or hiccups! There are NordVPN apps for just about every device, and VPN beginners (as well as tech veterans) will have no trouble getting setup. In addition to a round-the-clock team of experts ready to assist with any concerns, NordVPN lets you try before you buy with a 30-day money-back guarantee.
Once you've installed NordVPN, connect to a server in one of the countries below, and open Netflix to search for, and stream, The Duchess as you normally would!
Pricing:

From $3.71 - $11.95

Speeds:

Connect to:
How to watch The Duchess with PrivateVPN
PrivateVPN is the smallest of our recommended VPNs, but it's an incredibly effective, reliable and quick service that's ideal for anyone looking for a cheaper option. Unblock content in a few clicks, and select from a network of servers spanning more than 60 countries! PrivateVPN customers will be able to browse through various Netflix libraries, and it's easy-to-use apps make streaming a cinch on any device – and all without endless buffering! PrivateVPN also boasts a customer service team made up of actual developers, ready to help with any issues, and a 30-day money-back guarantee allows prospective customers to take the service for a test drive.
To watch The Duchess with PrivateVPN, simply install the app, select a country from the list below, and refresh Netflix!
Pricing:

From $1.89 - $7.12

Speeds:

Connect to:

Canada
Germany
Switzerland
About The Duchess
The Duchess, directed by Saul Dibb, made its big screen debut back in 2008, and stars Keira Knightley as the eponymous 18th century Duchess of Devonshire – Georgiana Cavendish. Georgiana enters into a marriage with the Duke of Devonshire, one William Cavendish, whose only expectation of Georgiana is that she provides him with a son.
The Duchess is an exquisitely shot adaptation of Amanda Foreman's biography, and scooped the Academy Award for Best Costume Design, as well as a nomination for Best Art Direction.
Georgiana's marriage cools quickly, and an unspoken tension grows between the wedded pair when William's illegitimate daughter is invited to stay in the house. William encourages Georgiana to not only accept the girl, but to treat her as a trial run for a child of their own – and eventually, Georgiana does fall pregnant. Unfortunately for William, however, the child is a girl. Dissatisfied with his wife, William enters into an illicit affair with Georgiana's closest confidant, the lady Bess Foster, a guest in their house. Betrayed and lonely, Georgiana likewise takes a lover – but William does not take kindly to the notion, dismissing the idea that Georgiana should be allowed an extramarital affair, too.
FAQs
Genres:
Creators:
Actors: