Please Note!
This title is no longer available on Netflix.
The Office (U.S.)
What is StreamCatcher?
Certain shows and films are only available on Netflix in certain countries. But you can still watch them with specific VPN services connected to that country.
We've built a tool that can tell you which VPN you need and where to connect…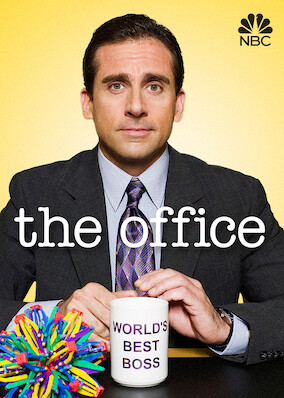 series
About the Show:
This hit comedy chronicles the foibles of disgruntled office workers -- led by deluded boss Michael Scott -- at the Dunder Mifflin paper company.
Looking for similar titles to The Office (U.S.)? Click here.
IMDB Score

8.9 / 10

Netflix Score

3.9 / 5

Released

2005

Runtime

22 min

Rated

90
How to unblock it:
Here are the servers you can connect to on a VPN to watch it. If you want to watch it in a specific audio, or subtitles, select those from the dropdown and we'll highlight the server you need to connect to in yellow.
Refine your search:
Seasons (Available in all countries):
S1 (6 episodes)
S2 (22 episodes)
S3 (23 episodes)
S4 (14 episodes)
S5 (28 episodes)
S6 (26 episodes)
S7 (26 episodes)
S8 (24 episodes)
S9 (23 episodes)
The Office (US) is a mockumentary sitcom starring Steve Carell as Michael Scott – the nutty and deluded manager of a Pennsylvania paper company branch. The massively popular show is the American remake of a British sitcom by the same name – originally written by and starring Ricky Gervais. While the British version of The Office is highly dry and sarcastic, the US version is often slapstick and much more direct in its comedic style. Carrell's performance is hilarious, and the entire cast is pure gold. The Office (US) is perfect viewing for any occasion when you just need a good laugh!
Is The Office on Netflix?
Yes, The US Office is on Netflix! However, it is only available in specific countries Netflix catalogs, these are listed above. If you aren't in any of the locations listed above, you can still access the show by using a VPN service to spoof your location. All you have to do is sign up to a VPN service with servers in the locations above, we've recommended some below, connect to it and stream Netflix as if you were elsewhere.
However, please beware that The Office (US) is due to end its run on Netflix in 2021. That means that you will need to stream the entire show before next year if you do want to see all of it! To do so, simply pick one of the VPNs recommended in this article and connect to a server in the US. As soon as the VPN connection is established, your Netflix library will automatically update and you can stream The Office.
How to watch The Office (US) on Netflix
Streaming content that is only available on Netflix US (like The Office) is easy as long as you subscribe to one of our recommended VPNs. Our expertly chosen VPN recommendations have custom apps for all platforms, which means you can stream The Office on any device.
Follow the steps below to set up your VPN and unblock The Office:
Pay for a Netflix subscription in your home country.
Sign up to a VPN service recommended in this article.
Download the VPN software and install it on your Netflix-ready device.
Choose a VPN server in the USA – where Netflix is currently showing The Office (US) and click connect.
Hit connect and click the link below to stream this iconic mockumentary!
Why You Need a VPN to Watch The Office (US)
Contracts and licensing agreements between Netflix and the producers of The Office mean that Netflix can only broadcast the show in America. This means that people paying for a Netflix subscription elsewhere in the world can't watch it – unless they get a VPN subscription.
By connecting to a VPN server in the US, your IP address appears to actually be in America. As a result, your Netflix catalog automatically updates to include US-exclusive content such as The Office. 
Why we recommend ExpressVPN
ExpressVPN is a provider that is often considered the best VPN in the world. It is a zero-logs provider based in the British Virgin Islands that can provide instant access to a whopping 24 different Netflix catalogs – including the USA for streaming The Office (US). ExpressVPN has apps for all platforms that are easy to use. This makes it perfect for streaming exclusive Netflix content from around the globe on any device. In addition, ExpressVPN allows its subscribers to use the VPN on up to 5 devices at the same time. That means you can stream The Officeboth while at home or on vacation (on public WiFi). Plus, this VPN has live chat support to give you help if you need it! You can try the service risk-free, by making the most of its 30-day money-back guarantee. 
Pricing:

From $6.67 - $12.95

Speeds:

Connect to:

France
Canada
United Kingdom
Sweden
Switzerland
Netherlands
Italy
Spain
Australia
India
Israel
Why we recommend NordVPN
NordVPN is another superb, reliable VPN provider based in Panama. It is ideal for unblocking Netflix content from all over the world because it provides access to 14 different Netflix catalogs – including the USA for streaming The Office (US). NordVPN is not expensive, it has a lot of advanced features, and it is massively versatile. It also provides the necessary speeds for streaming in HD without buffering. We love this service because it can unblock not just Netflix but a large choice of international streaming services. An excellent all-rounder that you can compare to our other recommendations thanks to its 30-day money-back guarantee.
Pricing:

From $3.71 - $11.95

Speeds:

Connect to:

France
Canada
United Kingdom
Netherlands
Italy
Spain
Australia
India
Why we recommend PrivateVPN
PrivateVPN is a provider from Sweden that comes highly recommended by subscribers. It is a low-cost service that has proven to be popular due to its large feature set. It is a no-log VPN with apps for all platforms, and it is one of the few VPNs that can unblock a wide selection of international Netflix catalogs. This makes it perfect for streaming The Office (US)– or any other exclusive content showing on Netflix catalogs around the world. Considering the low cost, this VPN provides fantastic speeds for streaming in HD. It also lets subscribers use its apps on upto 6 devices simultaneously. A superb VPN that is well worth taking for a test run using its 30-day money back guarantee.

Pricing:

From $2.49 - $9.99

Speeds:

Connect to:

France
Canada
United Kingdom
Sweden
Switzerland
Netherlands
Italy
Spain
Australia
About The Office (US)
The Office is a mockumentary-style sitcom, filmed in such a way that it seems as if the characters are being followed around by a film crew at all times. The plot centers around the employees of a paper company, specifically those workers at a branch in Scranton, Pennsylvania. In total there are nine seasons to stream, and the whole thing is a gut-wrenching furor of laughs.
The deluded manager, played by Steve Carrell, believes he is the greatest manager of all time – using some of the most unorthodox and hilarious methods ever devised to keep his crew under control.
The show has it all, from Dwight Schrute the overbearing suckup who hilariously commands the fake position of assistant manager, to the romantic triangle created by the receptionist, her best friend in the desk opposite, and her boyfriend in the delivery department downstairs.
Office romances ensue in the most unlikely of places, paper sale targets are met and failed, and Michael Scott calls more staff meetings than you can shake a stick at – all the while accompanied by the kinds of insane escapades that will provide a laugh a second. "Parkour!"
FAQs
Genres:
Creators:
Actors: