Please Note!
This title is no longer available on Netflix.
It's Always Sunny in Philadelphia
What is StreamCatcher?
Certain shows and films are only available on Netflix in certain countries. But you can still watch them with specific VPN services connected to that country.
We've built a tool that can tell you which VPN you need and where to connect…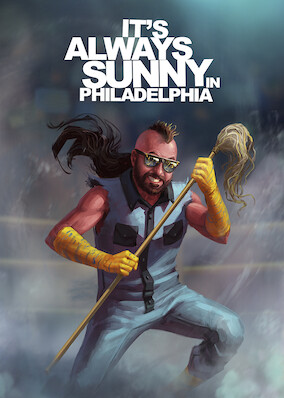 series
About the Show:
Four narcissistic friends run a Philadelphia bar where their juvenile behavior brings situations from uncomfortable to hysterically horrible.
Looking for similar titles to It's Always Sunny in Philadelphia? Click here.
IMDB Score

8.8 / 10

Netflix Score

4.1 / 5

Released

2005

Runtime

22 min

Rated

110
How to unblock it:
Here are the servers you can connect to on a VPN to watch it. If you want to watch it in a specific audio, or subtitles, select those from the dropdown and we'll highlight the server you need to connect to in yellow.
Refine your search:
Seasons (Available in all countries):
S1 (7 episodes)
S10 (10 episodes)
S11 (10 episodes)
S12 (10 episodes)
S13 (10 episodes)
S14 (9 episodes)
S2 (10 episodes)
S3 (15 episodes)
S4 (12 episodes)
S5 (12 episodes)
S6 (12 episodes)
S7 (13 episodes)
S8 (9 episodes)
S9 (9 episodes)
When it first crept onto screens in 2005, 'It's Always Sunny in Philadelphia' was tucked away on a late-night slot on US Network 'FX's' more obscure sister channel 'FXX'. 14 seasons later it is one of the most beloved sitcoms around, and all are available on Netflix if you live in the UK. If not, and you still want to follow the adventures of Philadelphia's most charming band of reprobates, read on!
How to Watch It's Always Sunny in Philadelphia on Netflix
Always Sunny is only available on Netflix UK due to licensing restrictions. However, a VPN will get you streaming the series in no time. A VPN is simple to set up, and once you have one, you will be able to unlock loads of regional Netflix content. Here is how you do it...
First, you'll need a Netflix account registered and active. It doesn't matter where you live... a VPN will handle the rest!
Next, subscribe to the recommended VPN provider that best suits your needs.
Download and install the VPN app from the provider's website.
Connect to a server in the UK.
Hit connect and then click the button below to start streaming It's Always Sunny in Philadelphia!
Bingo! It's Always Sunny in Philadelphia, as well as all other shows available on UK Netflix, will now be available to watch!
Why isn't It's Always Sunny available outside the UK?
Many show and filmmakers have deals with TV stations and streaming platforms to exclusively host their content in specific countries. Furthermore, streaming services like Netflix regularly rotate their content to avoid the roster getting stale.
But don't worry. Using one of the following VPNs you can access the shows as soon as their available!
WARNING: IF YOU LIVE IN EUROPE YOU MAY STRUGGLE TO UNLOCK REGIONAL CONTENT FROM OTHER EUROPEAN COUNTRIES.
Recent changes in legislation mean that EU users will only be able to access non-EU libraries. This means that users in Europe should connect to servers outside of the EU where possible.
Why we recommend ExpressVPN
ExpressVPN is widely hailed as the best VPN that money can buy. With an enormous network of servers in over 94 countries, you'll be able to access almost any Netflix library you can think of! ExpressVPN allows you to connect up to 5 devices and will work on almost any platform. The kids can use their games consoles or tablets, meaning less arguments, and more time for you to enjoy your favorite shows.
If you need help getting all this set up, ExpressVPN's customer service team are available 24/7 to help you get the whole family streaming, and if that sounds too good to be true there is a full 30-day money-back guarantee.
Pricing:

From $6.67 - $12.95

Speeds:

Connect to:
Why we Recommend NordVPN
NordVPN has a lot going for it, not least of these is the huge number of servers that it gives you access to, meaning you'd be hard pushed to think of a series you can't access. If it streams online, NordVPN will let you access it.
With a strict no-log policy thanks to Swedish privacy laws, excellent streaming speeds, and no bandwidth limits, NordVPN lets you stream what you want, when you want, for as long as you want. If you're still not convinced, they offer an excellent customer service experience, allowing you to talk directly with developers if you need a helping hand, and a full 30-day money-back guarantee, because they're that confident you'll never look back.
Pricing:

From $4.13 - $11.95

Speeds:

Connect to:
Why we recommend PrivateVPN
PrivateVPN is a fantastic low-cost option to unlock your favorite box sets and movies on Netflix. It's impressive speeds not only reduce buffering time, but also make it perfect for video calls. What's more, PrivateVPN has dedicated servers for unblocking Netflix, so you know they mean business!
It might not have as many server options as other VPNs, but PrivateVPN has servers in a wide selection of countries making it perfect for unblocking Netflix. It doesn't log any of your activity, and with a 30-day moneyback guarantee when you sign up, PrivateVPN is a great way to watch all of your favorite shows and films, worry-free.
Pricing:

From $1.89 - $7.12

Speeds:

Connect to:
About It's Always Sunny in Philadelphia
It's Always Sunny in Philadelphia follows four friends and their hilariously grotesque benefactor, played by Danny de Vito, as they attempt to one-up each other and troll the entire City of Philadelphia. The gang is regularly embroiled in revenge plots, get rich quick schemes, and misguided business ventures, in which their ham-fisted opportunism, and lack of any loyalty to friend or family, inevitably leave their self-centered ambitions unfulfilled.
But it's not all gutter humor, over the seasons the writing has shifted from shock comedy to a more socially aware approach, with the gang tackling some of the most contentious talking points of the day. And as the characters evolve (or devolve) progressively through the life of the show, they only become more compelling and relatable.
FAQs
Genres:
Creators:
Actors: