Please Note!
This title is no longer available on Netflix.
Top Gear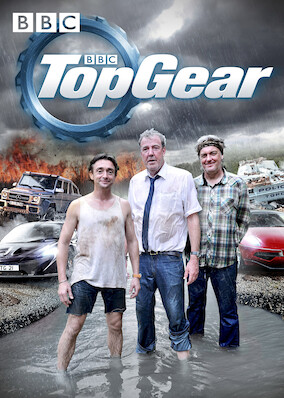 series
Jeremy Clarkson and his crew of car lovers test the limits of luxury vehicles in this hit show that also features celebrities racing on a test track.
IMDB Score

8.7 / 10

Netflix Score

4.1 / 5

Released

2003

Runtime

60 min

Rated

70

Directed by

Chris Donovan
Looking for similar titles to Top Gear?
Show me
Choose Your Language:
Below are the servers you should connect to through your VPN to enjoy Top Gear
Seasons (Hover for countries):
S10 (1 episodes)
S12 (1 episodes)
S14 (1 episodes)
S15 (7 episodes)
S16 (7 episodes)
S17 (7 episodes)
S18 (7 episodes)
S19 (6 episodes)
S20 (6 episodes)
S21 (6 episodes)
S22 (10 episodes)
S24 (7 episodes)
S25 (6 episodes)
S7 (1 episodes)
S9 (2 episodes)
How to watch Top Gear on Netflix
Without a VPN, you can only watch Top Gear on Netflix if you're in the UK, France, Germany, Switzerland, Italy, Portugal, Spain. But, if you're looking for a dose of Clarkson & Co's brand of facetious banter, and you're elsewhere in the world, fear not. Just follow our step by step guide to unlocking Top gear on Netflix:
Firstly subscribe to Netflix.
Next, choose a VPN provider from one of the recommendations listed below, and sign up.
Download and install the VPN from the provider's website.
Now log in to your VPN and find a server in a country that offers Top Gear.
Hit connect and then click the button below to start streaming!
Start your engines! You can now start streaming all the petrol-soaked antics that you want!
Why isn't Top Gear available everywhere?
Netflix may only choose to fork out for the license for any given show based on its popularity in that region. While Top Gear is huge in the UK, some of Jeremy Clarkson's antics may have made him… let's say, slightly less popular in the US. For that reason, it may not be worth Netflix paying for the license there. As divisive as he is, he is nonetheless entertaining, so if you would like to find out more, start by checking out one of the VPNs below.
WARNING: IF YOU LIVE IN EUROPE YOU MAY STRUGGLE TO UNLOCK REGIONAL CONTENT FROM OTHER EUROPEAN COUNTRIES.
Recent changes in legislation mean that EU users will only be able to access non-EU libraries. This means that users in Europe should connect to servers outside of the EU where possible.
Why we recommend ExpressVPN
Express VPN offers a world-leading service with access to over 94 countries. It comes with lightning-fast servers, and military-grade OpenVPN encryption. It's perfect for getting around geo-restrictions, and with advanced privacy features, it's a great security boost for anyone.
Express offers apps for all major platforms, and even browser extensions for extra security. If you need help getting all this set up, ExpressVPN customer service team are available 24/7 to help you get the whole family streaming.
Pricing:

From $6.67 - $12.95

Speeds:

Connect to:

France
United Kingdom
Germany
Italy
Why we Recommend NordVPN
NordVPN is one of the best-known VPN providers in the industry. Over the years it's built up an impressive network of servers allowing you to access shows like Top Gear from almost anywhere in the world, and with no buffering time thanks to its great connection speeds.
Being based in Panama means it can take advantage of their privacy laws to offer a strict no-log policy, and with no bandwidth limit, NordVPN will let you stream your fill of Top Gear. If you're still not convinced, they offer an excellent customer service experience, allowing you to talk directly with developers if you need a helping hand, and a full 30-day money-back guarantee, because they're that confident you'll never look back.
Pricing:

From $3.71 - $11.95

Speeds:

Connect to:

France
United Kingdom
Germany
Italy
Spain
Why we recommend PrivateVPN
PrivateVPN is a powerful, low-cost streaming VPN with dedicated servers for Netflix, Hulu, Disney+, and even Prime Video. Not only do its impressive speeds keep buffering time down, but you can have a total of 6 devices on 1 subscription.
As well as these high connection speeds, PrivateVPN offers some other exciting features such as unlimited bandwidth, a family referral discount, and free remote-setup if you're not the most confident with tech. It doesn't log any of your activity, and with a 30-day money-back guarantee, PrivateVPN is a great way to watch all your favorite shows and films, worry-free.
Pricing:

From $1.89 - $7.12

Speeds:

Connect to:

France
United Kingdom
Germany
Switzerland
Italy
Spain
About Top Gear
Top Gear has been around in various forms and guises since 1977. Having been rebooted by Jeremy Clarkson, Richard Hammond, and James May in 2002, the show quickly became one of the most popular shows on British television and made its presenters household names. Having originally been a more practical show on motoring in Britain, the rebooted version sought to focus on high-end luxury vehicles. Regular features such as the 'Star in a Reasonably priced car' segment, saw a never-ending reel of celebrities compete in a time trial on their studio race track. While some of the most luxurious and powerful cars in the world were put to the test by an enigmatic and anonymous racing driver, 'The Stig'.
FAQs
Genres:
Actors: