Please Note!
This title is no longer available on Netflix.
Doctor Who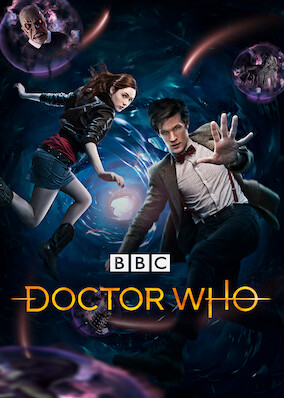 series
An updated incarnation of everybody's favorite time-traveling Doctor sets about fighting nefarious aliens and other foes in this epic sci fi series.
IMDB Score

8.6 / 10

Netflix Score

4.3 / 5

Released

2005

Runtime

45 min

Rated

70

Directed by

Douglas Mackinnon
Looking for similar titles to Doctor Who?
Show me
Choose Your Language:
Below are the servers you should connect to through your VPN to enjoy Doctor Who
Seasons (Available in all countries):
S1 (13 episodes)
S10 (14 episodes)
S2 (14 episodes)
S3 (14 episodes)
S4 (19 episodes)
S5 (14 episodes)
S6 (14 episodes)
S7 (16 episodes)
S8 (12 episodes)
S9 (14 episodes)
Doctor Who is a classic British sci-fi TV show produced by the BBC. It has been in almost continuous rotation since 1963 when The Doctor – and his time-traveling phone box – were first introduced to the world. The show tells the story of a 2000-year old Time Lord and his companions, who travel the universe solving mysteries and having adventures. During the course of those adventures, The Doctor and his various companions must combat a variety of enemies in order to save the world from destruction. Think of it as the original Rick and Morty and you won't go far wrong! 
Perfect for anybody looking for an introduction to some of the best British TV that the BBC has to offer!
Can I stream Doctor Who on Netflix?
Yes. Although Doctor Who is currently an exclusive on the UK's Netflix catalog, the reality is that anybody can stream it from anywhere in the world! A Virtual Private Network (VPN) can easily be used to 'spoof' your location to Britain. By connecting to a VPN server in the UK, your real IP address is concealed and you appear to live right alongside the Queen and her Corgis. As a result, you can stream Doctor Who (or any other UK-exclusive Netflix shows).
To do so, simply pick one of the VPN recommendations in this article and connect to a server in the UK. As soon as the VPN connects, your Netflix library will automatically update and you can stream Doctor Who like any regular British citizen.
How to watch Doctor Who on Netflix
All of the VPN services recommended on this page provide access to custom apps that are available for all popular platforms. This makes it easy to set up and use the VPN on any Netflix-ready computer, tablet, or mobile device. 
Follow the steps below to quickly and easily unblock Doctor Who on Netflix:
Pay for a regular Netflix subscription in your home country.
Subscribe to the VPN service you prefer by clicking on one of the links provided in this article.
Download the VPN software and install it on your Netflix-ready device.
Find a VPN server in the UK with good connection speeds.
Hit connect and click the link below to start streaming Doctor Who!
Why You Need a VPN to Watch Doctor Who
Like all other inline streaming services, Netflix is bound contractually by agreements with content producers and copyright holders. As a result, the streaming service is unable to legally show all content in all places around the world. This is why Netflix catalogs vary from place to place.
Luckily, however, anybody can use a VPN to trick Netflix into thinking you are in a different country. As a result, you can pretend to be in England to unblock Doctor Who! As soon as you connect to a VPN server in the UK, your Netflix catalog will automatically update to include Doctor Who. So go ahead, pick a service from this article, and start watching more Netflix right away!
Warning:
Users from European countries outside of the UK may need to acquire an American subscription to Netflix, as new legislation means that users from within the European Economic Area will only see their registered country's Netflix catalog when accessing other EEA catalogs with a VPN. With an American Netflix subscription, you can access each individual country's Netflix catalog within the EEA – so you can stream your favorite shows, and so much more!
Why we recommend ExpressVPN
ExpressVPN is a superb VPN that has apps for all platforms. It has servers in a total of 94 countries and can unblock a whopping 24 international Netflix catalogs. This makes it perfect for streaming more content on a Netflix account. And, of course, it has a server in the UK to let you watch Doctor Who. ExpressVPN is easy to use, which makes it great for beginners looking for an easy way to unlock more content on their Netflix subscription. ExpressVPN allows subscribers to use the VPN on up to 5 devices at the same time, and it has outstanding 24/7 live chat support. A superb all-rounder that you can test for unblocking Doctor Who thanks to its 30-day money-back guarantee. 
Pricing:

From $6.67 - $12.95

Speeds:

Connect to:
Why we recommend NordVPN
NordVPN is a no-logs VPN provider from Panama. It is a secure service that will let you unblock a total of 14 different Netflix catalogs – including the UK to stream Doctor Who. NordVPN has superb apps for all platforms that come with a wide choice of advanced privacy features. As a result, this VPN represents excellent value for money. It is a fast VPN that is capable of letting you stream on Netflix in HD (though, it isn't as fast as ExpressVPN). Overall, it is a superb all-rounder that you can check out yourself thanks to its 30-day money-back guarantee. 
Pricing:

From $3.71 - $11.95

Speeds:

Connect to:
Why we recommend PrivateVPN
PrivateVPN is often recommended by consumers. It is a trusted VPN based in Sweden that provides access to a large number of international Netflix catalogs. This includes the UK, to let you stream Doctor Who. Considering the relatively low cost of a subscription, this VPN provides excellent speeds for streaming. It also lets subscribers use the VPN on up to 6 devices simultaneously, which makes it good for gaining privacy – or streaming Netflix both at home and on public WiFi. A useful VPN, that it is possible to try risk-free using its money-back guarantee.
Pricing:

From $1.89 - $7.12

Speeds:

Connect to:
About Doctor Who
Originally released in 1963, this long-running British sci-fi TV show has spawned a cult following worldwide. The show is often cited as the inspiration behind Back to the Future, as well as a number of other modern sci-fis. 
In the show, The Doctor, a 2000-year-old Time Lord, travels through the universe and its various dimensions to save a number of different civilizations from dangerous foes. The Doctor and the companions he meets along the way travel in an old red phone box – a time machine known in the show as the TARDIS. 
The show is famous for the Doctor's primary robotic foe: The Daleks. They are a civilization with a master plan to take over the entire known universe. The show is a comedy that relies on cliff hangers to hook viewers in and keep them wanting more.
In total there are 861 episodes, representing a total of 259 stories. However, Netflix is currently showing the modern era, which includes a total of 10 seasons. 
FAQs
"accordion" question="What if the VPN doesn't work?" answer="The VPNs recommended in this article were picked because they all unblock Netflix. Some VPN providers only work to access the US Netflix catalog. This limits the amount of content you can stream with your VPN. Our recommendations have a wide range of servers able to unblock a range of Netflix regions. As a result, you can access exclusive Netflix titles from all around the world. If your VPN is failing to unblock a specific TV show or movie, check out our own Netflix VPN troubleshooting guide and contact your VPN's support team to find out which server to use. There is a chance that your VPN will not unblock every Netflix location (so always check with your provider if you require a specific location). With that said, all of our recommendations have servers in the UK – so you will have no issues streaming Doctor Who!"
Genres:
Creators:
Actors: