Please Note!
This title is no longer available on Netflix.
Heartland
What is StreamCatcher?
Certain shows and films are only available on Netflix in certain countries. But you can still watch them with specific VPN services connected to that country.
We've built a tool that can tell you which VPN you need and where to connect…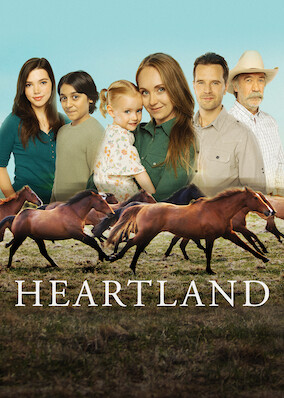 series
About the Show:
Spunky teenager Amy is reeling from the sudden death of her mother when she and her grandfather are threatened with the loss of their horse ranch.
Looking for similar titles to Heartland? Click here.
IMDB Score

8.4 / 10

Netflix Score

4.3 / 5

Released

2007

Runtime

45 min

Rated

80
How to unblock it:
Here are the servers you can connect to on a VPN to watch it. If you want to watch it in a specific audio, or subtitles, select those from the dropdown and we'll highlight the server you need to connect to in yellow.
Refine your search:
Seasons (Hover for countries):
S1 (13 episodes)
S10 (18 episodes)
S11 (18 episodes)
S12 (11 episodes)
S13 (10 episodes)
S2 (18 episodes)
S3 (18 episodes)
S4 (19 episodes)
S4 (20 episodes)
S5 (18 episodes)
S6 (18 episodes)
S7 (18 episodes)
S8 (18 episodes)
S9 (18 episodes)
Can I stream Heartland on Netflix?
Yes! Heartland currently has 13 seasons available on a handful of Netflix libraries, including the USA, UK, and Canada. So if it's not available in your home library, or you can't find the season you need, don't worry – we've got you covered!
How to watch Heartland on Netflix
Unblocking Netflix catalogs is easy with a good VPN, and our recommended services all come with dedicated apps for Windows, Apple, and Android. To spoof your location and access your favorite Netflix content, simply follow the steps below!
Unsurprisingly, you're going to need a Netflix subscription to get started.
Next, you'll need to choose a VPN provider. We've recommended some of the best services for streaming below.
Go to the provider's website and download and install the VPN onto your device.
Connect to a server in a country where Netflix shows Heartland.
Click the button below to go straight to Heartland!
Why You Need a VPN to Watch Heartland
Netflix changes what shows are available in each country depending on the licensing agreements it has with copyright holders. This means the Netflix catalogs vary depending on where you live, and that, if you want to access different Netflix catalogs, you'll need to spoof your location. 
Heartland is only available on a handful of Netflix libraries, so be sure to check the list above to find out which country you need to connect to.
Fortunately, the VPNs below all offer fantastic geo-spoofing capabilities and robust encryption, so Netflix won't be able to stop you from watching the show! What's more, their robust encryption means that no one will know that you even watched it – not your internet service provider, hackers, or even the government! By connecting to a VPN, you can stop prying eyes from seeing your internet usage, keeping you safer online while you watch your favorite shows.
Why we recommend ExpressVPN
ExpressVPN continues to take home the gold in VPN comparisons, and for good reason: they're simply one of the best services money can buy. It offers everything you'll need to unblock Netflix from anywhere in the world, with fast and reliable servers in over 94 different countries. The service can unblock 24 Netflix catalogs, including the USA, UK, Canada, and Japan for streaming Heartland – so you'll have plenty of options if you want to stream the show.
ExpressVPN has easy-to-use apps for all platforms and allows up to 5 simultaneous VPN connections – so you can protect every device in your house. It's a truly outstanding service that's worth every penny, and you can try it for yourself without risking your cash, thanks to its 30-day money-back guarantee.
Pricing:

From $6.67 - $12.95

Speeds:

Connect to:

South Korea
France
United States
Canada
United Kingdom
Japan
Australia
Brazil
Colombia
Argentina
India
Israel
Why we recommend NordVPN
NordVPN is a super-fast provider that unblocks Netflix with ease. With over 14 Netflix catalogs to choose from, a user-friendly app, and plenty of customization, this VPN offers exceptional value-for-money. Nord unblocks an enormous selection of streaming services and websites beyond Netflix – letting you bypass censorship and access geo-restricted content. Put Nord through its paces and see how it holds up to our other recommendations with its 30-day money-back guarantee.
Pricing:

From $3.71 - $11.95

Speeds:

Connect to:

South Korea
France
United States
Canada
United Kingdom
Japan
Australia
Brazil
India
Why we recommend PrivateVPN
PrivateVPN is, by far, the best cheap streaming VPN. In fact, it offers fast servers, watertight encryption, and dedicated servers for Netflix and other popular streaming services! Alongside its great functionality, PrivateVPN offers a simple app design that lets you customize your VPN for speed and security.
Users can run the VPN on up to 6 platforms at once, meaning you'll be paying less and getting more connections than many of its competitors. It's a great all-rounder that doesn't break the bank. Don't believe us? try it for yourself with a 30-day money-back guarantee to fall back on.
Pricing:

From $1.89 - $7.12

Speeds:

Connect to:

South Korea
France
United States
Canada
United Kingdom
Japan
Australia
Brazil
Colombia
Argentina
About Heartland
Based on the book series by Lauren Brooke, this Canadian family drama follows the life of teenager Amy Fleming and her family. After the sudden loss of her mother, Amy and her family are threatened with the loss of their horse ranch. The series boasts over 13 seasons, with a 14th currently in the works, and is the longest-running one-hour scripted drama in Canadian television history..
FAQs
"accordion" question="What if the VPN doesn't work?" answer="We carefully select our VPN recommendations with this purpose in mind and are certain that they should work. They have plenty of servers that unblock international Netflix catalogs, and offer reliable and consistent services all-round. If your VPN isn't working as it should to unblock a specific title, contact your VPN's customer support team to find out which server you should use. Your VPN may not unblock a certain Netflix location, or you may need to connect to a specific server for it to work. Thus, if a show is available in more than one country (as with Heartland) check the list of countries above to see which is the most suitable option."
Genres:
Creators:
Actors: