Please Note!
This title is no longer available on Netflix.
The Walking Dead
What is StreamCatcher?
Certain shows and films are only available on Netflix in certain countries. But you can still watch them with specific VPN services connected to that country.
We've built a tool that can tell you which VPN you need and where to connect…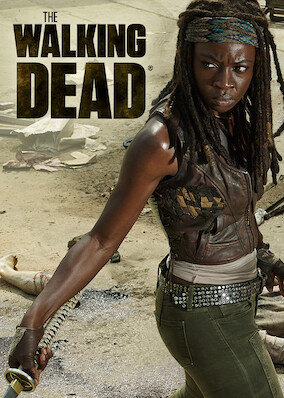 series
About the Show:
In the wake of a zombie apocalypse, survivors hold on to the hope of humanity by banding together to wage a fight for their own survival.
Looking for similar titles to The Walking Dead? Click here.
IMDB Score

8.2 / 10

Netflix Score

4.4 / 5

Released

2010

Runtime

44 min

Rated

110
How to unblock it:
Here are the servers you can connect to on a VPN to watch it. If you want to watch it in a specific audio, or subtitles, select those from the dropdown and we'll highlight the server you need to connect to in yellow.
Refine your search:
Seasons (Available in all countries):
S1 (6 episodes)
S10 (16 episodes)
S10 (22 episodes)
S2 (13 episodes)
S3 (16 episodes)
S4 (16 episodes)
S5 (16 episodes)
S6 (16 episodes)
S7 (16 episodes)
S8 (16 episodes)
S9 (16 episodes)
A group of apocalypse-hardened stragglers join together to follow erstwhile police officer Rick Grimes, through a desolate American wasteland. As they fight off the gruesome 'Walking Dead', the disparate band of heroes face the challenges of surviving in a dying world, competing for space and resources with rival groups of survivors, and the perils of romance during the Armageddon, all the while trying to build a future for the human race.
How to The Walking Dead on Netflix
With a Netflix account, you can watch The Walking Dead in any of the countries listed above. But don't fear if you live outside of these regions. If you want to watch the international smash hit Zombie carnival that is The Walking Dead, we can help!
If you don't already have one, sign up for a Netflix account.
Next, subscribe to a VPN. We've listed our top picks below so be sure to check them out.
From the provider's website, download and install the VPN software – follow the on-screen instructions.
Now, log in to your VPN app, and find a server that will grant you access to your favorite Zombie series.
Hit connect and click the link below to start streaming The Walking Dead!
Why isn't The Walking Dead available everywhere?
Movie and television studios charge Netflix a premium for each country in which they allow the service to stream their content. Which shows and films are available in your country is decided largely by what Netflix thinks people will watch the most, and thereby help them accumulate the most subscriptions. If a show such as The Walking Dead has only a small but dedicated following in a certain country, Netflix will likely decide it's not worth paying the studio for the rights to stream it there. In addition, if a series has been streaming in a region for a while, Netflix might decide it has run its course, and remove that content to make room for new or more popular shows.
Warning:
Users from European countries outside of the UK may need to acquire an American subscription to Netflix, as new legislation means that users from within the European Economic Area will only see their registered country's Netflix catalog when accessing other EEA catalogs with a VPN. With an American Netflix subscription, you can access each individual country's Netflix catalog within the EEA – so you can stream your favorite shows, and so much more!
Why we recommend ExpressVPN
We love ExpressVPN for its no-nonsense interface. It's really easy to use and consistent across every device you may want to use it on. Whether it's in your home or on the move, ExpressVPN is the box set addict's best friend, and you can use it on up to 5 devices simultaneously.
ExpressVPN also has the added benefit of allowing you to choose which devices and applications run through the VPN, allowing you to access other devices on your home network with the VPN engaged.
If you need help getting all this set up, the ExpressVPN customer service team are available 24/7 to help you get the whole family streaming, and all this is topped off with full 30-day money-back guarantee.
Pricing:

From $6.67 - $12.95

Speeds:

Connect to:

South Korea
France
United States
Canada
Japan
Germany
Switzerland
Netherlands
Spain
Brazil
Colombia
Argentina
India
Why we recommend Nord VPN
NordVpn boasts an impressive 5300 servers around the world. More servers mean fewer people using each one, which means higher speeds for you. The impressive speeds offered by NordVPN can be shared across 6 devices with no bandwidth limits.
What's more, you can use NordVPN with any device, any operating system, and any browser. It has really been built with ease of use in mind, and if you do get stuck, their 24-hour expert customer support team care on hand to talk you through any issues you might have.
Pricing:

From $3.29 - $11.95

Speeds:

Connect to:

South Korea
France
United States
Canada
Japan
Germany
Netherlands
Spain
Brazil
India
Why we recommend PrivateVPN
With a full 30-day money-back guarantee, and free remote help and installation, PrivateVPN is a simple but powerful way to get the most out of Netflix. With servers in over 60 countries, PrivateVPN is a great tool for unlocking geo-restricted content on Netflix. They don't log any of your activity, and its incredibly easy to get going in seconds with 1 click set up for Mac, Windows, iOS or Android.
It's great to share with your family or friends as the service allows up to 6 connections, with unlimited Bandwidth and incredible speeds, allowing you to stream HQ video, usually with less buffering time than without a VPN!
Pricing:

From $2.49 - $12.00

Speeds:

Connect to:

South Korea
France
United States
Canada
Japan
Germany
Switzerland
Netherlands
Spain
Brazil
Colombia
Argentina
About The Walking Dead
Based on the Robert Kirkman comic book, The Walking Dead follows Deputy Rick Grimes as he leads a band of survivors through the zombie apocalypse. After the first series establishes the group in a ramshackle camp in rural Georgia, the subsequent series see the heroes holed up in an assortment of locations. From a prison complex to a one-time idyllic hilltop farm, the group barely has time each season to catch their breath before their newfound shelter is compromised.
The show is excellent at gradually introducing its characters, giving us just enough time to grow fond of them, before throwing them headfirst into a savage and treacherous array of situations. Rather than having the characters hide in cupboards or running for their lives, The Walking Dead does a good job of keeping the focus on the politics and relationships within the group. The effect of this, when the show does eventually let the zombies loose, is to bring the full effect of the group's trauma right to your living room.
FAQs
Genres:
Creators:
Actors: