Please Note!
This title is no longer available on Netflix.
RuPaul's Drag Race
What is StreamCatcher?
Certain shows and films are only available on Netflix in certain countries. But you can still watch them with specific VPN services connected to that country.
We've built a tool that can tell you which VPN you need and where to connect…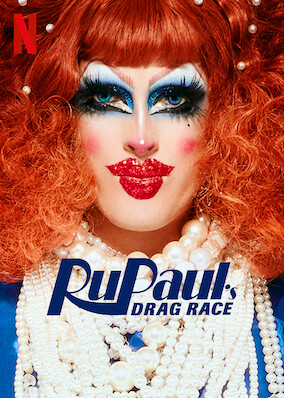 series
About the Show:
Celebrity drag queen RuPaul hosts this elimination-style reality contest that's one part 'America's Next Top Model' and two parts fabulous.
Looking for similar titles to RuPaul's Drag Race? Click here.
IMDB Score

8.5 / 10

Netflix Score

4 / 5

Released

2009

Runtime

45 min

Rated

110
How to unblock it:
Here are the servers you can connect to on a VPN to watch it. If you want to watch it in a specific audio, or subtitles, select those from the dropdown and we'll highlight the server you need to connect to in yellow.
Refine your search:
Seasons (Hover for countries):
S1 (9 episodes)
S10 (14 episodes)
S11 (14 episodes)
S12 (14 episodes)
S13 (13 episodes)
S2 (12 episodes)
S3 (16 episodes)
S4 (14 episodes)
S5 (14 episodes)
S6 (14 episodes)
S7 (14 episodes)
S8 (10 episodes)
S9 (14 episodes)
RuPaul's Drag Race is an Emmy award-winning show that sees up-and-coming drag queens competing to be crowned America's next drag superstar (and a cash prize of $100,000). Racers are chosen by the Queen of Queens, RuPaul, and her co-host and friend Michelle Visage – who, along with a panel of celebrity judges, critique and guide the queens through the competition. In each episode, the Queens engage in challenges and performances in a flamboyant fight for their place in the final. At the end of each week, two Queens must fight it out to remain in the competition by taking part in a 'lip sync for your life' – with the loser being told that she must 'Sashay Away' once and for all. The show is the perfect dose of Netflix reality TV escapism for anybody looking for a funny, and yet highly serious competition, between America's most glamorous and talented Queens!
Can I stream RuPaul Drag Race on Netflix?
Yes! If you have heard about this superb show and are hoping to watch it via your Netflix subscription, the good news is that you definitely can. As you can see above, RuPaul's Drag Race is currently showing in 12 different Netflix regions. As a result, you can use any of the VPNs recommended on this page to unblock and stream the show.
So, if you live in the USA, Canada, or anywhere else that isn't showing RuPaul's Drag Race, simply choose a provider from this page, sign up, and connect to one of the recommended VPN server locations to gain instant access. A VPN tricks Netflix into believing that you are actually living in a foreign country, and, as a result, your Netflix Library will automatically update to include episodes of the Drag Race!
There are dozens of consumer-facing VPNs on the market. However, not every service actually works to unblock foreign Netflix catalogs and content. That is why you must stick to a recommended VPN with servers known to work to unblock more content. All our recommendations work hard to stay one step ahead of Netflix' blocks – which is why they are perfect for streaming the race. 
How to watch RuPaul's Drag Race on Netflix
Streaming RuPaul's Drag Race is super-easy, as long as you opt for a VPN that has servers that work. Start by picking one of the VPNs recommended on this page. Following that, use the steps below to get the VPN up and running on your device. Our recommendations have VPN apps for all popular platforms (Windows, macOS, Android, and iOS) – so that you can unblock Drag Race in your Netflix app or browser. 
Remember that different VPN providers access different international Netflix catalogs. Thus, it is essential that you stick to a service known to function with the show (RuPaul Drag Race, on this occasion) that you want to stream. All the recommended VPNs on this page have at least one server location that is currently streaming RuPaul's Drag Race, which means you are free to pick the one you like the most.
Make sure you have a Netflix subscription registered in your own country. If you live in the EU and you want to make the most of a Netflix subscription, you may want to get a US subscription, as this will allow you to switch Netflix regions without EU laws getting in the way. 
Subscribe to the VPN service that suits your needs best.
Download and install the VPN app and log in using your credentials.
Pick a VPN server in a country that is currently carrying RuPaul's Drag Race on Netflix and click 'Connect'.
Hit the link below to be taken directly to the series!
STREAM RUPAUL'S DRAG RACE ON NETFLIX NOW!
Why You Need a VPN to stream RuPaul's Drag Race on Netflix
Many Netflix shows are only available to stream in certain regions. This is because of the licensing agreements that movie and TV show copyright holders enter into with Netflix. Netflix pays to license show rights in certain places, but cannot legally broadcast that content elsewhere because the rights-holder has licensed the show to a different streaming provider or TV broadcaster.
As a paying customer, you are free to use a VPN to pretend to be elsewhere and you won't ever get in trouble. Doing so automatically updates your Netflix catalog as if you were physically visiting that country on vacation. Netflix values you as a paying customer and for this reason it blocks VPN IP address ranges as opposed to subscribers who use a VPN. The good news is that some VPN providers have sidestepped Netflix's blocks to keep providing access to international Netflix catalogs.
WARNING: IF YOU LIVE IN EUROPE YOU MAY STRUGGLE TO UNLOCK REGIONAL CONTENT FROM OTHER EUROPEAN COUNTRIES.
Changes in legislation mean that EU users may only be able to access non-EU libraries (US, Japan). This means that users in Europe should connect to servers outside of the EU wherever possible.
How to watch RuPaul's Drag Race with ExpressVPN
ExpressVPN is reliable and much-liked VPN service based in the British Virgin Islands. It is a super-secure VPN that is ideal for streaming more Netflix. It has the ability to unblock a total of 24 regional Netflix libraries - including a number of location needed to stream RuPaul's Drag Race (such as the UK). Users can also connect to 94 countries in total for global coverage! ExpressVPN has intuitive apps for all platforms and devices, and an expert customer service team is only a click away 24/7. What's more, ExpressVPN is super-fast, which means you won't have any trouble streaming in HD. You can put ExpressVPN to the test with a 30-day money-back guarantee. A superb all-rounder.
After installing ExpressVPN and logging into the app, you'll simply need to connect to one of the below locations, search for RuPaul's Drag Race, and enjoy!
Pricing:

From $6.67 - $12.95

Speeds:

Connect to:

South Korea
France
Canada
United Kingdom
Japan
Germany
Sweden
Switzerland
Netherlands
Italy
Spain
Brazil
Colombia
Argentina
India
Israel
How to watch RuPaul's Drag Race with NordVPN
NordVPN can unblock a wide range of popular streaming services, including Netflix, BBC iPlayer, Prime Video and Hulu. That makes it the ideal service for binge watching box sets! Geo-restrictions don't stand a chance against NordVPN's 5,400 servers dotted across the globe in 59 locations, and all of those servers are lightning-fast to let you stream in HD. NordVPN has apps for all platforms, to let you stream Netflix on whichever device you prefer. And it has a watertight privacy policy and advanced VPN features suitable for torrenting. This makes it a superb and versatile VPN that is well worth having a subscription to. You can also take NordVPN for a trial run before committing to a subscription thanks to its 30-day money-back guarantee.
Once you've installed Nord, checking out RuPaul's Drag Race is as easy as connecting to one of the countries listed on this page, logging into Netflix, and searching for the show!
Pricing:

From $3.71 - $11.95

Speeds:

Connect to:

South Korea
France
Canada
United Kingdom
Japan
Germany
Netherlands
Italy
Spain
Brazil
India
How to watch RuPaul's Drag Race with PrivateVPN
PrivateVPN is the perfect option for those on a budget – and the service is fast and packed with impressive features! With PrivateVPN, you'll be able to browse multiple Netflix libraries and connect to servers in more than 60 global locations. Unlimited bandwidth means you can stream to your heart's content, and you won't suffer any frustrating buffering even when you stream RuPaul's Drag Race in HD. The PrivateVPN app is easy to use and suitable for beginners. It is also fast install and supported by all platforms. And it has excellent live chat support on its website to help you 18 hours per day. Finally, it has a 30-day money-back guarantee to let you trial its service completely risk free.
Watching RuPaul's Drag Race is both easy and cheap with PrivateVPN. Install the VPN, log in to the app, and when prompted to join a server, select one of the locations listed below. You'll now be able to refresh Netflix and watch RuPaul's Drag Race without restrictions!
Pricing:

From $1.89 - $7.12

Speeds:

Connect to:

South Korea
France
Canada
United Kingdom
Japan
Germany
Sweden
Switzerland
Netherlands
Italy
Spain
Brazil
Colombia
Argentina
About RuPaul's Drag Race
RuPaul's Drag Race is a phenomenal reality TV contest that pits talented drag queen performers against each other. The show is judged by RuPaul and a panel of celebrity judges, who analyze each contestant's efforts in a series of difficult challenges. Whoever wins the race – in most flamboyant style – takes home a whopping $100,000, as well as the coveted prize of being America's biggest superstar Drag Queen. Each week the bottom two contestants fight it out in the Lip Sync for Your Life challenge, after which RuPaul will ask one to Sashay Away. Through the course of a season, each drag queen must partake in a series of challenges such as creating outfits, drag-themed impersonations (our favorite being Bianca Del Rio's Judge Judy), musical numbers, acting. And, while it is often hilarious, it is also a very serious and grueling test of their abilities as performers! An excellent show that is well worth unblocking with a VPN!
FAQs
"accordion" question="What if the VPN doesn't work?" answer="The VPNs we've selected for this guide have been chosen because they can reliably unblock Netflix in glorious HD quality. These providers offer a broad selection of servers around the world and access to numerous Netflix libraries. You'll be able to check out content from around the world, from various streaming services - all from the comfort of your sofa! If you find that your VPN service isn't working as intended, it's a good idea to get in touch with the VPN's customer service team. They will be able to troubleshoot your issue, or direct you to a more suitable server. Bear in mind that EU laws require Netflix to show EU users their home library screen, even if they're roaming in another country. This makes it more difficult to access European servers if you're already in Europe, but EU users should still be able to check out US content without issues."
Genres:
Actors: