Please Note!
This title is no longer available on Netflix.
Safe
What is StreamCatcher?
Certain shows and films are only available on Netflix in certain countries. But you can still watch them with specific VPN services connected to that country.
We've built a tool that can tell you which VPN you need and where to connect…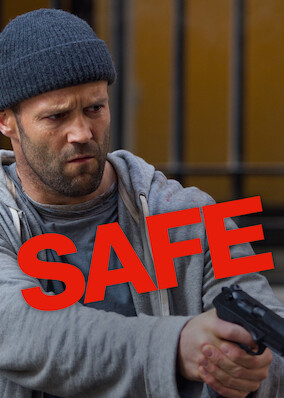 movie
About the Show:
A former cage fighter's rescue of an abducted 12-year-old girl pits them both against Triad gangs, the Russian Mafia and a bunch of corrupt cops.
Looking for similar titles to Safe? Click here.
IMDB Score

6.5 / 10

Netflix Score

3.9 / 5

Released

2012

Runtime

94 min

Rated

100

Directed by

Boaz Yakin
How to unblock it:
Here are the servers you can connect to on a VPN to watch it. If you want to watch it in a specific audio, or subtitles, select those from the dropdown and we'll highlight the server you need to connect to in yellow.
Refine your search:
Jason Statham takes center stage as Luke Wright in Safe, the action thriller that made its theatrical debut in 2012. Boaz Yakin directs, and Statham is supported by Chris Sarandon, James Hong, and Robert John Burke.
Luke Wright's life falls into disarray after he is blackmailed by the Russian mafia – who are also responsible for the murder of his wife. Now homeless, Wright encounters a young girl in distress and becomes her protector, and together they must avoid the attentions of the Russian mafia, Chinese Triads, and corrupted New York police force.
Safe is widely available to Netflix viewers in Europe and Canada. You'll need a VPN to check out the movie if you live in the United States, however.
Can I stream Safe on Netflix?
Currently, Safe can be streamed directly from Netflix in the eight countries listed above – you'll be able to find it with a quick search. Due to licensing agreements and geo-restrictions, however, viewers outside of these territories will need to invest in a VPN if they want to watch the movie. With a VPN, you can bypass geographical censorship and enjoy unrestricted access to your favorite streaming services.
How to watch Safe on Netflix
Installing a VPN is quick and easy – even if you're not familiar with the technology. Simply follow the steps below to get set-up and ready to stream.
If you don't already have a Netflix account registered in your native country, you'll need to get one.
Next, pick a VPN provider you'd like to subscribe to. There are countless options and each service offers a different array of features – below, you'll find our top picks for a Netflix VPN.
From your VPN's homepage, download and install the software – and make sure it's the correct version for your device! Install the VPN by following the on-screen instructions.
You'll be prompted to pick a VPN server, next. We recommend a server in the United Kingdom where the movie is currently available.
Hit connect and click the link below to start streaming Safe!
Why You Need a VPN to Watch Safe
Netflix has become synonymous with films in recent years, and you'd probably expect to find most modern titles in its library somewhere – so why do only a few countries offer Safe?
Well, it comes down to territorial licensing. The copyright holder for the content wants to get the most bang for their buck – they'll work with the highest bidder, and that's not always Netflix. Additionally, Netflix has to gauge the level of interest a particular region has for its content. It doesn't make sense to vie for the rights to distribute a film in a location where demand isn't particularly high. Unfortunately, this often means that viewers lose out.
Why we recommend ExpressVPN
ExpressVPN is a trailblazing provider that offers lightning-fast servers in 94 countries across the globe. You can wave goodbye to buffering thanks to unlimited bandwidth, and ISP throttling becomes a thing of the past with an Express subscription, too. In addition to Netflix, Express has no trouble unblocking BBC iPlayer, Disney+, and Prime Video – as well as plenty of other streaming services.
A no-logs policy in conjunction with OpenVPN encryption keeps your identifiable data secure when at home or using public WiFi, and Express offers up to 5 simultaneous connections. What's more, you'll be able to install the service on virtually any device. If you run into trouble, help is at hand 24/7 thanks to an expert customer care team, and you can try Express for yourself with a 30-day money-back guarantee.
Pricing:

From $6.67 - $12.95

Speeds:

Connect to:

Canada
United Kingdom
Japan
Sweden
Netherlands
Why we recommend NordVPN
With NordVPN, you can take your pick of more than 5,400 servers – all of which boast unlimited bandwidth. OpenVPN keeps your browsing sessions secure, too, and you'll be able to use NordVPN on your Windows, Mac, Linux, iOS, and Android devices. Chrome and Firefox browser extensions are also available.
It's tough to find a streaming service that NordVPN can't unblock, and you can keep the whole family entertained with up to 6 simultaneous connections. For any questions, NordVPN's support team is on hand to help, and we'd certainly recommend taking the provider for a spin before you subscribe with its 30-day money-back guarantee.
Pricing:

From $3.71 - $11.95

Speeds:

Connect to:

Canada
United Kingdom
Japan
Netherlands
Why we recommend PrivateVPN
PrivateVPN is a Swedish-based provider that's rigidly secure – thanks to a zero-logs policy and military-grade OpenVPN encryption. What's more, the provider is fast, especially when compared against other top names in the market, and its Tier 1 servers can handle any data-intensive tasks or downloads.
With 100 servers to choose from, you'll be able to unblock content from around the world, and PrivateVPN can readily access BBC iPlayer, Hulu, and Disney+. PrivateVPN is compatible with most devices, and you'll enjoy up to 6 connections at any one time – so there's no reason not to secure all of the devices in your house! 24/7 support is available if you need it, and you can try PrivateVPN's features for yourself with a 30-day money-back guarantee.
Pricing:

From $1.89 - $7.12

Speeds:

Connect to:

Canada
United Kingdom
Japan
Sweden
Netherlands
About Safe
Safe is a classic Jason Statham adventure – action-packed and exhilarating from start to finish, and was directed and written by Boaz Yakin.
The story follows an ex-cage-fighting cop, Luke Wright, who gets on the wrong side of the Russian mafia when he accidentally wins a fixed fight. As a result, the mafia finds and kills Wright's wife and threatens to snuff out anybody else Wright is close to. Wright turns to a life of vagrancy – until he encounters the young Mei on a train.
Recognizing that her captor is the very same man who killed his wife, Wright rescues the girl, unwittingly becoming her new protector. Now, he must keep Mei safe from the Chinese gangsters (as well as the Russian mafia and crooked New York cops) who seek to use her as a mental calculator in their criminal cartel.
FAQs
Genres:
Creators:
Actors: