Please Note!
This title is no longer available on Netflix.
Death Note
What is StreamCatcher?
Certain shows and films are only available on Netflix in certain countries. But you can still watch them with specific VPN services connected to that country.
We've built a tool that can tell you which VPN you need and where to connect…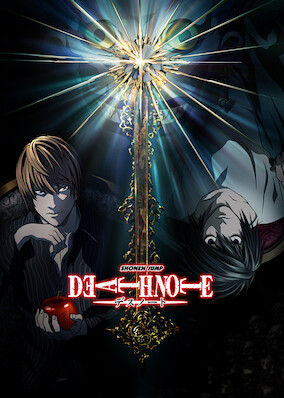 series
About the Show:
When a Japanese high schooler comes into possession of a mystical notebook, he finds he has the power to kill anybody whose name he enters in it.
Looking for similar titles to Death Note? Click here.
IMDB Score

9 / 10

Netflix Score

4.5 / 5

Released

2006

Runtime

24 min

Rated

90
How to unblock it:
Here are the servers you can connect to on a VPN to watch it. If you want to watch it in a specific audio, or subtitles, select those from the dropdown and we'll highlight the server you need to connect to in yellow.
Refine your search:
Seasons (Hover for countries):
S1 (37 episodes)
S2 (1 episodes)
S3 (1 episodes)
Death Note is a 37-episode anime series about a Japanese high school student who finds a supernatural notebook. The strange notebook allows the protagonist, Light Yagami, to kill any person by writing their name on its pages. The thrilling series follows Light as he struggles to deal with the extreme responsibilities involved in controlling the notebook, its peculiar rules, and the Death Note's previous owner – a powerful spirit entity known as a Shinigami. It is the perfect animated series for any fan of the Death Note movies and the original Manga comics that spawned this series. 
With a VPN, you can easily unblock Death Note (series) on your Netflix account – even if it is not currently showing in your region. This is because a VPN lets you conceal your real IP address to pretend to be in a different country. You don't need a new Netflix account, and it only takes a few clicks to set up. Simply scroll down for a detailed guide on how to stream Death Note right away!
Is Death Note on Netflix?
Yes, Death Note is on Netflix, however, it is not currently showing in all regions. It is available in The USA, Canada, The Netherlands, and other regions. If you aren't located in one of these countries then you can still unblock it by using a VPN service and using your current Netflix subscription.
A VPN works by concealing your home's IP address from the online services you visit. By connecting to a VPN server in a location where Netflix is currently showing Death Note, your Netflix library will automatically update – and you can instantly stream any of the exclusive listings available in that region (including Death Note).
There are tons of consumer-facing VPNs on the market, and they all have a wide choice of server locations. However, not all VPNs work to unblock Netflix. This is because Netflix actively blocks as many VPNs as possible. 
Luckily, some market-leading VPN providers have managed to stay ahead of the Netflix blocks. We have included those services on this page to help you stream Death Note. As a result, you can confidently subscribe to any of our recommendations and begin streaming this popular Anime series right away.
How to watch Death Note on Netflix
The first thing that you need is a valid Netflix subscription, so if you aren't a Netflix subscriber, that will be your first port of call. If you already have a Netflix account, you are ready to use a VPN to stream Death Note. Getting a subscription with a reliable VPN service – and using its VPN app to unblock more Netflix content is super-easy. Simply follow the steps below to get it up and running. 
Different VPN services provide access to different Netflix regions, which is why you must stick to VPNs that work to unblock Death Note. In this guide, our experts have hand-picked the three best services for streaming Death Note. They all have servers where you need them to access the show, which means that you can follow the steps below to stream Death Note with any of them. 
To unblock Death Note just follow the steps below:
Before you begin, you'll need to make sure that you have a Netflix account. You can use your existing profile if you already have one or create a new account if you don't. Don't worry about the location you register your account in, because the VPN will take care of this.
The next step is to pick a VPN provider. We've made things simple by highlighting the three best providers for streaming Death Note, as well as a huge catalog of exclusive international Netflix titles.
Once you have subscribed to the VPN, you can download the VPN software from its website. This only takes a minute, and the VPN will have software for any platforms you use (Windows, macOS, Android, iOS).
As soon as the VPN software has downloaded, all you need to do is install it and log in using your credentials. Now, check this article to see which country Death Note is available in, and select that server location in the VPN's menu. Once you have found the correct country, click Connect.
Finally, head on over to Netflix and search for Death Note as you usually would. Thanks to your VPN, you will now see the series in your library. That means you can click on and start streaming!
Why You Need a VPN to Watch Death Note (series)
All online VoD services must enter into licensing contracts with the copyright holders and producers of shows. These contractual agreements limit where online streaming services like Netflix are permitted to broadcast those shows. Copyright holders enter into these licensing agreements to make more money. As a result, which shows that are available on Netflix vary greatly from location to location.  
This is extremely frustrating if you are a Netflix subscriber because it means that depending on where you live you may not be able to watch certain shows. Thankfully, there is a way around the problem: a VPN. With a VPN you can quickly pretend to be in a different country, and Netflix is none the wiser! 
Best of all, the VPN works automatically to update your catalog to a different region. That makes it super easy and means that anybody can quickly alter their Netflix catalog to watch more content. That means you will be able to watch tons more content and get better value for money from your existing Netflix subscription.
WARNING: IF YOU LIVE IN EUROPE YOU MAY STRUGGLE TO UNLOCK REGIONAL CONTENT FROM OTHER EUROPEAN COUNTRIES.
Changes in legislation mean that EU users may only be able to access non-EU libraries (US, Japan). This means that users in Europe should connect to servers outside of the EU wherever possible.
How to watch Death Note with ExpressVPN
ExpressVPN is a trusted and reliable VPN that is used by Netflix lovers all over the world. IT is the best choice for enjoying more Netflix content thanks to its ability to unblock a total of 24 regional Netflix libraries. ExpressVPN has excellent apps for all platforms and devices, and an expert live chat support team that is available 24/7. Plus, ExpressVPN is lightning fast – which makes it perfect for streaming HD content on Netflix. And you can test the VPN with your Netflix account thanks to its 30-day money-back guarantee!
After installing ExpressVPN and logging into the app, all you need to do is connect to one of the locations listed below. Following that search for Death Note in your Netflix library and enjoy!
Pricing:

From $6.67 - $12.95

Speeds:

Connect to:

United States
Canada
Japan
Sweden
Netherlands
Italy
Spain
Australia
Brazil
Colombia
Argentina
India
How to watch Death Note with NordVPN
NordVPN is a well-known provider that is fantastic when it comes to unblocking streaming services like Netflix, BBC iPlayer, Prime Video, and hulu. That makes it a superb option for anybody who wants to binge box sets! Nord has servers in 59  countries in total, and it can provide access to servers in the US, Canada, the Netherlands, Italy, Spain, Australia, Brazil, and India for streaming Death Note. That gives you plenty of options, no matter where you happen to live (connecting to a server that is closer to you will give you even better speeds).
NordVPN is compatible with just about every device out there, and it is consequently one of the fastest VPNs in the world. This makes it ideal for streaming shows in HD. We love this service because it is also extremely strong on privacy, which makes it a superb all-rounder. You can test it yourself for streaming Death Note by taking advantage of its 30-day money-back guarantee.
Once you've installed NordVPN, streaming Death Note on Netflix is a cinch. Just connect to one of the countries mentioned below, log into Netflix, and search for Death Note to start streaming it right away! 
Pricing:

From $3.29 - $11.95

Speeds:

Connect to:

United States
Canada
Japan
Netherlands
Italy
Spain
Australia
Brazil
India
How to watch Death Note with PrivateVPN
PrivateVPN is the ideal VPN for anybody who is on a tight budget. And, despite offering superb value for money, the service doesn't skimp on features! With PrivateVPN, you'll be able to browse multiple Netflix libraries and connect to servers in more than 60 global locations. Unlimited bandwidth makes streaming Netflix in HD a doddle, and it has fast servers that won't cause buffering. The PrivateVPN app is ideal for beginners, and the service has live chat support to help you if you need it. We think this reliable and private Swedish VPN is a superb way to stream Death Note on Netflix, and for this reason, it is definitely worth taking for a test run using its 30-day money-back guarantee.
Watching Death Note with PrivateVPN is easy. Install the VPN, log in to the app, and when prompted to join a server, select one of the locations listed below. You'll now be able to refresh your Netflix library to find Death Note and stream it.
Pricing:

From $2.49 - $12.00

Speeds:

Connect to:

United States
Canada
Japan
Sweden
Netherlands
Italy
Spain
Australia
Brazil
Colombia
Argentina
About Death Note (Series)
Death Note is one of the most enjoyed and talked about anime series ever, not least because it spawned a large number of live-action movies (both Japanese and American versions). If you have already seen those movies, and are still desperate to see more, this animated series is a great way to quench that thirst. Best of all, the show, which was originally released in 2006, has 37 episodes, which will keep you busy for a while!
The story itself revolves around Light Yagami, a 17-year-old high school student who finds a dangerous, supernatural notebook. The notebook comes with various rules, which allow its owner to specify details about how they wish to kill any person whose name is written in the book. The series ollows Yagami until he becomes 23 years old. During that time, the hardworking and naturally talented Yagami – who is often portrayed as a genius, – decides to use the Death Note to rid the world of criminals.
Perhaps unfortunately, Yagami has a strong sense of justice that was instilled in him by his police officer father. This, along with his infatuation with the power given to him by the Death note, leads him to become cold-hearted and ruthless. Fans quickly latch onto Yagami's efforts labeling the unknown killer with the name Kira – making him a star throughout the country. Eventually, Light's vigilantism escalates and attracts the attention of a genius, like-minded detective called L.  
The thrilling series also introduces you to a spirit entity called a Shinigami, who acts as Light's sidekick during his adventure – but we best not say more because we don't want to spoil it any more than we already have!
FAQs
Genres:
Creators:
Actors: