Please Note!
This title is no longer available on Netflix.
Samurai Champloo
What is StreamCatcher?
Certain shows and films are only available on Netflix in certain countries. But you can still watch them with specific VPN services connected to that country.
We've built a tool that can tell you which VPN you need and where to connect…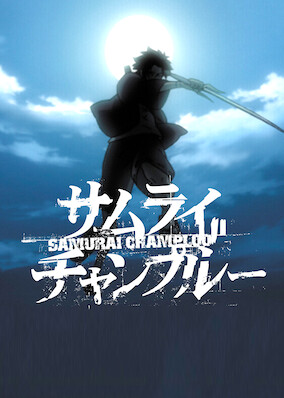 series
About the Show:
After a waitress saves two warriors from execution, she demands that they accompany her on a journey to find 'a samurai who smells of sunflowers.'
Looking for similar titles to Samurai Champloo? Click here.
IMDB Score

8.5 / 10

Netflix Score

4.4 / 5

Released

2004

Runtime

24 min

Rated

100
How to unblock it:
Here are the servers you can connect to on a VPN to watch it. If you want to watch it in a specific audio, or subtitles, select those from the dropdown and we'll highlight the server you need to connect to in yellow.
Refine your search:
Seasons (Available in all countries):
S1 (26 episodes)
Samurai Champloo made its debut in 2004, with twenty-six episodes designed by Shinichiro Watanabe. The anime series takes place during Japan's Edo period and follows three misfit vagabonds as they search for the samurai who "smells of sunflowers".
The warrior Mugen and Jin, a Ronin, save a young waitress called Fuu from a group of Samurai. She asks the pair to accompany her on her quest – which takes them across Japan in a hunt for a samurai.
Unfortunately, only a small percentage of Netflix customers will be able to check out Samurai Champloo. A VPN, however, allows anyone to access the show – regardless of where they are in the world!
Can I stream Samurai Champloo on Netflix?
If you live in the United Kingdom or France, then you'll be able to watch Samurai Champloo in just a few clicks! However, this means that the rest of the world misses out on the acclaimed anime series. But don't despair! With a VPN, you'll be able to "spoof" your location and tune in to the show without any restrictions to slow you down.
How to watch Samurai Champloo on Netflix
Installing a VPN is simple – even if you're new to the tech! Simply follow the steps outlined below and you'll be ready to stream in no time.
You'll need to register for a Netflix account in your native country, first. Don't worry about your location yet – the VPN will handle that side of things!
Next, it's time to pick a provider. This can be daunting, with so many VPNs to choose from, but we've suggested three of the best below – and these options excel at unblocking Netflix in particular!
Install the VPN software via the provider's home page. This usually only takes a minute or two – be sure to download the right file for your device, though!
Now, it's time to connect to a VPN server. In order to watch Samurai Champloo, we'd suggest connecting to a server in the United Kingdom.
Hit connect and click the link below to start streaming Samurai Champloo!
Why You Need a VPN to Watch Samurai Champloo
Samurai Champloo has enjoyed critical acclaim from around the world – so why does Netflix only offer the series to two countries?
It all comes down to licensing. Netflix generally has very little say in where content can or cannot be viewed – that decision is made by the copyright holders, who may choose to work with different distributors across a number of locations. Additionally, Netflix must consider the demand for content. It doesn't make a great deal of financial sense to bid on the rights to a show or film that's potentially not going to be popular in that region!
Why we recommend ExpressVPN
If you're after a VPN with lightning-fast speeds and a huge network of servers – look no further than ExpressVPN! All of Express' 3,000 servers offer unlimited bandwidth and can beat out ISP throttling to ensure a smooth streaming experience. What's more, Express has no trouble unblocking BBC iPlayer, Disney+, and Prime Video in addition to Netflix.
Express allows for up to 5 simultaneous connections, and is compatible with Mac, Windows, Android, and iOS devices – and you'll even be able to install the VPN on your games console. Express' no-logs claim has been independently audited, and your online privacy is further secured by OpenVPN encryption. We'd definitely recommend putting Express to the test with its 30-day money-back guarantee, and help is at hand via live chat if you run into any issues.
Pricing:

From $6.67 - $12.95

Speeds:

Connect to:
Why we recommend NordVPN
NordVPN boasts more than 5,400 servers across the globe in 59 countries. They're quick, too, with unlimited bandwidth and strong OpenVPN encryption to ensure that your personal information stays private online.
You'll have a hard time finding a streaming service that NordVPN can't unblock, and the whole family can tune in to their favorite shows, thanks to 6 simultaneous connections. NordVPN is compatible with Windows, Mac, iOS, Android, and Linux devices, and Chrome and Firefox browser extensions are also available. NordVPN offers a 30-day money-back guarantee, and you can get in touch with customer support at any time of the day or week!
Pricing:

From $3.71 - $11.95

Speeds:

Connect to:
Why we recommend PrivateVPN
Swedish-based PrivateVPN might have a smaller pool of servers to pick from, but they cover key locations that make unblocking streaming sites simple! All of PrivateVPN's 100 Tier 1 servers are ultra-fast, and you'll be able to check out BBC iPlayer, Disney+, and Hulu without restrictions.
Thanks to Sweden's privacy laws, PrivateVPN can abide by a zero-logs policy, and its military-grade OpenVPN encryption is more than enough to keep your browsing sessions secure. PrivateVPN allows up to 6 simultaneous connections, and is compatible with most devices as well as enabled routers. A stellar customer service team is available 24/7, and with a 30-day money-back guarantee, you can take PrivateVPN for a trial run before subscribing.
Pricing:

From $1.89 - $7.12

Speeds:

Connect to:
About Samurai Champloo
Samurai Champloo tells the tale of three odd companions, their chance meeting, and their journey across the country. After accidentally causing the death of a magistrate's son, Mugen, and Jin, a pair of swordsmen, rescue a young waitress from the attentions of a band of samurai. She asks that they accompany her on a quest to find the samurai who "smells of sunflowers" – a mission that conveniently whisks Mugen and Jin away from the execution they'd otherwise have faced.
The trio seems totally incompatible at first – Mugen is a hot-headed young vagabond who fights without finesse, Jin is far more disciplined, a model samurai, and Fuu is perhaps braver than either of them. But together, they make their way through a stylized Japanese setting that borrows from classical Edo-era narratives, as well as hip-hop and references to modern art and music.
Samurai Champloo's director, Shinichiro Watanabe, likewise directed Cowboy Bebop – another anime series that enjoys enduring affection across the globe.
FAQs
Genres:
Creators:
Actors: