Please Note!
This title is no longer available on Netflix.
Miracle In Cell No.7
What is StreamCatcher?
Certain shows and films are only available on Netflix in certain countries. But you can still watch them with specific VPN services connected to that country.
We've built a tool that can tell you which VPN you need and where to connect…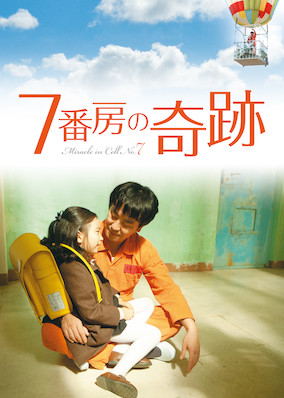 movie
About the Show:
This warmhearted comedy relates the story of Yong-gu, a mentally challenged father who's wrongly jailed for the murder of a young girl.
Looking for similar titles to Miracle In Cell No.7? Click here.
IMDB Score

8.2 / 10

Netflix Score

3.7 / 5

Released

2013

Runtime

127 min

Rated

General Audiences

Directed by

Lee Hwan-kyung
How to unblock it:
Here are the servers you can connect to on a VPN to watch it. If you want to watch it in a specific audio, or subtitles, select those from the dropdown and we'll highlight the server you need to connect to in yellow.
Refine your search:
Miracle in Cell No.7 is a South Korean comedy about a man with learning difficulties who has been wrongly imprisoned for murder. Unable to bear being separated from his daughter during his time on the inside, he enlists the help of the jail's toughest inmates to smuggle in his daughter so they can spend quality time together. The film has won over ten domestic film awards in career and been nominated for numerous others, sparking several foreign language remakes. 
Can I stream Miracle in Cell No.7 on Netflix?
Miracle in Cell No.7 is currently only available on Netflix South Korea and Netflix Japan. But don't worry — with a VPN, you can bypass the streaming service's geo-restrictions and view the movie from anywhere in the world. VPNs conceal device IP addresses by rerouting traffic through private servers — this essentially allows you to pretend to be in the same country as the private server you're using. In this way, with a VPN, shows from the other side of the world feel much closer to home. 
How to unblock Miracle in Cell No.7 from anywhere
For the VPNs listed below, unblocking Netflix South Korea and Japan is just the start — they hold the keys to a whole host of Netflix libraries around the world which, when unlocked, will expand and extend your movie catalog almost indefinitely. 
These VPNs all have multi-platform capabilities, so it doesn't matter whether you're an iPad, phone or TV watcher, you'll be covered by these providers. Importantly, they also allow a number of simultaneous connections on each account — so you don't have to buy one for each of your devices. 
Pay for Netflix in your home country or region.
Sign up to a VPN service that works for you – we've listed the best three for you to pick from. 
Install the VPN software onto the device you usually watch Netflix on. 
Connect to a VPN server in South Korea or Japan.
Click the link below to stream Miracle in Cell No.7!
WATCH MIRACLE IN SELL NO.7 NOW!
Why you need a VPN to watch Miracle in Cell No.7
As mentioned above, VPNs are a special bit of kit that provides you with a 'middleman' server between you and the internet that greatly enhances your privacy. It's very possible this server won't be located in a region you currently reside in, as most VPN providers have them in multiple countries. To anyone wanting to view your traffic — be that a shady government operative or just your internet service provider — your activity will appear as if it's coming from the other side of the world. Netflix is no different - connect to a VPN's servers in Seoul, for example, and your activity will look like it's coming from South Korea's capital. 
Regional libraries exist on supra-national streaming services like Netflix as copyright restrictions and licensing agreements are often processed at a national level; every nation has different laws governing what, where and when a film can be shown. This means that even in countries with big libraries, like the US and Canada, there are still movies, series and shows that citizens in these territories just can't see. The discrepancy between the biggest and smallest libraries is huge, too - the US has over five times as many titles as some other countries. 
The only way to get past this frustrating demarcation of content is with a VPN — why go to the hassle of paying to subscribe to just one Netflix library when you could just as easily have access to all of them? Furthermore, a VPN is the only way to ensure you can continue watching a show even after Netflix removes it from a catalog. They often do this to popular shows without warning, so it's useful to have the freedom to dip into other libraries that have yet to take it down. 
How to watch Miracle in Cell No.7 with ExpressVPN
ExpressVPN is a provider we often recommend, but only because it solves so many problems so reliably! Signing up to their service affords you access to over 3,000 servers worldwide, and their locations in South Korea and Japan meaning watching Miracle in Cell No.7 is a problem-free process. Just download the software, choose one of their servers in these two regions, and away you go! Its consistently speedy connections mean that watching content from all four corners of the globe doesn't saddle you with buffering and irritating loading delays. 
In addition to its speeds and impressive fleet of servers, ExpressVPN also has security features to keep you safe and secure. A kill-switch is of course included as it is with most providers, but unlike a lot of VPNs, they also deploy TrustedServer technology: servers run solely off RAM and thus lose all their data every time they're powered down. This means ExpressVPN can guarantee their no logs claim in a more meaningful way. They also support the latest encryption protocols and up to five simultaneous connections, so your whole family can watch Miracle in Cell No.7 from anywhere you like. ExpressVPN will give you your money back if you're not happy after 30 days, so you can even watch Miracle in Cell no.7 as a test run! 
[[post-object provider="expressvpn"
How to watch Miracle in Cell No.7 with NordVPN
NordVPN is the speed demon of the list - if you're looking for a service that will have a negligible impact on your connection speeds, this company can provide it. NordVPN's long list of over 5,000 servers includes several in Japan, South Korea, and even the rest of Asia, meaning the ability to unlock the most popular, sought-after content from all over the continent is at your fingertips - as well as the five others allowed to use your NordVPN account on their device. 
NordVPN has quite a few security features you won't find elsewhere - NordLynx, for example, is something the provider has developed to shield customers from the vulnerabilities of new encryption protocol WireGuard, which means they can still take advantage of the improved speeds without compromising their privacy. CyberSec, on the other hand, blocks malware and adverts whilst you're using NordVPN. There is also a double VPN function that sends your traffic through two servers instead of one — perfect for if you need an extra layer of security. NordVPN offers obfuscated servers in Japan — where Miracle in Cell No.7 is available — so if you're in a country with a government that doesn't take too kindly to VPN usage, this is good news for you. 
[[post-object provider="nordvpn"
How to watch Miracle in Cell No.7 with PrivateVPN
PrivateVPN is another provider that can keep up with the pack; their speed test results show they have what it takes to stream shows like Miracle in Cell No.7 from across the world with minimal impact on speeds. They purchase High Quality Network capacity from their IP transit provider, and with apps for all platforms including Windows, iOS, and Android, it doesn't matter what device you're using —  you'll always be benefitting from the high speeds, whatever you're using. PrivateVPN has servers located in Seoul, Tokyo and cities in fifty other countries, so bypassing the geo-restrictions that bar most global users from accessing their Netflix content is not ha problem. 
PrivateVPN is a solid all-rounder, so doesn't slack off when it comes to security. It uses AES-256 bit encryption to keep its customers safe and a robust zero-logging policy to ensure your data is never kept. PrivateVPN offers six simultaneous connections to sweeten the deal, as well as a month-long moneyback guarantee period for your to road test their product. 
[[post-object provider="privatevpn"
About Miracle in Cell No.7
There aren't many comedies set in prisons, and there are even fewer comedies set in prisons based on true stories. That's where Miracle in Cell No.7 comes in. In the film, Lee Yong Gu, a man with learning difficulties (and a mental age of around six) is wrongly convicted of raping and murdering a child, and is sent to prison —  but all is not what it seems. 
In reality, it was in fact a misunderstanding. After a local police commissioner beats Yong Gu to the last Sailor Moon backpack he was going to buy for his daughter, a physical alteraction ensues. However, keen to appease the situation, the officer's daughter steps in to show Yong Gu another shop where the bag is sold. But she is killed in a freak accident on the way , and Yong Gu's attempts to resuscitate her are framed as something much more sinister by both the police commissioner and passers by.
After being thrown into the prison's most brutal wing, Yong Gu saves the life of the gang leader he shares his cell with after he is targeted by another group of inmates. The hardened criminals of the complex slowly realize that Yong Gu is in fact innocent and that he would be incapable of committing such a crime. To cheer him up and repay their debt, his cellmate helps him smuggle his daughter into the prison so he can spend time with her. These inmates all testify to Yong Gu's innocence at a later trial —  but the police commissioner is out for vengeance. 
Despite this film having no established stars of Korean cinema in it, it managed to become only the eighth Korean movie of all time to rake in more than 10 million in ticket sales. It's particularly popular amongst middle-aged and older Koreans and is now thought to be the fifth highest-grossing film the country's entertainment sector has ever produced. 
FAQs
[[post-object question="Could I get banned from Netflix?" answer="The short answer is No. VPN users make up a significant percentage of Netflix's traffic. Netflix wants your subscription fees, and for this means the service will never be formally blocked to those rerouting through private servers. Instead, Netflix opts to block IP addresses that are known to belong to VPN providers. That is why only a fewVPNs actually work with Netflix anymore. The good news is that a few VPNs make accessing Netflix part of their core missions. All the VPNs in this guide are known to provide access not just to US Netflix – but to unblock Netflix regions around the world. As a result, you can easily stream Miracle in Cell No.7!"
[[post-object question="What if the VPN doesn't work?" answer="The VPNs recommended in this guide were selected precisely because they reliablyunblock Netflix. This doesn't just mean one server, either — all the VPNs above have a collection of servers that will grant you access to the streaming service. A VPN will help you to get the best use out of our Streamcatcher tool, but if it's not working, check out one of our guides Netflix VPN troubleshooting guide. that explain what to do to get the VPN working so that you can stream Miracle in Cell No.7"
Genres:
Creators:
Actors: