Please Note!
This title is no longer available on Netflix.
Dragon Ball Z: Battle of Gods
What is StreamCatcher?
Certain shows and films are only available on Netflix in certain countries. But you can still watch them with specific VPN services connected to that country.
We've built a tool that can tell you which VPN you need and where to connect…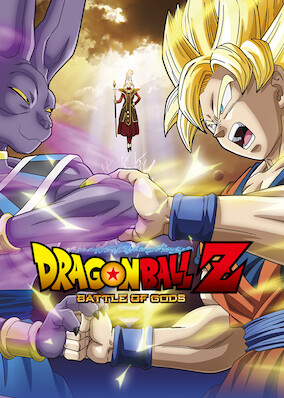 movie
About the Show:
When Bills, the God of Destruction, arrives on Earth to pick a fight with a worthy opponent, the gang invokes a powerful Super Saiyan God to stop him.
Looking for similar titles to Dragon Ball Z: Battle of Gods? Click here.
IMDB Score

7.2 / 10

Netflix Score

4.1 / 5

Released

2013

Runtime

85 min

Rated

Not Recommended for Audiences under 12

Directed by

Masahiro Hosoda
How to unblock it:
Here are the servers you can connect to on a VPN to watch it. If you want to watch it in a specific audio, or subtitles, select those from the dropdown and we'll highlight the server you need to connect to in yellow.
Refine your search:
Dragon Ball Z: Battle of Gods is the eighteenth film in the Dragon Ball series and a stand-alone release that hit theaters in 2013. The film sees the God of Destruction – Beerus – awoken by Whis, who informs him of Frieza's defeat at Goku's hand. The pair then seek out Goku, who challenges Beerus only to find that he cannot match his strength. The bout ends in an instant - and Beerus leaves disappointed.
The God of Destruction still means to challenge Earth's most powerful champions, however. Goku is determined to face him once more, but must first embark on his own journey to understand the limitations of his Super Saiyan powers. Along the way, a very different challenge presents itself: how to accept defeat with humility?
Unfortunately, Dragon Ball fans in the US are unable to watch Battle of Gods on Netflix. But don't despair! With a VPN, you'll only be a few clicks away from the intergalactic battle.
Can I stream Dragon Ball Z: Battle of Gods on Netflix?
Dragon Ball Z: Battle of Gods is currently available on Netflix France, Italy, Portugal, Spain, and the United Kingdom. Viewers who live elsewhere will need the help of a VPN in order to tune in.
How to watch Dragon Ball Z: Battle of Gods on Netflix
Installing a VPN on your device is incredibly simple, and you'll be able to watch Dragon Ball Z on Netflix in just a few short steps – no need to go Super Saiyan.
Sign up for Netflix if you haven't already - make sure the account is registered in your home country, too. The VPN will take care of the location hopping.
Next, pick a VPN provider to subscribe to. We've suggested three below, and would certainly recommend any of them.
Once you've subscribed to a VPN, you'll need to install it on your device. Nowadays this is easy-peasy. Just follow the on-screen instructions and make a note of your login details.
Find a VPN server in a country that has Battle of the Gods available.
Hit connect and then click the button below to start streaming Battle of the Gods!
Why You Need a VPN to Watch Dragon Ball Z: Battle of Gods
Dragon Ball Z: Battle of Gods is only available to watch in 5 countries – but the US is not among them. You might think this is strange, seeing as the anime series has enjoyed tremendous success in the states, and Netflix would probably be happy to allow US customers to watch the movie if it could. Ultimately, the film being unavailable on Netflix boils down to licensing issues.
Copyright dictates which countries Netflix is allowed to broadcast certain shows in, and which countries it is not. This is usually done to protect licensing agreements in other territories, and is the reason why the Netflix libraries will vary from place to place.
Warning:
Users from European countries outside of those listed may need to acquire an American subscription to Netflix, as new legislation means that users from within the European Economic Area will only see their registered country's Netflix catalog when accessing other EEA catalogs with a VPN. With an American Netflix subscription, you can access each individual country's Netflix catalog within the EEA – so you can stream your favorite anime, and so much more!
Why we recommend ExpressVPN
ExpressVPN is one of the best VPNs available and spoils customers for choice when it comes to picking a VPN server. There are more than 3,000 available in 94 countries, and they're incredibly quick. What's more, you won't need to worry about ISP throttling or bandwidth restrictions. Express doesn't pull punches in its privacy measures, either, employing strong OpenVPN encryption alongside a no-logs policy.
The whole family can tune into Netflix with 5 simultaneous connections, and Express is compatible with most devices – including games consoles and routers. If you'd like to check out other streaming services, Express can comfortably access Disney+, BBC iPlayer, Prime Video, and more! Check it out for yourself with a 30-day money-back guarantee, and rest assured that help is at hand with a 24/7 customer service team.
Pricing:

From $6.67 - $12.95

Speeds:

Connect to:

United Kingdom
Italy
Spain
Why we recommend NordVPN
An outstanding all-round provider, NordVPN has more than 5,400 speedy servers in 59 locations. Unlimited bandwidth means you won't need to worry about buffering interrupting your marathons, and NordVPN can also prevent ISP throttling from affecting your stream speed and quality. What's more, the service uses OpenVPN and an audited zero-logs policy to ensure you stay safe when browsing day-to-day.
You'll be able to install NordVPN on any device, make use of its Chrome and Firefox extensions, and enjoy up to 6 simultaneous connections. Alongside Netflix, NordVPN can also unblock BBC iPlayer, Prime Video, and Hulu. A 30-day money-back guarantee means you can put NordVPN through its paces before committing to a full subscription, too.
Pricing:

From $3.71 - $11.95

Speeds:

Connect to:

United Kingdom
Italy
Spain
Why we recommend PrivateVPN
PrivateVPN provides users with a tier 1 network of servers in key locations – ideal for streaming. You'll be able to take your pick of 100 servers in 60 countries, all with unlimited bandwidth and fast speeds comparable to the most premium names on the VPN market. PrivateVPN can also access geo-restricted content on BBC iPlayer, Disney+ and Hulu, and supports 6 simultaneous connections.
OpenVPN is PrivateVPN's protocol of choice, and a zero-logs policy ensures that your data will remain secure. Whether you use Windows, Mac, iOS or Android, there's an app for you, and you can trial the VPN for yourself with a 30-day money-back guarantee. PrivateVPN's customer support comes highly commended, and a team of experts are available 24/7 via live chat.
Pricing:

From $1.89 - $7.12

Speeds:

Connect to:

United Kingdom
Italy
Spain
About Dragon Ball Z: Battle of Gods
Long before the events of Dragon Ball Z: Battle of Gods, the Oracle Fish created a prophecy that foretold of a champion that would challenge Beerus, the God of Destruction. Awoken from his slumber by old friend and martial arts master, Whis, Beerus learns of Goku's defeat of Frieza. Intrigued by the Saiyan warrior, Beerus and Whis seek Goku out.
The ensuing battle is short-lived, however, as Goku ultimately proves too weak to challenge the God of Destruction. Beerus turns his attention to the Earth in the hopes of finding the champion from the prophecy.
Instead, he finds Bulma's birthday party (and rather rudely interrupts it). The guests must now placate the God of Destruction, but Pilaf, Mai, and Shu have their own plans. Goku likewise sets upon a new path, rising from defeat to challenge Beerus all over again.
FAQ
Need more information? Check out this quick FAQ section before heading over to the search bar.
Genres:
Creators:
Actors: