Please Note!
This title is no longer available on Netflix.
Schitt's Creek
What is StreamCatcher?
Certain shows and films are only available on Netflix in certain countries. But you can still watch them with specific VPN services connected to that country.
We've built a tool that can tell you which VPN you need and where to connect…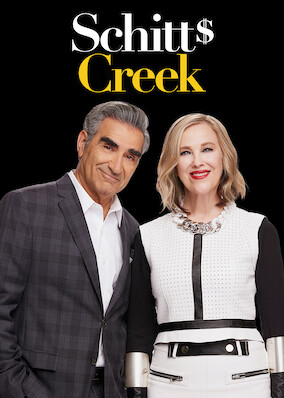 series
About the Show:
Suddenly broke, the formerly filthy-rich Rose family is reduced to living in a ramshackle motel in a town they once bought as a joke: Schitt's Creek.
Looking for similar titles to Schitt's Creek? Click here.
IMDB Score

8.4 / 10

Netflix Score

3.9 / 5

Released

2015

Runtime

22 min

Rated

90
How to unblock it:
Here are the servers you can connect to on a VPN to watch it. If you want to watch it in a specific audio, or subtitles, select those from the dropdown and we'll highlight the server you need to connect to in yellow.
Refine your search:
Seasons (Available in all countries):
S1 (13 episodes)
S2 (13 episodes)
S3 (13 episodes)
S4 (13 episodes)
S5 (14 episodes)
S6 (14 episodes)
Can I stream Schitt's Creek on Netflix?
Yes! Schitt's creek is available to stream in several countries including the United Kingdom and the United States. If you live outside of those territories though, you'll definitely need a VPN to bypass Netflix's geo-restrictions. 
VPNs help you perform a process called 'geo-spoofing' - pretending to be in a location you're actually not in order to access content that is restricted to specific regions and territories. 
How to watch Schitt's Creek on Netflix
Streaming content on a foreign Netflix catalog is extremely easy using the VPNs recommended in this article. This is because they have custom apps for all platforms that allow you to quickly and easily spoof your location abroad. 
By connecting to a VPN server in a country where Schitt's Creek is currently available, you can access the show inside of your regular Netflix app. Simply, follow the steps below to stream Schitt's Creek on Netflix from anywhere:
Purchase a Netflix subscription in your home country.
Sign up to a VPN service recommended in this guide, such as ExpressVPN.
Install the VPN software on the device you watch Netflix on.
Choose a VPN server in a region where Netflix is currently showing Schitt's Creek.
Hit connect and click the link below!
Why You Need a VPN to Watch Schitt's Creek 
Studios that produce films enforce copyright on a country by country basis, as there are varying levels of demand for titles across different regional markets. Some studios will charge Netflix a lot more to make their show available in one country than they might another. 
Schitt's Creek is only available in Netflix's US, UK, Japanese, Australian, Canadian and Indian catalogs. Although this list includes some of Netflix's most comprehensive catalogs, like much of the platform's content, it's only available in a select few regions. So if you want to watch the show from outside of these regions, you'll need a tool that lets you pretend you are - and VPNs are by far the best choice. 
VPNs reroute all your traffic through a private server before it gets to the internet, disguising your IP address in the process. This allows users to pretend they're in the country where the private server is located as the server's IP address becomes your IP address. As long as you connect to a US server, for example, Netflix will think you're in the US and grant you access to the country's library. 
WARNING: IF YOU LIVE IN EUROPE YOU MAY STRUGGLE TO UNLOCK REGIONAL CONTENT FROM OTHER EUROPEAN COUNTRIES.
Changes in legislation mean that EU users may only be able to access non-EU libraries (Canada). This means that users in Europe should connect to servers outside of the EU wherever possible.
Why we recommend ExpressVPN
ExpressVPN is our top pick for watching Schitt's Creek on Netflix. It has a global network of over 3,000 servers in 94 countries, including all the regions where the show is available on Netflix. If you want to watch something else unavailable in your country, their spread of servers unblock a whole host of geo-restricted content from all over the world. ExpressVPN has apps on all platforms, so you can watch Schitt's Creek on whichever device you please without a problem. ExpressVPN has excellent speeds and can be relied upon for a consistent connection when streaming. The provider also affords its customers access to a number of state-of-the-art security features, including a kill-switch and obfuscation technology that will hide your VPN from your internet service provider. It may even speed up your browsing experience if your ISP is throttling your bandwidth, which is just another reason to take it out for a spin. If you're not happy after 30 days, ExpressVPN will give you your money back. 
[[post-object provider="expressvpn"
Why we recommend NordVPN
NordVPN is a Panama-based VPN that never logs the activity of its users. NordVPN consistently puts up good numbers in our daily speed tests and is the quickest VPN we recommend for watching Schitt's Creek. Although the provider can connect you to all the locations Schitt's Creek is available in, the fact it has servers in 59 countries means it's a worthwhile investment for unblocking a range of other media unavailable in your region. NordVPN has a number of innovative security features, including the recently developed NordLynx, which lets you experience all the benefits of the lightning-quick WireGuard encryption protocol with an added layer of security whilst it's under development. It also provides users with malware and virus protection and reliably prevents DNS leaks. NordVPN also offers a 30-day free trial, so you can always change your mind if it doesn't work out! 
[[post-object provider="nordvpn"
Why we recommend PrivateVPN
PrivateVPN, based in Sweden, is a great choice for unblocking Netflix catalogs that include Schitt's Creek. They have a smaller server collection than the other two VPNs on this list, but can still connect you to up to 60 countries - and most importantly, Australia, Japan, India, the US, and the UK are all on that list. Rapid connection speeds ensure you won't experience buffering whilst streaming, and its easy-to-use apps for all platforms mean watching on-the-go is just as simple as switching it on at home on your computer. Even better, you can install the same account on 6 devices so you don't even have to worry about signing in and out again. If security is also a concern, you can trust PrivateVPN because they use the latest encryption protocols and won't log your activity, something they're very clear about in their privacy policy. Considering the price and what's on offer, PrivateVPN is excellent value for money. You can even try it yourself thanks to their 30-day money-back guarantee.  
[[post-object provider="privatevpn"
About Schitt's Creek 
Johnny Rose, who founded the second-largest video store in America, loses his whole fortune and is forced to relocate with his family to Schitt's Creek, a small town they bought as a joke whilst on the up. They move into a motel and try to adjust to a life without luxury with their two children in tow, but years of high-society living means they don't always see eye-to-eye with the town's locals. 
Schitt's Creek stars Eugene Levy as Johnny and Catherine O'Hara as his wife Moira, both of whom have been praised for their performances. Daniel Levy, who plays one of Johnny's grown-up kids in the series but is also Eugene's oldest son in real life, has similarly been praised for his performance. Overall, expect endearing, loveable characters and some sobering pearls of wisdom carefully interspersed between witty quips and wisecracks. 
Schitt's Creek received almost universal critical acclaim after the second series and became the first comedy show to ever sweep all seven of the comedy awards at the 72nd Emmies. It also one an additional four for acting at the same awards show and has a 94% audience rating on Rotten Tomatoes. What's more, there are 80 episodes over 6 seasons available on Netflix, so it's a great one to binge or watch in increments. 
FAQs
[[post-object question="Could I get banned from Netflix?" answer="No. Netflix understands better than anyone that you are a paying customer, and it doesn't want to lose your subscription fee. With this in mind, it never bans users for unblocking more content with a VPN. Instead, it focuses on restricting known VPN IP addresses. This is why you must subscribe to a VPN service that is known to work with Netflix, or else you could end up with a VPN that doesn't actually work. Stick to the services in this guide and you can stream Schitt's Creek without any issues whatsoever."
[[post-object question="What if the VPN doesn't work?" answer="The VPN recommendations in this article were carefully chosen because they work to unblock Netflix. Some VPN providers only provide access to the US Netflix catalog, which limits the amount of content you can stream. Our recommendations have a wide range of servers that are known to unblock many international Netflix catalogs. As a result, you can access exclusive Netflix titles from around the globe. If your VPN isn't working to unblock a specific title, contact your VPN's support team to find out which server you should use. We have a Netflix VPN troubleshooting guide, which will help you get your VPN back up and running if you have any issues.. There is a chance that your VPN will not unblock a certain Netflix location. Thus, if a show is available in more than one country (as is the case with Schitt's Creek) you should check to see which of those countries is a better option."
Genres:
Creators:
Actors: