Please Note!
This title is no longer available on Netflix.
Scrotal Recall
What is StreamCatcher?
Certain shows and films are only available on Netflix in certain countries. But you can still watch them with specific VPN services connected to that country.
We've built a tool that can tell you which VPN you need and where to connect…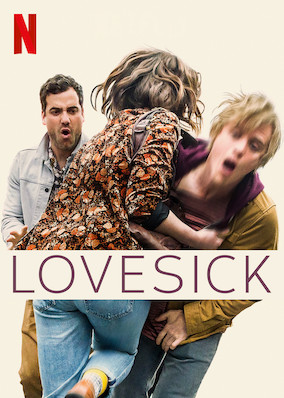 series
About the Show:
In his quest for true love, Dylan found chlamydia. Joined by friends Evie and Luke, he relives past encounters as he notifies all his former partners.
Looking for similar titles to Scrotal Recall? Click here.
IMDB Score

8.1 / 10

Netflix Score

3.9 / 5

Released

2014

Runtime

24 min

Rated

100
How to unblock it:
Here are the servers you can connect to on a VPN to watch it. If you want to watch it in a specific audio, or subtitles, select those from the dropdown and we'll highlight the server you need to connect to in yellow.
Refine your search:
Seasons (Available in all countries):
S1 (6 episodes)
S2 (8 episodes)
S3 (8 episodes)
First broadcast on Channel 4 in 2014, the British sitcom Lovesick was picked up by Netflix for a second and third season.
The show follows the often-awkward Dylan Witter and his roommates in Glasgow. Dylan was recently diagnosed with Chlamydia and now faces the mortifying task of informing his previous sexual partners. It's easier said than done, however, seeing as none of Dylan's past relationships ended on a particularly good note.
Most Netflix customers will be able to check out Lovesick – but for those who can't, a VPN can unblock the show in a few quick clicks.
Can I stream Lovesick on Netflix?
Thanks to its status as a Netflix Original, Lovesick can be accessed in a whopping thirty-two countries! However, this certainly doesn't mean that everyone around the world will be able to tune in. Licensing agreements mean that Netflix can only distribute content in particular territories – but don't despair! If you live outside of the thirty-two countries (listed above) where Lovesick is available, you can simply invest in a VPN to "spoof" your location.
How to watch Lovesick on Netflix
Below, we've outlined the steps you'll need to take in order to install a VPN. It's simple, quick and you don't need to be a privacy expert to do it!
First and foremost, register for a Netflix account in your native country if you don't already have one.
You'll also need to decide on a VPN service to subscribe to. The market is saturated with options – but if you're looking for the best services to stream with, we've listed three of the best further down the page.
Head over to the VPN site and download the software that's compatible with your device. Then, install it! Don't worry – this is as simple as following the on-screen instructions.
Here's where the magic happens – picking a VPN server! We'd recommend going with a US or UK-based server for the best results.
Hit connect and click the link below to start streaming Lovesick!
Why You Need a VPN to Watch Lovesick
With Lovesick so readily available in so many Netflix libraries, it might seem criminally unfair that a few miss out on the sitcom – so why is this the case?
In truth, Netflix would like to be able to offer a full library of content to all of its customers, regardless of where they live, but the service is beholden to the wants and whims of the content copyright holders. These copyright holders dictate which locations a show or film can be distributed in, and, consequently, which locations will miss out. Netflix must also take demand into account – financially, there's little to gain from buying the regional rights to content that is not popular in that particular country!
Why we recommend ExpressVPN
A long-established name in the VPN market, Express has an impressive network of 3,000 in 94 countries – and they're lightning-fast! You'll benefit from unlimited bandwidth, and military-grade OpenVPN encryption to keep your data secure, too.
Express is compatible with Mac, Windows, Android, iOS, and Linux devices, and can even be installed on routers. 5 simultaneous connections means that you can secure all of the devices in your home, and Express has no trouble unblocking the most in-demand streaming services available today. For any issues that arise, an expert team is available 24/7 via live chat or email, and a 30-day money-back guarantee lets you test the service at your own pace.
Pricing:

From $6.67 - $12.95

Speeds:

Connect to:

South Korea
France
United States
Canada
United Kingdom
Japan
Germany
Sweden
Switzerland
Netherlands
Italy
Spain
Australia
Brazil
Colombia
Argentina
India
Israel
Why we recommend NordVPN
NordVPN combines speed, safety, and powerful unblocking power to be one of the most trusted VPN providers out there. You'll have your pick of more than 5,400 servers, all with unlimited bandwidth and the ability to bypass ISP throttling – so you can stream in HD smoothly. What's more, NordVPN can also access BBC iPlayer, Prime Video, and Hulu in addition to Netflix.
The whole family can stay secure online thanks to 6 simultaneous connections, and NordVPN is compatible with most devices – and Chrome and Firefox browser extensions are available, too. Be sure to check out NordVPN's 30-day money-back guarantee, and get in touch with its excellent customer service team if you have any questions.
Pricing:

From $3.71 - $11.95

Speeds:

Connect to:

South Korea
France
United States
Canada
United Kingdom
Japan
Germany
Netherlands
Italy
Spain
Australia
Brazil
India
Why we recommend PrivateVPN
Based in Sweden, PrivateVPN offers a selection of 100 Tier 1 servers. They're quick, with unlimited bandwidth, and you'll have no trouble accessing BBC iPlayer, Hulu, and Disney+ in addition to Netflix.
When it comes to security, PrivateVPN doesn't pull punches, opting for mega-secure OpenVPN as well as an audited no-logs policy. 6 simultaneous connections are on offer, and you'll be able to install PrivateVPN on any Windows, Mac, iOS, Android, or Linux device. You can get in touch with PrivateVPN's outstanding customer service team at any time of the day, and take the provider for a spin with a 30-day money-back guarantee.
Pricing:

From $1.89 - $7.12

Speeds:

Connect to:

South Korea
France
United States
Canada
United Kingdom
Japan
Germany
Sweden
Switzerland
Netherlands
Italy
Spain
Australia
Brazil
Colombia
Argentina
About Lovesick
Lovesick first clattered onto our screens in 2014, created by Tom Edge, and starring Johnny Flynn in the role of Dylan Witter. The British sitcom details the life of a ragtag group of friends sharing a home in Glasgow – and the ins and outs of their turbulent love lives.
When Dylan is diagnosed with Chlamydia, he realizes it's now his responsibility to inform his previous partners. Through flashbacks, Lovesick performs a postmortem on each of Dylan's relationships – which were largely doomed even before the STI situation. His friends, Luke and Evie, have their own travails, and as the series goes on, the narrative takes a closer look at their relationships with one another.
Originally broadcast on Channel 4, Netflix eventually commissioned a second season of the show in 2016, and a third was made available in 2018.
FAQs
Genres:
Creators:
Actors: