Please Note!
This title is no longer available on Netflix.
ONE PIECE
What is StreamCatcher?
Certain shows and films are only available on Netflix in certain countries. But you can still watch them with specific VPN services connected to that country.
We've built a tool that can tell you which VPN you need and where to connect…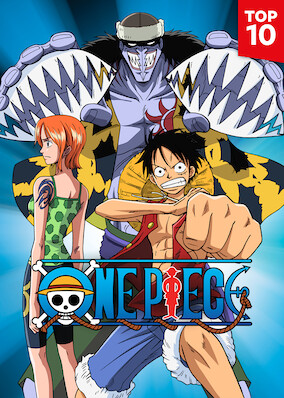 series
About the Show:
Monkey D. Luffy sails with his crew of Straw Hat Pirates through the Grand Line to find the treasure One Piece and become the new king of the pirates.
Looking for similar titles to ONE PIECE? Click here.
IMDB Score

6.9 / 10

Released

2001

Runtime

55 min

Directed by

Atsuji Shimizu
How to unblock it:
Here are the servers you can connect to on a VPN to watch it. If you want to watch it in a specific audio, or subtitles, select those from the dropdown and we'll highlight the server you need to connect to in yellow.
Refine your search:
Seasons (Hover for countries):
S1 (61 episodes)
S10 (35 episodes)
S11 (21 episodes)
S12 (22 episodes)
S13 (19 episodes)
S14 (11 episodes)
S15 (45 episodes)
S16 (24 episodes)
S17 (2 episodes)
S18 (14 episodes)
S19 (37 episodes)
S2 (16 episodes)
S20 (58 episodes)
S21 (58 episodes)
S22 (49 episodes)
S23 (118 episodes)
S24 (4 episodes)
S25 (10 episodes)
S26 (11 episodes)
S27 (11 episodes)
S28 (14 episodes)
S29 (13 episodes)
S3 (15 episodes)
S30 (13 episodes)
S31 (13 episodes)
S4 (38 episodes)
S5 (13 episodes)
S6 (30 episodes)
S7 (22 episodes)
S8 (11 episodes)
S9 (22 episodes)
Can I stream One Piece on Netflix?
Yes! There are hundreds of episodes spanning 31 seasons of One Piece on Netflix at the moment, with the vast majority of the show being only available on the Japanese library, you're going to need a VPN if you want to catch up with the Straw Hat Crew's adventures in The Grand Line.
How to watch One Piece on Netflix
With the right VPN, hopping between Netflix catalogs is a piece of cake, and our recommended services all come with dedicated apps for your favorite devices. If you want to spoof your location and access your favorite Netflix content, follow the steps below!
This one's obvious: get a Netflix subscription.
Now for the serious bit: subscribe to a VPN provider with servers in the countries listed above that are proven to work with Netflix (especially Japan). We've highlighted some of the best services for streaming below with servers that will have you streaming One Piece in no time!
Head over to the provider's website to download and install the VPN onto your device.
Now you just need to log in and connect to a server in a country where Netflix is showing One Piece.
Finally, hit the button below to go straight to the Luffy's adventures!
Why You Need a VPN to Watch One Piece
Netflix is constantly changing the licensing agreements it has with copyright holders – buying and selling the rights to show certain shows in different regions, and conforming to local censorships. This means that Netflix catalogs and their content vary depending on where you live, and that, if you want to access different Netflix catalogs, you'll need to spoof your location. 
The majority of One Piece is only available on the Japanese library, so be sure to use a VPN that is proven to unblock the Japanese Netflix.
Fortunately, the VPNs below all have servers in Japan, so you can stream One Piece on Netflix, and thanks to robust security and encryption, no one will know you watched it – not your internet service provider, hackers, or even the government! You can stop prying eyes from seeing your internet usage by connecting to a VPN – making you safer online at home and on-the-go!
Why we recommend ExpressVPN
ExpressVPN is the best VPN for streaming. With thousands of lightning-fast servers in over 94 countries (including Japan), it offers everything you need to unblock One Piece from anywhere in the world. The service consistently unblocks 24 Netflix catalogs, including the UK, Japan, and USA – so you can stream your favorite shows with ease!
Express offers apps for all platforms and up to 5 simultaneous VPN connections, so you can protect your devices both at home and on-the-go. If you want military-grade encryption, reliably fast servers, and an enormous catalog of Netflix libraries, take advantage of its 30-day money-back guarantee and test the service without risking your cash!
Pricing:

From $6.67 - $12.95

Speeds:

Connect to:

United States
Canada
Japan
Australia
Brazil
Colombia
Argentina
Why we recommend NordVPN
NordVPN offers a budget-friendly service that lets you unblock Netflix with ease and so much more. Fortunately, Nord can unblock 14 Netflix catalogs, including the UK, Japan and USA, so you're sure to get your money's worth. Aside from streaming, you can use Nord to unblock a plethora of online content, run Tor over VPN, and Torrent in absolute privacy – letting you bypass censorship and access geo-restricted content from all over the world. Give Nord a go with a generous 30-day money-back guarantee.
Pricing:

From $3.71 - $11.95

Speeds:

Connect to:

United States
Canada
Japan
Australia
Brazil
Why we recommend PrivateVPN
PrivateVPN is by far the best cheap streaming VPN. Thanks to its user-friendly apps, robust encryption and dedicated streaming servers for Netflix, Disney+, Hulu, Prime Video, and more, you'll never be stuck for something to watch. Alongside its great functionality, PrivateVPN allows for fantastic customization – letting you dial in the perfect blend of speed and security for your needs.
Users can connect up to 6 devices at once, so you'll pay less and get more than you would from some of its leading competitors. It's an all-round superb service that's perfect for users who don't want to spend a lot of money on a VPN. Try it for yourself and make the most of its 30-day money-back guarantee.
Pricing:

From $1.89 - $7.12

Speeds:

Connect to:

United States
Canada
Japan
Australia
Brazil
Colombia
Argentina
About One Piece
One Piece is an animated series based on the iconic comics written by Eiichiro Oda and serialized in the Weekly Shōnen Jump since 1997! It follows the story of anti-hero Monkey D. Luffy, a young pirate, with a body made of rubber, looking to seize the title of Pirate King by conquering The Grand Line – a treacherous sea filled with the dangerous monsters, and even more dangerous people.
The story follows Luffy as he builds his crew, sets sail, and continues to get himself into hilarious hijinks and scuffles with the Navy, building friendships, pushing himself and others to new limits, and uprooting the way of the world.
Spanning over 1000 episodes, it's an iconic anime series that's well-worth the time investment.
FAQs
Genres:
Creators:
Actors: