Please Note!
This title is no longer available on Netflix.
Maniac
What is StreamCatcher?
Certain shows and films are only available on Netflix in certain countries. But you can still watch them with specific VPN services connected to that country.
We've built a tool that can tell you which VPN you need and where to connect…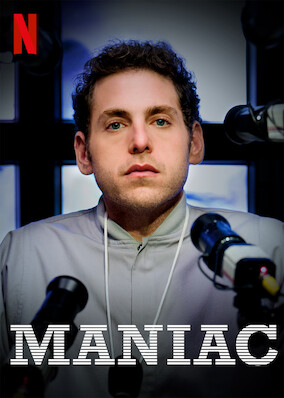 series
About the Show:
Two struggling strangers connect during a mind-bending pharmaceutical trial involving a doctor with mother issues and an emotionally complex computer.
Looking for similar titles to Maniac? Click here.
IMDB Score

7.8 / 10

Released

2018

Runtime

40 min

Rated

Not recommended for minors under 18 years of age.
How to unblock it:
Here are the servers you can connect to on a VPN to watch it. If you want to watch it in a specific audio, or subtitles, select those from the dropdown and we'll highlight the server you need to connect to in yellow.
Refine your search:
Seasons (Available in all countries):
S1 (10 episodes)
Did you know that with a VPN, you can unblock Maniac with your current Netflix subscription, even if it's not available in your region? Keep reading to unblock this movie and thousands of other shows and movies without changing your Netflix subscription.
Can I stream Maniac on Netflix?
You can stream Maniac on Netflix easily, even if the movie is not available in your country's Netflix library. Netflix libraries vary significantly from country to country, and if you can't find a particular title in your home country's library, that doesn't necessarily mean that it isn't available for streaming on Netflix at all. The movie or show you're looking for may simply be restricted to another country's Netflix library. Because of this, if you can't find Maniac in your region's Netlfix library, you can use a VPN to pretend to be in a different country where the movie is available on Netflix and stream it with ease. 
How to watch Maniac
If you want to watch Maniac on Netflix, you'll need a Netflix subscription and a VPN. To start streaming Maniac with a VPN today, simply follow the steps below:
Register for a Netflix account if you don't already have one. It doesn't matter what country you register from, your VPN will help you access the appropriate countries for unblocking Maniac on Netflix.
Choose one of the VPN providers we recommend in this guide and sign up for the service. Each VPN we've listed below will not only help you unblock Maniac, but also tons of other movies and shows on Netflix from all over the world.
Download and install the VPN software onto your computer or mobile device. Our recommended VPN providers make installation a breeze, so you can have your VPN set up and unblocking Netflix in no time at all.
Launch the VPN software and connect to a server located in a country where Maniac is available on Netflix. We've listed the appropriate countries below our description of each provider.
Click on the button below and we'll take you straight to the show so you don't even have to search for it!
Why you need a VPN to watch Maniac
Due to licensing and copyright restrictions, Netflix is only able to offer certain shows and movies in certain countries. This means that there can be huge differences between one country's Netflix library compared to another's. And this also means that you may not always be able to find a particular movie or show that you want to watch on Netflix in the region where you are located. But since a VPN can help you pretend to be in a different country by routing your internet connection through a remote server, you can trick Netflix into thinking you're connecting from a country where the streaming service is licensed to make Maniac available for streaming.
It's important to note, however, that most VPNs are unable to unblock Netflix since the streaming giant actively blocks access to its content from known VPN connections. Unblocking Netflix is thus incredibly difficult for VPN providers, and most have simply given up trying. So, even if a VPN has servers in countries where Maniac is available on Netflix, you still won't be able to unblock it if the VPN you're using doesn't work to unblock Netflix. Each VPN provider we recommend below is able to get past Netflix's VPN ban and works reliably to unblock multiple Netflix country-specific libraries.
Check out our recommendations below and see why each provider we highlight in this guide is an excellent choice if you want to unblock Maniac on Netflix. 
Why we recommend ExpressVPN to watch Maniac
ExpressVPN is one of the best all-around VPNs in the industry, and it is phenomenal when it comes to unblocking Netflix content from all over the world. This provider boasts servers in 94 different countries and is able to unblock 24 different Netflix libraries globally. This means you'll have no issues at all unblocking Maniac on Netflix (along with all kinds of other awesome geo-restricted content) when using ExpressVPN, no matter where you are located.
On top of that, ExpressVPN offers blazing-fast connection speeds that allow you to stream Netflix smoothly in full HD without encountering any annoying buffering. You'll also have access to helpful and knowledgeable 24/7 live chat customer support with ExpressVPN, so you can get help whenever you need it. 
Pricing:

From $6.67 - $12.95

Speeds:

Connect to:

South Korea
France
United States
Canada
United Kingdom
Japan
Germany
Sweden
Switzerland
Netherlands
Italy
Spain
Australia
Brazil
Colombia
Argentina
India
Israel
Why we recommend NordVPN to watch Maniac
NordVPN is another solid provider that's excellent at unblocking Netflix content. With NordVPN, you'll have access to user-friendly apps for all platforms along with some of the best speeds in the industry, meaning you'll have no trouble streaming smoothly at home or on the go.
In addition to reliably unblocking various Netflix libraries, NordVPN will give you access to all kinds of other streaming services from around the world like BBC iPlayer, Hulu, Amazon Prime, HBO, and much more. This really is a top-notch provider that handles all your streaming needs with ease. Another great thing about NordVPN is that you'll be able to connect up to 6 devices at once, so you and your entire family can enjoy unblocking a whole world of streaming possibilities all at the same time. Plus, you're backed by a genuine no-questions-asked 30-day money-back guarantee.
Pricing:

From $3.71 - $11.95

Speeds:

Connect to:

South Korea
France
United States
Canada
United Kingdom
Japan
Germany
Netherlands
Italy
Spain
Australia
Brazil
India
Why we recommend PrivateVPN to watch Maniac
PrivateVPN is a top-tier, yet budget-friendly VPN provider that is hugely popular amongst streaming enthusiasts. When you sign up with PrivateVPN, you'll get access to a network of super-fast servers in 60 countries around the world and gain the power to unblock a host of international Netflix libraries.
The apps are feature-rich, incredibly user-friendly, and are available for download on all popular platforms. Customer care is some of the best around, as tech support agents are available to assist remotely if needed, a level of care that goes above and beyond what is standard in the industry. What's more, you'll be able to connect up to 6 devices simultaneously. All that, along with a 30-day money-back guarantee, there's no reason not to give PrivateVPN a shot and see how it can help deliver a superb streaming experience. 
About Maniac
Maniac is a Netflix Original miniseries starring Jonah Hill and Emma Stone that can best be categorized as a mind-bending dark comedy. The 2018 series takes place in the near future in New York City and follows two strangers Owen Milgrim (Hill) and Annie Landsberg (Stone) as they volunteer for a pharmaceutical trial of a new miracle drug that is purported to cure all disorders permanently without any side effects. The miniseries ran for ten episodes, garnered a generally positive response from critics and viewers alike, and was nominated for various industry awards. In addition to Hill and Stone, Maniac features a notably star-studded supporting cast including Gabriel Byrne, Sally Field, and Justin Theroux.
On the whole, Maniac takes viewers on a surreal dive into mental disorders, dreams, and the subconscious. Check out Maniac on Netflix today using one of the VPN providers listed above and prepare to have your mind blown!     
FAQs
Check out the FAQs below if you have any questions regarding using a VPN to unblock Netflix.
Genres:
Creators:
Actors: