Please Note!
This title is no longer available on Netflix.
Ares
What is StreamCatcher?
Certain shows and films are only available on Netflix in certain countries. But you can still watch them with specific VPN services connected to that country.
We've built a tool that can tell you which VPN you need and where to connect…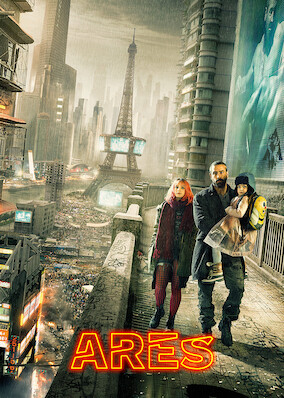 movie
About the Show:
A futuristic France tries to keep its people from despair and rebellion over crippling poverty by engaging them with a violent TV competition show.
Looking for similar titles to Ares? Click here.
IMDB Score

6.2 / 10

Released

2016

Runtime

80 min

Rated

Recommended for ages 16 and up

Directed by

Jean-Patrick Benes
How to unblock it:
Here are the servers you can connect to on a VPN to watch it. If you want to watch it in a specific audio, or subtitles, select those from the dropdown and we'll highlight the server you need to connect to in yellow.
Refine your search:
Directed by Jean-Patrick Benes, Ares takes place in a devastated and dystopian France, brought low by a failed economy. With mega-corporations having bought the country's debt, power now largely rests in their hands, and many regulations come to an end, with new, frightening reforms introduced in their place. The film follows Reda, a boxer trying to make ends meet by agreeing to trial a new performance-enhancing drug. But there's a catch - nobody has ever survived it before.
A VPN allows you to tune into this thrilling glimpse of post-apocalyptic France regardless of whether it's available in your region. You don't need to make a new Netflix account, and it only takes a few clicks to get started. Keep reading, and we'll explain how you can unblock Ares, and a whole host of other content from overseas.
Can I stream Ares on Netflix?
Absolutely! Netflix customers in the US, UK, Canada, France, Argentina, Brazil, and Colombia will all be able to find Ares in their library. However, this means that the film is unavailable to anybody with an account registered outside of these regions - without a VPN, that is!
When you connect to a VPN, you'll automatically be assigned a new IP address that'll fool the sites you visit into thinking you're in a location of your choice. In reality, you could be half the world away! This is known as "location spoofing", and it makes tuning in to Netflix's geo-restricted content possible.
We'd recommend subscribing to any of the three providers in this guide, and then you'll simply need to connect to a server in one of the locations listed above. Please note, however, that customers in the EU may struggle to access the UK Netflix library even with a VPN. This is because Netflix is still able to ascertain the country the account was registered in. EU customers may still see their original library's home screen, even if connected to a server abroad, and there's unfortunately no way to bypass this restriction at the moment.
How to watch Ares on Netflix
In order to watch Ares from anywhere in the world, you'll need two things - a valid Netflix account and a VPN subscription. Popcorn is, of course, optional.
Plenty of VPNs claim to be able to unblock Netflix, but they may not be able to access the right regional catalogues necessary to stream Ares. Our VPN picks can, however, so we'd recommend checking them out. Then, simply follow along with the instructions below to get your VPN up and running:
The first thing you'll need to do is register for a Netflix account - though you can also use an existing profile if you have one. Don't worry about the location, either, as the VPN will handle that itself.
Then, decide which VPN provider you'd like to subscribe to. There are hundreds of options, but we've highlighted three of the best that are more than capable of unblocking Ares, as well as a ton of other previously inaccessible content.
Visit the provider's website to download the VPN software. Installation is quick and straightforward - just follow along with the on-screen instructions and login to the app when prompted.
Here's where the magic happens! You'll be asked to select a location, so refer to the lists below each provider in this guide and select a server in the country that suits you best.
Hit connect, open Netflix, and search for Ares to start streaming! Alternatively, you can click the button below.
Why You Need a VPN to Watch Ares
Why do Netflix libraries differ so much from country to country? Why do some customers miss out on certain titles when we all pay the same subscription fee? Well, it's in large part due to territorial licensing. Netflix has to abide by the agreements it enters into with copyright holders and content producers, and this means enforcing geo-restrictions that prevent certain shows and movies from being available in regions where they have not been licensed.
Of course, this is pretty annoying, especially if what you want to watch is readily available elsewhere! Luckily, a VPN is a low-cost solution. Anyone can use a VPN, and by doing so spoof their location.
By connecting to a VPN server in a different country, you can pretend to be there physically, and gain instant access to all that content that was previously out of your reach.
How to watch Ares with ExpressVPN
ExpressVPN is an incredibly well-regarded VPN provider that offers a premium feel - and access to 24 regional Netflix libraries! Customers can take their pick of 94 global locations, and enjoy HD streaming thanks to lightning-fast speeds. What's more, ExpressVPN is compatible with just about every platform, comes with easy-to-use apps, and offers 24/7 expert support. There's simply no reason not to trial the service for yourself with a 30-day money-back guarantee!
After you've installed ExpressVPN on your device, select a server in one of the locations below, click connect, and search for Ares on Netflix!
Pricing:

From $6.67 - $12.95

Speeds:

Connect to:

France
United States
Canada
United Kingdom
Brazil
Colombia
Argentina
Israel
How to watch Ares with NordVPN
You'll be hard-pressed to find a VPN more reliable and feature-rich than NordVPN! NordVPN customers are spoiled for choice with 5,400 servers in 59 locations, and if the day comes that you run out of things to watch on Netflix, NordVPN has you covered, being able to unblock BBC iPlayer and Prime Video, too! NordVPN can be installed on any device, and its unlimited bandwidth ensures a smooth stream every time. A 30-day money-back guarantee means you can take NordVPN for a trial run, and an expert team is on hand 24/7 to address any concerns.
NordVPN installs in a few clicks, and you'll simply need to select one of the locations listed below when prompted by the app. Then, open up Netflix and enjoy Ares!
Pricing:

From $3.71 - $11.95

Speeds:

Connect to:

France
United States
Canada
United Kingdom
Brazil
How to watch Ares with PrivateVPN
PrivateVPN is a Sweden-based provider that's ideal for folks on a budget! Customers can connect to servers in more than 60 worldwide locations, as well as unblock a generous amount of regional Netflix libraries. Whether you're on a post-apocalyptic binge or are looking for new content to stream, PrivateVPN can help out, with apps for all devices that install seamlessly. Additionally, the provider is more than fast enough to handle HD streaming. PrivateVPN's customer service team is made up of developers, so get in touch if problems occur, and try the service for yourself with a 30-day money-back guarantee - oh, and don't forget the free trial!
Install PrivateVPN by following the on-screen prompts, then select one of the countries below in the 'Connect to' panel. Once that's done, open Netflix to start streaming Ares.
Pricing:

From $1.89 - $7.12

Speeds:

Connect to:

France
United States
Canada
United Kingdom
Brazil
Colombia
Argentina
About Ares
Ares, directed by Jean-Patrick Benes, premiered in 2016 at Paris' Comic-con, and centers around a dystopian version of France's capital city, ravaged by economic downfall. Ola Rapace takes center stage in the role of Reda, a boxer made to take and test a potentially lethal performance-enhancing drug.
After the country's economy failed, corporations bought up France's debt, and began making devastating changes, introducing reforms, and peeling back industry regulations. As a result, in this grim vision of the future, human experimentation is completely legal. France's population suffers, with many becoming homeless, and others willingly taking place in violent bloodsports, being sponsored by pharmaceutical companies who see them as little more than walking test subjects. Reda is one such athlete, a boxer previously named Ares.
Reda makes ends meet by fighting rough cage matches, and is duly swept up into the role of a corporate bodyguard when given the chance by an old friend, Altman. But in a twist of fate, Reba's new boss makes an unconscionable demand of him - agree to trial an enhancing drug that has killed all other test subjects. Knowing that doing so will potentially save the life of his boss' sister, however, Reda agrees. But Altman warns him - once he takes the drug, it'll only last five minutes...
FAQs
"accordion" question="What if the VPN doesn't work?" answer="The three VPNs featured in this guide can consistently unblock Netflix, have a broad network of servers in key global locations, and access to various regional Netflix catalogues - as well as the speeds to stream in HD, smoothly. It's why we hand-picked them! One subscription will grant you access to content from all over the world - no more geo-restrictions. But, problems do pop up. If you have trouble unblocking a particular Netflix show or movie, it's worth checking in with your VPN's customer service team. They'll be able to troubleshoot your issue, and point out which server you should be using. Do remember that Netflix has to show EU users their home catalogue even if they're connected to a server overseas - it's EU law, unfortunately. As a result, this can make it difficult to unblock other European catalogues from inside Europe. However, unblocking other international catalogues - like the US, for example - should be a breeze!"
Genres:
Creators:
Actors: