Please Note!
This title is no longer available on Netflix.
Fallen
What is StreamCatcher?
Certain shows and films are only available on Netflix in certain countries. But you can still watch them with specific VPN services connected to that country.
We've built a tool that can tell you which VPN you need and where to connect…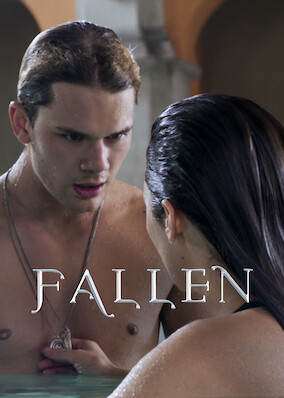 movie
About the Show:
Blamed for a crime she didn't commit, 17-year-old Lucinda Price is sent to reform school, where two young men with deep secrets begin to pursue her.
Looking for similar titles to Fallen? Click here.
IMDB Score

5.4 / 10

Released

2016

Runtime

91 min

Rated

Suitable for aged 12 or older

Directed by

Scott Hicks
How to unblock it:
Here are the servers you can connect to on a VPN to watch it. If you want to watch it in a specific audio, or subtitles, select those from the dropdown and we'll highlight the server you need to connect to in yellow.
Refine your search:
Fallen is a quintessential dark fantasy romance flick, and was adapted by Scott Hicks for the big screen in 2016 from the Lauren Kate novel of the same name. After a devastating blaze takes the life of a young man, Lucinda Price – or Luce – is blamed, and made to attend a school for misguided youth – the Sword and Cross Academy. Luce meets a number of odd students at the academy, including Cam and Daniel, the former takes an instant liking to her, and the latter keeps a brooding distance…
A VPN allows you to check out Fallen even if it's not currently available in your region. The process only takes a few minutes – and there's no need to make a new Netflix account! So, keep reading to learn how to unblock Fallen, and thousands of other geo-restricted shows and movies!
Can I stream Fallen on Netflix?
It's possible to stream Fallen via Netflix so long as you have an account registered in South Korea. Unfortunately, this means that viewers outside of the country won't find the title in their regional library – not without a VPN, that is!
A VPN assigns you a new, temporary IP address that fools the sites you visit into thinking you're in South Korea. In reality, you could be in the United States or the UK, but Netflix won't realize, and you'll have unfettered access to its South Korea library – including Fallen.
We've recommended three of the best VPNs on the market in this guide, and getting setup ready to stream couldn't be more simple. Once you're done, select a server in South Korea and revisit Netflix – you'll see that your library has updated automatically, and all that's left is to search for Fallen as you usually would!
How to watch Fallen on Netflix
Before you watch Fallen, you'll need two things: a Netflix subscription and a VPN. Keep in mind that not all VPNs can unblock every Netflix catalogue – different services have access to different regions, and this can make choosing a provider particularly tricky. However, we've hand-selected three VPNs that are up to the task and can unlock the necessary library to stream Fallen.
If you're ready to get started, simply follow along with the steps outlined below:
First of all, you'll need to register for a Netflix account if you don't already have one. Of course, you can use an existing profile – and don't worry about where it's registered, as the VPN will handle this later.
Now it's time to pick a VPN provider. There's a ton of VPNs on the market, so to make things a bit easier, we've suggested three stand-out services that can unblock Fallen, as well as other titles unavailable in your region, without a fuss.
Download the VPN software from the provider's website and run through installation. This is usually a quick process, and you'll just need to follow along with the on-screen instructions.
Log in when prompted, and connect to a VPN server. Remember, you'll want to connect to a location in South Korea to stream Fallen.
Finally, open up Netflix and search for Fallen – or click the button below!
Why You Need a VPN to Watch Fallen
So, why does Netflix prevent people in certain countries from watching Fallen? It can seem unfair, especially when you consider that we all pay the same subscription! For the most part, it boils down to licensing, as Netflix is bound by contractual agreements made with content producers and copyright holders. As such, Netflix has to enforce geo-restrictions to ensure that shows and movies are only available in the regions where they've been licensed.
Of course, this explanation isn't useful if you're stuck in a location where the content you want to check out is unavailable. But a VPN can help! A VPN is a low-cost and simple solution to geo-restrictions, and anyone can use one to spoof their location.
By connecting to a VPN server in a different country (let's say South Korea), you'll be able to browse the web as though you're physically located in the country. This means that shows and movies previously inaccessible will be unblocked in a few clicks, all in an instant!
How to watch Fallen with ExpressVPN
ExpressVPN is one of the most prominent and well-trusted VPNs out there, and has no trouble accessing international Netflix libraries. Users can browse through 24 regional catalogues and take their pick of servers in 94 countries – South Korea included. ExpressVPN is seriously fast, meaning your streams will stay smooth and free from stuttering, even in HD. What's more, the provider has easy-to-use apps for all devices, and an expert customer service team available 24/7! ExpressVPN ticks all the right boxes, and you can put it to the test yourself with a 30-day money-back guarantee.
After you've installed ExpressVPN, simply select a server in South Korea to unlock Fallen and start streaming!
Pricing:

From $6.67 - $12.95

Speeds:

Connect to:
How to watch Fallen with NordVPN
Packed full of features and incredibly beginner-friendly, NordVPN is the total package – and users can select from more than 5,400 servers in 59 locations, with more than 10 of these servers in South Korea. Unlimited bandwidth makes HD streaming simple, and you'll be able to install NordVPN on just about any device in the home. If you run out of movies to binge on Netflix, NordVPN can also access BBC iPlayer, Prime Video, and a whole host of other streaming services. Take NordVPN for a test run with a 30-day money-back guarantee, and for any questions, an expert customer service team is on hand 24/7.
NordVPN installs in just a few clicks! Log into the app, select a server in South Korea, and then search for Fallen on Netflix – easy peasy!
Pricing:

From $3.71 - $11.95

Speeds:

Connect to:
How to watch Fallen with PrivateVPN
With PrivateVPN, you'll get a premium-feeling service for a budget price. The Sweden-based VPN can access a number of international Netflix catalogues, and users can connect to servers scattered across the globe in over 60 countries – and servers in Seoul are ideal for folks wanting to stream Fallen. PrivateVPN can be installed on laptops, PCs, mobiles, tablets and more, and a customer service team manned by developers is on hand 24/7 to assist with concerns and queries. Check out PrivateVPN's speedy service and smooth HD streaming with a free trial, or a 30-day money-back guarantee!
PrivateVPN makes connecting to a server simple – simply select South Korea from the location list and hit connect, then refresh Netflix to find Fallen!
Pricing:

From $1.89 - $7.12

Speeds:

Connect to:
About Fallen
Released in 2016, Scott Hicks' adaptation of the Lauren Kate novel features Addison Timlin, Jeremy Irvine and Harrison Gilberston as a fate-bound trio at the Sword and Cross Academy. Lucinda "Luce" Price is initially referred to the Academy following a freak accident in which a young man, Trevor, is caught up and killed in a fire – an event for which Luce takes the blame. In addition to her guilt, Luce is concerned about the odd shadows she saw prior to Trevor's death…
The Sword and Cross Academy is attended by extraordinary students – like Cameron and Daniel, two boys who take a liking to Luce in their own ways. Cameron is outgoing and bold, whereas Daniel bides his time, keeping a close eye on Luce as she grows ever more popular. Luce befriends Arriane Alter, and even Miss Sophia, a religious studies teacher.
However, Luce narrowly avoids another tragedy when a statue of an angel topples over and almost hits her. Luce must contend with supernatural forces beyond her ken, centuries-old secrets, as well as more mundane social aspects of a boarding school!
FAQs
Genres:
Creators:
Actors: