Please Note!
This title is no longer available on Netflix.
Love Is Blind
What is StreamCatcher?
Certain shows and films are only available on Netflix in certain countries. But you can still watch them with specific VPN services connected to that country.
We've built a tool that can tell you which VPN you need and where to connect…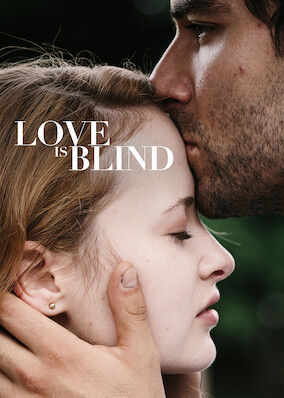 movie
About the Show:
Diagnosed with selective perception, a young woman is prescribed by a psychotherapist to spend time with a troubled man she cannot see.
Looking for similar titles to Love Is Blind? Click here.
IMDB Score

6 / 10

Released

2019

Runtime

1h33m

Rated

For Mature Audiences. May not be suitable for ages 17 and under.

Directed by

Andy Delaney
How to unblock it:
Here are the servers you can connect to on a VPN to watch it. If you want to watch it in a specific audio, or subtitles, select those from the dropdown and we'll highlight the server you need to connect to in yellow.
Refine your search:
Love is Blind, directed by Andy Delaney and Monty Whitebloom, is a quirky dark-comedy featuring an impressive cast. Shannon Tarbet stars alongside Aidan Turner, Benjamin Walker, Matthew Broderick, and Chloë Sevigny, and the film made its debut on-demand in March 2019. Love is Blind follows the story of Elizabeth Krafft, a young woman suffering from selective perception – a disorder that prevents her from seeing the people around her, including her mother, and the man who ends up falling for her.
You'll be able to tune into Love is Blind even if it's not currently available in your region – all it takes is a VPN! You won't need to make a new Netflix account, and there's no lengthy installation process. If you're ready to learn how to unblock Love is Blind, as well as thousands of other shows and movies, then keep reading!
Can I stream Love Is Blind on Netflix?
You'll have no trouble streaming Love is Blind if you're a Netflix customer with an account registered in the United States, Canada, or Australia. Unfortunately, viewers outside of these regions won't find the movie on their app – unless they have a VPN!
When you connect to a VPN, you'll temporarily be assigned a new IP address that fools the sites you visit into thinking you're in the US, Canada, or Australia. You might actually be sat on a sofa on the other side of the world, but Netflix won't know that, and will allow you to tune in to new regional content without geo-restrictions!
Of course, there are hundreds of VPNs on the market. We've selected three top-notch providers in this guide, and would recommend sticking to one of them if you want a service you can count on. Once you've got your VPN running, you'll simply need to connect to a server in any of the three locations where Love is Blind is available, then search for the movie to begin streaming! EU customers with an interest in browsing the UK Netflix library should be aware that it can be notoriously difficult. Because Netflix is able to determine an account's country of origin, you might still see your original homepage when logged in – even if you're using a VPN to roam. There's no solution to this issue currently, but watch this space!
How to watch Love Is Blind on Netflix
Anyone looking to watch Love is Blind will need two things – a Netflix subscription and a VPN. When picking a VPN, remember that different services can unblock different regional Netflix catalogues, and so you'll want to go with a VPN that can access the movies you've always wanted to watch. The three VPNs we've highlighted in this guide, for example, can all reliably unblock the libraries you'll need access to in order to watch Love is Blind.
Ready to get started? Just follow along with the steps below to get your VPN up and running with Netflix.
You'll first need to register for a Netflix account if you don't already have one. Don't worry about the location you register in – the VPN handles all the location-hopping.
Next, take your pick of VPN providers. If you want a service that can unblock Love is Blind, as well as other shows unavailable in your region, check out our top three picks below.
Head over to the VPN provider's site to download the software. This only takes a few moments, and installation is as simple as following along with the on-screen instructions.
Login to the VPN when prompted and pick which server you'd like to connect to. Once you've decided, select the location on the map or via the server list, and hit Connect!
You're all set! Now you can open Netflix and search for Love is Blind, or click the button below to get streaming right away.
Why You Need a VPN to Watch Love Is Blind
By now, you've probably noticed that Netflix offers vastly different menus of content in different locations. But why? We all pay the same subscription, so shouldn't we all be able to access the same shows and movies? Unfortunately, it's not Netflix's decision. The streaming service enters into contractual agreements with copyright holders and content producers, and as a result, uses geo-restrictions to make sure content is only being watched in the locations where it's been properly licensed.
This can be incredibly frustrating for Netflix customers who miss out on movies that have been licensed in other countries, but not theirs. With a VPN, however, anyone can check out geo-restricted Netflix content regardless of where they are in the world.
A VPN uses location spoofing technology to trick the sites you visit (like Netflix!) into thinking you're located in the same place as the server you connect to. As a result, you'll have instant access to content usually only available in that region.
How to watch Love Is Blind with ExpressVPN
Few VPNs are as feature-rich as ExpressVPN, a service that's also renowned for its speed and reliability! ExpressVPN customers can take their pick of servers in 94 countries – including a selection of cities in the US, Canada, and Australia. Currently, ExpressVPN is capable of unblocking 24 regional Netflix libraries, and you'll be able to browse and stream from just about any device in your home thanks to super simple, clutter-free apps for all platforms. Unlimited bandwidth means ExpressVPN is quick, and more than capable of keeping up with HD streams! For any problems that arise, an expert customer service team is only a click or an email away, 24/7, and prospective customers can take the service for a test run with a 30-day money-back guarantee.
ExpressVPN can be installed on just about any device, and once you're set up, select a server in one of the countries listed below and hit connect. Then, open up Netflix to search for Love is Blind!
Pricing:

From $6.67 - $12.95

Speeds:

Connect to:

United States
Canada
Australia
How to watch Love Is Blind with NordVPN
NordVPN is one of the world's most popular VPNs, thanks to a slew of handy features and its beginner-friendly apps. Installing NordVPN on your laptop, PC, mobile or tablet is a breeze, and the provider boasts servers in 59 locations worldwide, making geo-restrictions a thing of the past! Fans of Love is Blind can connect to multiple cities in the US, Canada, and Australia, and check out what's new on other streaming services – like BBC iPlayer and Prime Video. Super fast servers and unlimited bandwidth ensure that streams stay smooth, with no endless buffering, and if any problems do occur, customers can get in touch with a friendly team of customer service agents at any time. NordVPN also lets you try before you buy, with a 30-day money-back guarantee!
Once you've downloaded and installed NordVPN, select a server in one of the countries suggested below, connect, and search for Love is Blind on Netflix as you usually would!
Pricing:

From $3.71 - $11.95

Speeds:

Connect to:

United States
Canada
Australia
How to watch Love Is Blind with PrivateVPN
PrivateVPN might be the smallest service in our top three, but don't underestimate it! A great budget option that's still effective and quick, PrivateVPN comes with an impressive toolset of features as well as servers in more than 60 countries, allowing customers to check out overseas content in a few clicks. PrivateVPN has access to a number of international Netflix catalogues, and customers can comb through them on pretty much any device in the house, with easy-to-use apps and 24/7 support on standby. As you'd expect, PrivateVPN's servers are incredibly fast, meaning you can enjoy HD streams at home or on the go. Take PrivateVPN for a test run with its 30-day money-back guarantee, and don't forget about the free trial!
It's a piece of cake to stream Love is Blind with PrivateVPN; simply install the app on your device, select a server in one of the countries listed below, and refresh Netflix – the movie should now be available in your library!
Pricing:

From $1.89 - $7.12

Speeds:

Connect to:

United States
Canada
Australia
About Love Is Blind
Love is Blind is the 2019, comedy-drama, directorial debut of Andy Delaney and Monty Whitebloom, and follows a young woman named Elizabeth Krafft (or "Bess" to her friends) – a New Yorker living with a rare disorder that prevents her from being able to see the people physically around her.
Bess' condition places a burden on her parents, and Bess even believes that her mother, Carolyn, died ten years ago. Bess' father Murray is unsure how to help his daughter cope with her situational blindness, and has concerns about what might happen to her if his upcoming, and life-threatening, operation takes a turn for the worse. However, Bess has been seeking help with her condition from Farmer Smithson, a psychotherapy research assistant.
Bess happens to be in love with Farmer, though he withholds his own affections on account of his position as her therapist – and things take a turn for the dramatic when Russell Hank rolls into town. Russell is a troubled construction worker with a self-destructive streak that leads him to take careless chances with his life, like running red lights, and Farmer is convinced that he and Bess might be able to help one another. Russell warms to Bess quickly, but Bess, of course, cannot see him…
FAQs
Genres:
Actors: