Please Note!
This title is no longer available on Netflix.
The Queen
What is StreamCatcher?
Certain shows and films are only available on Netflix in certain countries. But you can still watch them with specific VPN services connected to that country.
We've built a tool that can tell you which VPN you need and where to connect…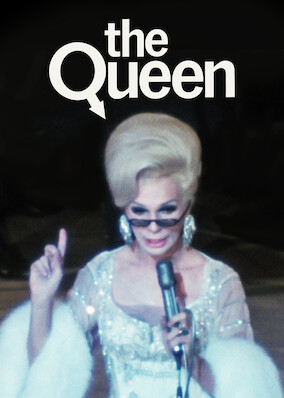 movie
About the Show:
From wartime drafts to evening gowns, this candid time capsule documents a 1967 beauty pageant that offers an inside look at competitive drag.
Looking for similar titles to The Queen? Click here.
IMDB Score

7.5 / 10

Released

1968

Runtime

68 min

Rated

Parental guidance suggested.

Directed by

Frank Simon
How to unblock it:
Here are the servers you can connect to on a VPN to watch it. If you want to watch it in a specific audio, or subtitles, select those from the dropdown and we'll highlight the server you need to connect to in yellow.
Refine your search:
Can I stream The Queen on Netflix?
Yes! However, The Queen is can only be streamed on specific Netflix libraries, including the UK, USA, and Australia. So if you can't see the film on your own Netflix library, you can use a VPN to spoof your location and unblock films from around the world!
How to watch The Queen on Netflix
With a VPN, you can unblock Netflix catalogs whenever and wherever you want. All of our recommended services all come with dedicated apps, so you can install them on your mobile, tablet, Mac, and/or PC. To spoof your location and stream The Queen, simply follow the steps below:
You're going to need a Netflix subscription to start with.
Pick a VPN provider. We've highlighted some of the best services for streaming in this guide; with servers that are sure to work for The Queen.
Download and install the VPN onto your device. You can find the quick and easy download instructions from the provider's website.
Connect to a server in a country where Netflix shows The Queen. Don't forget, the nearer the server is to you physically, the better your connection speeds will be.
Hit the button below to start streaming The Queen!
Why You Need a VPN to Watch The Queen
Netflix is always buying and selling the rights to stream shows (even Netflix originals), and it's because of these rights (and government censorship) that not every show is available in every library. So if Netflix doesn't have the right licensing agreements from the copyright holders, you won't see The Queen on there, and to watch it, you'll need to spoof your location.
The Queen is only available on a select few Netflix libraries, so be sure to check the list above to find out which country you need to connect to.
Fortunately, all of our chosen VPNs have servers in countries that can stream The Queen on Netflix, and with their robust security and encryption, no one will know you watched it – not your internet service provider, hackers, or even the government! By connecting to a VPN, you can stop people from spying on your internet usage, making you safer online, both at home and on-the-go!
Why we recommend ExpressVPN
ExpressVPN is one of the best streaming VPNs on the market. With servers in over 94 countries, it offers everything you'll need to unblock The Queen from anywhere in the world. In fact, the service unblocks a total of 24 Netflix catalogs, including the UK, USA, and Australia – so you can stream The Queen with ease!
With apps for all major platforms and up to 5 simultaneous VPN connections, you can protect your devices at home and on-the-go. If you want an all-round amazing service, with military-grade encryption, super-fast servers, and an enormous catalog of Netflix libraries, then try ExpressVPN with a 30-day money-back guarantee.
Pricing:

From $6.67 - $12.95

Speeds:

Connect to:

United States
Canada
United Kingdom
Australia
Why we recommend NordVPN
NordVPN is an easy-to-use service that unblocks Netflix seamlessly. With a total of 14 Netflix catalogs, including the UK, USA, and Australia, you're certain to to find The Queen on Netflix, and its budget-friendly price means the service provides excellent value-for-money. What's more, you can use Nord to unblock an enormous array of content and websites from around the world – letting you bypass censorship and access geo-restricted content wherever, whenever. You can test the service for yourself, risk-free, thanks to its 30-day money-back guarantee.
Pricing:

From $3.71 - $11.95

Speeds:

Connect to:

United States
Canada
United Kingdom
Australia
Why we recommend PrivateVPN
PrivateVPN is a fully-featured, budget-friendly streaming VPN. Its fantastic encryption options and dedicated streaming servers for popular streaming services (including Netflix, Disney+, Prime Video and Hulu) make it an easy pick for streamers who don't want to break the bank. Alongside its great functionality, PrivateVPN has an easy-to-use app design with plenty of customization for speed and security.
A total of 6 simultaneous connections means you'll pay less and get more than you would from many of its competitors. So see what all the fuss is about with a 30-day money-back guarantee to fall back on.
Pricing:

From $1.89 - $7.12

Speeds:

Connect to:

United States
Canada
United Kingdom
Australia
About The Queen
The Queen is a documentary film depicting the world of competitive drag in the 1960s. Released in 1968, the film follows the Miss All-America Camp Beauty Contest and centers on key drag queens such as Flawless Sabrina, Crystal Labeija, and Rachel Harlow. As the queens compete for the crown, the film gives a deeper look into the world of the trans community in the 60s, and an early insight into modern drag culture.
FAQs
Genres:
Actors: