Please Note!
This title is no longer available on Netflix.
Parasite
What is StreamCatcher?
Certain shows and films are only available on Netflix in certain countries. But you can still watch them with specific VPN services connected to that country.
We've built a tool that can tell you which VPN you need and where to connect…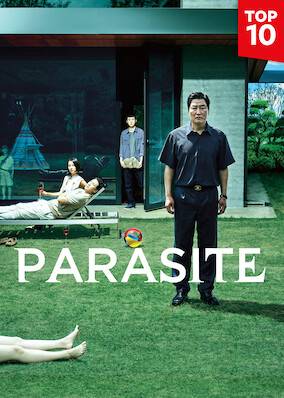 movie
About the Show:
One by one, the crafty members of a destitute family insinuate themselves into the household staff of a wealthy couple living in oblivious privilege.
Looking for similar titles to Parasite? Click here.
IMDB Score

8.6 / 10

Released

2019

Runtime

132 min

Rated

Restricted. May be inappropriate for ages 17 and under.

Directed by

Bong Joon Ho
How to unblock it:
Here are the servers you can connect to on a VPN to watch it. If you want to watch it in a specific audio, or subtitles, select those from the dropdown and we'll highlight the server you need to connect to in yellow.
Refine your search:
Parasite follows the story of a poor South Korean family that finds employment working for one of the country's wealthiest households. However, creeping class prejudices and greed disrupt their relationship. The film paints a fascinating, but ultimately abhorrent, picture of societal divisions in South Korea, viewed by many in the west as a beacon for democracy and stability. 
The film has won several impressive and deserved accolades, including becoming the first foreign-language film to scoop Best Picture at the Oscars and the first Korean film to win an academy award. It also collected awards for Best Director, Best Original Screenplay, Best International Feature Film, three Golden Globes and numerous other honors. 
Can I stream Parasite on Netflix?
Yes! Parasite is currently available to stream in three countries: Japan, Colombia, and Argentina. For people already living in these countries, it's possible to watch Parasite without a VPN. But if you're from anywhere else in the world, you'll need to bypass Netflix's geo-restrictions. 
The good news is that you can use any of the VPNs recommended in this article to unblock a foreign Netflix catalog and stream Parasite. Just select a suggested VPN from our list, reroute your traffic through a server in a country where Parasite is available and you'll be all set to enjoy this Oscar-winning masterpiece. 
How to watch Parasite on Netflix
Using a VPN recommended in this article makes content on Netflix a walk in the park. They have apps available for virtually any device you could think of, and allow you to spoof your own location in a way that allows you to access the Netflix libraries you most want to sift through. 
By connecting to a VPN server in a country where Parasite is currently available, you can access the show inside of your regular Netflix app with no other changes. Simply follow the steps below to stream Parasite on Netflix from anywhere:
Purchase a subscription for Netflix in your home country.
Subscribe to one of the VPN services referenced in this article.
Download the VPN provider's software on the device you'd like to stream Parasite on.
Choose a VPN server in a country where Netflix is currently showing Parasite.
Click on the link below, sit back, relax and enjoy!
Why You Need a VPN to Watch Parasite
There's only one reason you need a VPN to watch Parasite: Netflix does not have one, enormous TV show and movie catalog that every subscriber around the world can access, which means available shows vary wildly depending on the country you're living in. This is because the site is contractually obliged to only show certain media in certain countries at different times, as per the agreements they sign with the people that manage the film's licensing agreements and own the copyrights. There's also the fact that many countries have different rules on what can and can't be shown in entertainment media, so the platform has to cater to this too. 
Although, as you may expect, the United States has one of the most expansive catalogs in the world, there are popular shows missing from almost every country's catalog across the globe. It's highly likely, considering the many, many hours the average person spends on Netflix every week, that you'll find a show that is on Netflix, just not available in your region. This is where a VPN comes in. 
VPNs reroute all user traffic through a private server before it reaches the internet, masking the IP address of their devices and essentially letting them pretend to be in whatever country the server in question is located. When connecting to a server somewhere like Japan to stream Parasite, Netflix will see a Japanese IP address instead of your device's real one, so they will allow you to access the content they usually serve to people in Japan with Japanese IP addresses. It's simple but effective - and all you have to do is make sure you choose a solid provider that will keep your buffering to a minimum. 
Why we recommend ExpressVPN
ExpressVPN is our top pick for streaming Parasite. Most importantly, they have servers in all three of the countries where Parasite is available through Netflix. This provider now has millions of happy customers worldwide, and its reliable connection speeds ensure a smooth viewing experience wherever you choose to connect. ExpressVPN has over 3,000 servers in 94 countries, so it's useful for unblocking a whole host of content from around the world, including some of the most sought-after content from the UK and US.
ExpressVPN isn't just good at bypassing geo-restrictions, however - the provider has all sorts of security features to keep its users safe. If your VPN connection drops, a kill-switch will ensure your internet connection does too, so you're not accidentally surfing unprotected. They also deploy AES-256 bit encryption and a private DNS, whilst their independently audited TrustedServer technology - which means nothing is ever written to hard disk - means you can trust their no logs claim. Take it out for a test run with their 30-day moneyback guarantee. 
Pricing:

From $6.67 - $12.95

Speeds:

Connect to:
Why we recommend NordVPN
NordVPN is the quickest VPN on this list, which means it's a great choice for streaming Parasite on Netflix. The provider doesn't service the two South American nations with Parasite in their libraries, but this shouldn't be too much of a problem as NordVPN still has a number of servers in Japan and over 5,450 worldwide, which means generally it's a good VPN if you want access to content from elsewhere too. NordVPN has a CyberSec tool to help block malware and viruses whilst you use it, a Double VPN feature that reroutes your traffic through two VPN servers rather than one for an extra layer of protection.
NordVPN's servers in Japan are all obfuscated, which means your traffic will look like normal traffic to your internet service provider or anyone else watching. This would be useful if you live in a country where Netflix is banned or, indeed, the film Parasite. Just like ExpressVPN, NordVPN also grants users a 30-day grace period within which they can claim their money back if not satisfied. 
Pricing:

From $3.71 - $11.95

Speeds:

Connect to:
Why we recommend PrivateVPN
PrivateVPN is our final recommendation for streaming Parasite. They have servers in 52 countries, including Colombia, Argentina and Japan, so you won't be stuck for shows and movies to watch after you finish Bong Joon-ho's masterpiece. PrivateVPN offers unlimited bandwidth so you're never stuck buffering and you can host six simultaneous connections on one account so your family and friends can reap the benefits of a VPN without interrupting you and your movie-streaming schedule.
Despite being a little smaller than the two aforementioned providers, PrivateVPN also has great security features, including 2048 and AES0256 bit encryption and a promise to not log any of your activity. PrivateVPN also offers customers a 30-day free trial, so once more, you don't have to worry about losing your money if you change your mind.   
Pricing:

From $1.89 - $7.12

Speeds:

Connect to:
About Parasite 
Parasite is the latest effort from esteemed director Bong Joon-ho, and focuses on the trials and tribulations of a poor family living in Seoul, the capital of South Korea. They enlist themselves in the service of an extremely wealthy family - the children become tutors for their wealthier counterparts - but class prejudices slowly get in the way of the newly-formed relationship between the two families. It's a black comedy at heart, but perhaps is best described, in the director's own words, as a 'comedy without clowns, a tragedy without villains". 
Parasite became the first foreign-language in history film to win the best picture award at the Oscars, and was universally praised for everything from the film score to the camerawork. The plot is finely balanced and there's every production and directorial decision feels saturated with subtle meanings, nuances, and nods for the audience to pick up on. If you were a fan of Bong Joon-ho's previous work - including Snowpiercer, which has recently been adapted into a Netflix series - then this is a must-watch. 
FAQs
Genres:
Actors: