Please Note!
This title is no longer available on Netflix.
#Alive
What is StreamCatcher?
Certain shows and films are only available on Netflix in certain countries. But you can still watch them with specific VPN services connected to that country.
We've built a tool that can tell you which VPN you need and where to connect…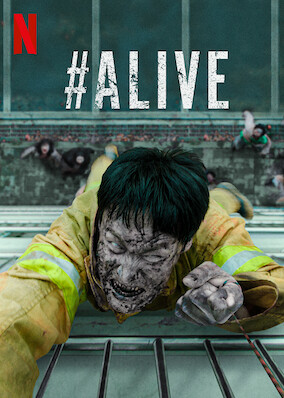 movie
About the Show:
As a grisly virus rampages a city, a lone man stays locked inside his apartment, digitally cut off from seeking help and desperate to find a way out.
Looking for similar titles to #Alive? Click here.
Released

2020

Runtime

1h38m

Rated

Not recommended for ages 15 and under

Directed by

Cho Il
How to unblock it:
Here are the servers you can connect to on a VPN to watch it. If you want to watch it in a specific audio, or subtitles, select those from the dropdown and we'll highlight the server you need to connect to in yellow.
Refine your search:
#Alive is a Korean language thriller about a casual gamer who becomes stuck at home with no food during a zombie epidemic. Many consider the movie, released in 2020, to be a horror flick that is apt for the times – due to the lockdowns caused by the Coronavirus. Certainly, the current real-world situation adds to the empathy that one feels for the protagonist. That aside, this is a classic take on the virus zombie movie, with a love twist thrown in for good measure. In the movie, Joon-woo runs out of food and drink and considers suicide before being brought back from the brink by a neighbor with a laser pen. The dramatic horror is perfect for anybody who is a fan of high suspense thriller horrors and outstanding foreign films.
If you want to watch #Alive, the good news is that you can unblock it with a Virtual Private Network (VPN). A VPN lets you pretend to be in a different country to access a different regional Netflix catalog. As a result, you can watch exclusive titles that usually aren't available where you live. Best of all, a VPN is super easy to use and will work without you needing to update your Netflix account in any way.
Can I stream #Alive on Netflix?
Yes. Although #Alive is not currently showing on Netflix in all parts of the world, it is possible to unblock the film with a VPN. A VPN allows you to conceal your real IP address from Netflix. It does this by letting you connect to a VPN server in a different country. As a result, Netflix thinks you live elsewhere, and it automatically updates your Netflix library of titles to include #Alive (and other regional exclusives).
By connecting to a VPN server in a country where #Alive is available, you can easily watch the movie. What's more, our recommended VPNs let you connect to various different regions to unblock many different TV shows and movies – allowing you to make the most out of your Netflix account!
The important thing to remember is that there are dozens of consumer-facing VPNs on the market, and very few of them work to unblock Netflix. That means that you have to be picky and stick to a VPN provider that actually works. In this article, we have singled out the very best VPNs for streaming #Alive. That means you can pick whichever service you prefer to stream the movie with no disappointments. 
How to watch #Alive on Netflix
The great thing about a VPN is that it does all the hard work for you. As a result, using VPN software to unblock #Alive is extremely easy. Our recommended VPN providers have apps for all platforms. That means you can use the VPN to stream more Netflix on any of your usual devices (whether that be a desktop, laptop, smartphone, or tablet). To make things as easy as possible, we have described the steps below:
Make sure you have a valid Netflix subscription in your own country.
Pick a VPN provider from this guide.
Navigate to the VPN's website and subscribe.
Download the VPN app onto your Netflix device.
Install the VPN and log in using your credentials.
Choose a VPN server in one of the locations where #Alive is available and click connect.
Launch Netflix and search for #Alive (it will now automatically appear in your library).
Why You Need a VPN to Watch #Alive
Netflix is a content distributor bound by contractual agreements with the content producers and copyright holders it does business with. As a result, it is not always legally permitted to show all TV shows and movies in all regions. As a subscriber, this can be super-frustrating – because you know that #Alive is available on Netflix somewhere – just not where you happen to live. This is where a VPN comes in!
A VPN is a digital privacy tool that is designed to allow people to conceal their real IP address from the websites and online services they use. A by-product of this function is that VPN users can also pretend to be in a different country. When you connect to a VPN server in a country where #Alive is available, Netflix believes you actually live there, and it shows you the catalog for that region. As a result, #Alive (and any other exclusives available in that location) automatically appear in your list of video titles.
This makes a VPN a must-have tool for anybody with a Netflix subscription – because it vastly increases the number of titles you can stream, and results in far better value for money from your subscription fee. We think a VPN is a no-brainer, and thanks to our StreamCatcher tool, you can easily find more shows to stream across various international Netflix regions.
WARNING: IF YOU LIVE IN EUROPE YOU MAY STRUGGLE TO UNLOCK REGIONAL CONTENT FROM OTHER EUROPEAN COUNTRIES.
Changes in legislation mean that EU users may only be able to access non-EU libraries (US, Japan). This means that users in Europe should connect to servers outside of the EU wherever possible.
How to watch #Alive with ExpressVPN
ExpressVPN is well-known and highly praised, thanks to its ability to unblock a total of 24 regional Netflix libraries. Users can connect to a whopping 94 countries for global online freedom of access! ExpressVPN has intuitive apps for all platforms and devices, and an expert customer service team is only a click away and available 24/7. Also, ExpressVPN is super-fast – making it ideal for streaming in HD on Netflix. And, you can put ExpressVPN to the test with a 30-day money-back guarantee! By far the best way to stream hundreds of extra titles on Netflix. 
After installing ExpressVPN and logging into the app, you'll simply need to connect to one of the below locations, search for #Alive, and enjoy!
Pricing:

From $6.67 - $12.95

Speeds:

Connect to:

South Korea
France
United States
Canada
United Kingdom
Japan
Germany
Sweden
Switzerland
Netherlands
Italy
Spain
Australia
Brazil
Colombia
Argentina
India
Israel
How to watch #Alive with NordVPN
NordVPN is a popular service that gives you the ability to unblock tons of popular streaming services, including Netflix, BBC iPlayer, Prime Video, and hulu! Geo-restrictions become a thing of the past thanks to NordVPN's 5,400 super-fast in 59 countries. NordVPN is compatible with desktops, laptops, mobiles, and tablets. It can even be installed on a Wi-Fi router if you want to stream Netflix on a console or TV. Plus, you can also take NordVPN for a trial run thanks to its 30-day money-back guarantee. Best of all, Netflix provides access to several international Netflix catalogs, giving you plenty of options for streaming more content.
Once you've installed Nord, streaming #Alive is as easy as connecting to one of the countries listed below, logging into Netflix, and searching for the movie!
Pricing:

From $3.71 - $11.95

Speeds:

Connect to:

South Korea
France
United States
Canada
United Kingdom
Japan
Germany
Netherlands
Italy
Spain
Australia
Brazil
India
How to watch #Alive with PrivateVPN
PrivateVPN is a highly subscribed VPN that is perfect for those on a budget. And despite offering superb value for money, it doesn't skimp on features! With PrivateVPN, you'll be able to browse multiple Netflix libraries and connect to servers in more than 60 global locations. Unlimited bandwidth makes streaming in HD without interruptions a breeze. The PrivateVPN app is beginner-friendly and quick to install, and supported by all platforms. Plus it has an excellent customer service team to help you use the VPN at any time of day. A great all-rounder that can provide superb online freedom and privacy. Well worth testing with the 30-day money-back guarantee.
Watching #Alive is a cinch with PrivateVPN. Install the VPN, log in to the app, and when prompted to join a server, select one of the locations listed below. You'll now be able to refresh Netflix and watch #Alive without restrictions!
Pricing:

From $1.89 - $7.12

Speeds:

Connect to:

South Korea
France
United States
Canada
United Kingdom
Japan
Germany
Sweden
Switzerland
Netherlands
Italy
Spain
Australia
Brazil
Colombia
Argentina
About #Alive
#Alive is a Korean-language horror movie about a laid-back gamer who lives alone in an apartment block. In the movie, the young man suddenly finds himself confined to his house – unable to leave due to a virus that has turned the entire city into a feeding frenzy of zombies. After making brief contact with his family, and being told by his father that he must survive, Joon-woo resigns himself to staying locked in his apartment. Leaving would be too risky due to the constant stream of flesh-eating zombies seen consuming the living from his window. After consuming the last of his food and water, Joon-woo begins to go crazy and finally decides to commit suicide. Luckily for Woo, a neighbor has been watching him from across thse street with binoculars and interferes at the 11th hour to prevent him from hanging himself. Following that the two begin to communicate and share food via an improvised zip line constructed with the help of a drone. The two begin to fall for each other and concoct a plan to get to the top floor where they believe they might be safe...
FAQs
Genres:
Actors: